Eddington Appoints New Chair of Pharmaceutical Sciences
Sarah Michel, PhD, will lead 29-member department with a research portfolio of $14.6 million.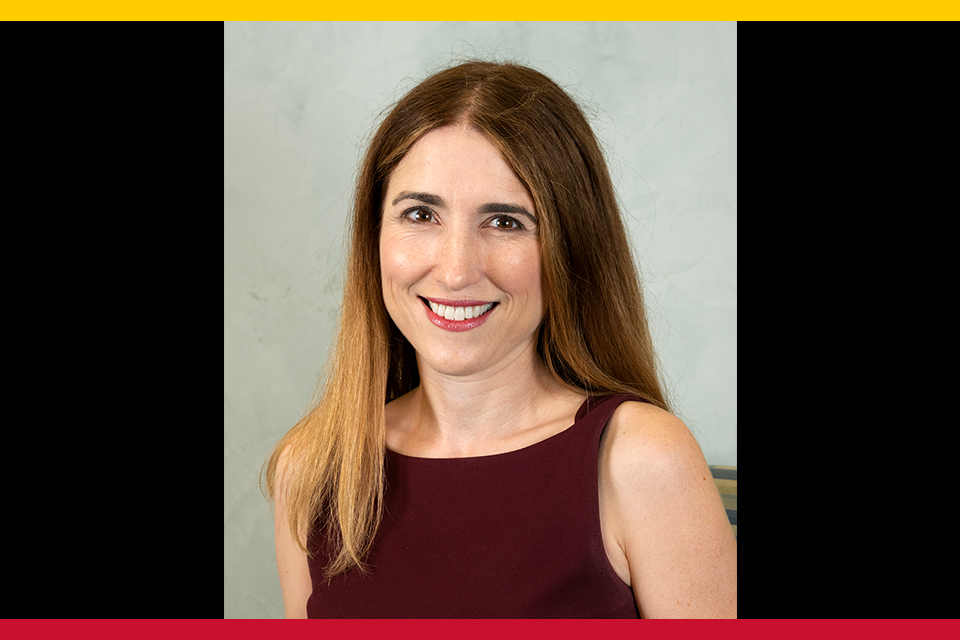 By Becky Ceraul
December 1, 2022
Natalie Eddington, PhD, FAAPS, FCP, dean and professor of the University of Maryland School of Pharmacy, has appointed Sarah Michel, PhD, the new chair of the School's Department of Pharmaceutical Sciences (PSC). She succeeds Peter Swaan, PhD, who became dean of the University of Florida College of Pharmacy on Dec. 1.
Michel, a professor in PSC, associate dean for graduate programs, director of PSC's PhD and MS programs, and co-director of the Metallotherapeutics Research Center, has been on faculty at the School of Pharmacy since 2004.
Michel's research focuses on the roles of metals in biology and pursues both fundamental and translational research problems. A major focus of her research is zinc, which plays important roles in inflammation and immune response. Michel's laboratory has mapped out the mechanisms of DNA and RNA regulation by a common type of zinc protein, called a zinc finger protein. Recently, the lab discovered that zinc finger proteins can be modified by the gaseous signaling molecule, H2S, challenging the long-standing dogma that zinc finger proteins do not exhibit reactivity. Her lab is taking a "molecules to proteomics" approach that combines biochemical, biophysical, and cell biological methods with novel bioanalytical and proteomics strategies to define this new zinc finger signaling paradigm.
A second focus of her research is translational and includes work on iron nanoparticle drugs to treat iron deficiency anemia. Michel recently completed a U.S. Food and Drug Administration (FDA)-funded clinical trial with several PSC colleagues that resulted in the FDA changing its draft guidance for iron nanomedicines to include technology that was developed in her lab. In addition, Michel is part of a PSC and School of Dentistry team of researchers funded by the FDA that is investigating the constituents and safety of electronic cigarettes.
During her career, Michel has received grants from the National Institutes of Health (NIH), the National Science Foundation, and the FDA. She has mentored dozens of PhD and PharmD students (graduating eight PhD students), serves on the editorial advisory boards of the journal Metallomics, the Journal of Biological Inorganic Chemistry, and the Journal of Inorganic Biochemistry, and has served on grant review panels. She has also received the School of Pharmacy's Teacher of the Year Award and served as president of the University of Maryland, Baltimore Faculty Senate.
"Dr. Michel has been a trusted member of the School of Pharmacy's leadership team in her associate dean role and has excelled in all facets of her academic career – research, scholarship, teaching, and service," Eddington says. "I am excited to see what she will achieve as the new chair of PSC."
Michel received a BA in chemistry from Cornell University in 1995 and a PhD in inorganic chemistry from Northwestern University in 2000. She completed an NIH National Research Service Award postdoctoral fellowship at the Johns Hopkins University School of Medicine in 2004.
"I am delighted to be appointed chair of PSC," Michel says. "Since being hired as an assistant professor in 2004 by Dean Eddington, who was PSC chair at the time, I have personally experienced our department's exceptional growth and seen it prosper under the leadership of several pioneering chairs. I am humbled to be asked to follow in their footsteps and am excited to support the groundbreaking and innovative research of my PSC colleagues, our trainees, and students."
Related News Stories