Statement on Solidarity with Iranian Women and Protesters
A statement from the School of Pharmacy Assistant Dean for Equity, Diversity, and Inclusion.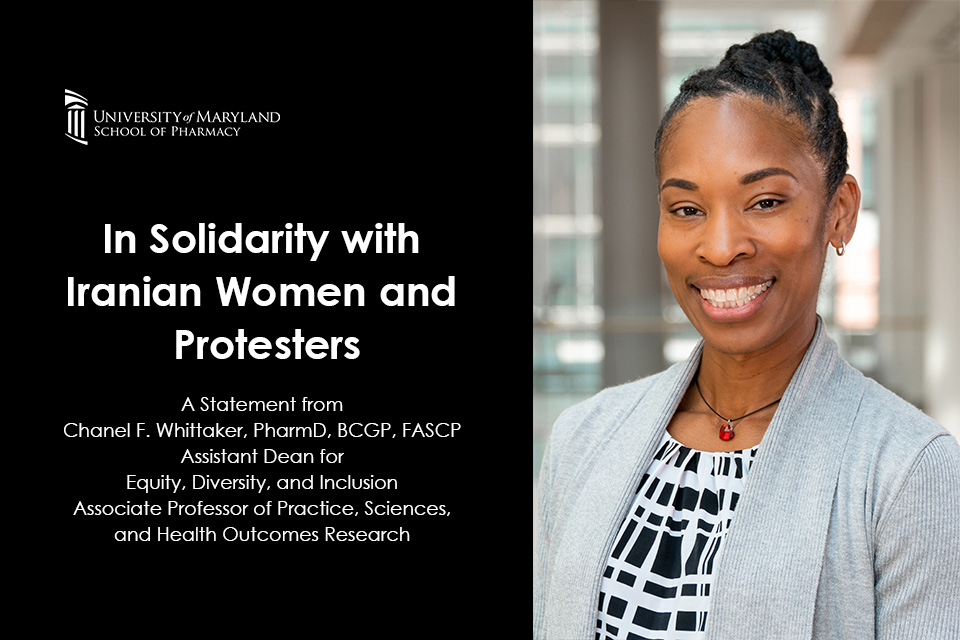 By Chanel F. Whittaker, PharmD, BCGP, FASCP
October 12, 2022
Members of our School of Pharmacy community mourn the tragic death of Mahsa (Zhina) Amini. Mahsa, a 22-year-old Iranian woman, was detained by the Iranian police for wearing her hijab, or head covering, improperly. She died on Sept. 16 while in custody of the Iranian police. In the month following her death, the Iranian people have taken to the streets to openly protest this injustice and other restrictions to their personal freedoms. These protests have reverberated around the world in solidarity with Iranian women.
The University of Maryland, Baltimore and the School of Pharmacy are home to students, staff, and faculty from around the world, many of whom are of Iranian descent or have family and friends who are currently in the country. We share your sadness and alarm at the affront to women's rights and human rights taking place in Iran. We add our voice to the calls for attention to the systemic persecution of women in Iran and gender-based violence around the world. Most importantly, we send a message of support and care to all in our community who are impacted by these events. We are committed to our campus values of equity and justice and giving voice and support to members of our community, especially in times of need.
I also want to highlight a couple of specific University resources:
Woman. Life. Freedom.
In solidarity,
Chanel F. Whittaker, PharmD, BCGP, FASCP
Assistant Dean for Equity, Diversity, and Inclusion
Associate Professor of Practice, Sciences, and Health Outcomes Research
Related News Stories