In Solidarity, We Remember…
A statement from the School of Pharmacy Assistant Dean for Equity, Diversity, and Inclusion.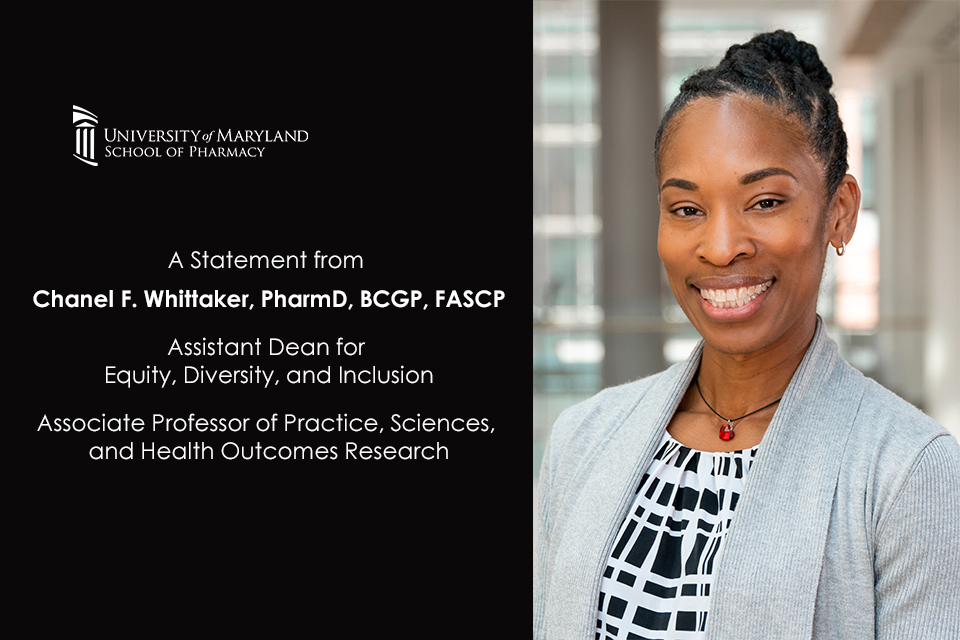 By Chanel F. Whittaker, PharmD, BCGP, FASCP
February 1, 2023
In every generation, there are songs that transcend time. These songs and their rhythms encapsulate moments in history that are difficult to fully express in words.
At this moment, when we mourn the violent deaths of 18 Asian- and Hispanic-Americans in mass shootings in Monterey Park and Half Moon Bay, Calif., there are no words. At this moment, when we mourn the violent death of one Black man in Memphis, Tenn., at the hands of those who swore to protect and serve their community, there are no words.
It is precisely during these moments that timeless songs of freedom, resistance, and protest by artists like Bob Marley, Miriam Makeba, Johnny Clegg, KHA, Tupac Shakur, the Beatles, and many others are significant in simultaneously bearing witness to lives taken and in offering solace and hope.
We bear witness to those injured in Monterey Park and the life and value of each person killed there:
Diana Tom, 70
Muoi Ung, 67
My Nhan, 65
Lilian Li, 63
Hong Jian, 62
Xiujuan Yu, 57
Chia Yau, 76,
Ming Wei Ma, 72
Yu Kao, 72
Valentino Alvero, 68
Wen Yu, 64
We bear witness to those injured in Half Moon Bay and the life and value of each person killed there:
Zhishen Liu, 73
Marciano Martinez Jimenez, 50
Aixiang Zhang, 74
Qizhong Cheng, 66
Yetao Bing, 43
Jingzhi Lu, 64
Jose Romero Perez, 38
We bear witness to the life and value of Tyre Nichols, 29.
Today, as we mark the beginning of Black History Month, we mourn these lives but also look forward with hope that "a change is gonna come" (A Change is Gonna Come, Sam Cooke, 1964).
At the University of Maryland School of Pharmacy, we look forward with a plan to go beyond excellence and cultivate a community that actively supports the well-being and success of all. A community where all members have an expectation of safety and support and opportunities to make meaningful contributions to the design of our School's culture and structures.
One way to carry out this mission is to look for an opportunity to make space during a 1:1 encounter with a co-worker or classmate or at the beginning of a team meeting to say something like, "how are you doing today?" or, "I'd like to take a few minutes to acknowledge what's happening. I've certainly been concerned by it. Who else feels the same way?" This is a simple yet powerful way to be an ally to individual faculty, staff, and students and to communicate that their well-being matters here.
I hope that you will be able to participate in an upcoming Black History Month event here at UMB and at events in your local community. For additional support, UMB is hosting a virtual space to pause and be in community on Feb. 2 at noon. You are all welcome to attend. Also remember that UMB offers counseling services for both students and employees.
In solidarity,
Chanel F. Whittaker, PharmD, BCGP, FASCP
Assistant Dean for Equity, Diversity, and Inclusion
Associate Professor of Practice, Sciences, and Health Outcomes Research
Related News Stories