SOP's Qato Selected for National Leadership Program
The Robert Wood Johnson Foundation's Culture of Health Leaders program will provide Dr. Danya Qato with the tools to support her development as an agent of change for health equity and structural transformation.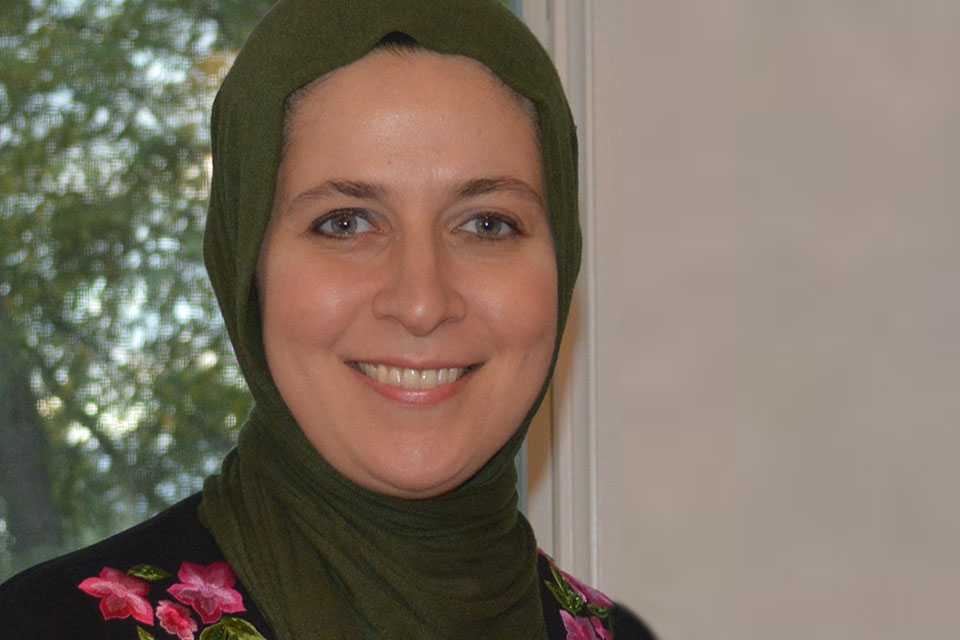 By Malissa Carroll
November 24, 2020
Danya Qato, PharmD, MPH, PhD, assistant professor and graduate program director in the Department of Pharmaceutical Health Services Research (PHSR) at the University of Maryland School of Pharmacy, has been selected to participate in one of the Robert Wood Johnson Foundation's leadership programs. These programs connect changemakers from every profession, sector, and field across the United States to learn from and work with one another in creating more just and thriving communities.
Qato was chosen to participate in the organization's Culture of Health Leaders. Designed for leaders from all fields – from technology and business to architecture and urban planning – Culture of Health Leaders fosters cross-sector collaboration and supports individuals in their continued growth and development as agents of change for equity and health.
"Our department congratulates Dr. Qato on her recent selection to the Robert Wood Johnson Foundation's Culture of Health Leaders program," says C. Daniel Mullins, PhD, professor and chair of PHSR. "Dr. Qato has dedicated her career as an educator and researcher to improving health equity for all people, and this new opportunity not only celebrates all that she has achieved to-date, but also offers an opportunity for her to continue growing as an individual, a pharmacist, and health services researcher. I am excited to see how she will apply all that she learns in the program in her future professional endeavors."
Qato received her PhD in health services research from the Brown University School of Public Health, her Doctor of Pharmacy (PharmD) from the University of Illinois, and her Master of Public Health (MPH) with a concentration in international health from Harvard University. Her current research focuses on improving regulatory and policy tools to reduce the use of high-risk medications in vulnerable populations, polysubstance use and women's health, access to essential medicines, and health equity; and is funded by the National Institute on Aging, the U.S. Food and Drug Administration, and the University of Maryland, Baltimore (UMB) Institute for Clinical and Translational Research, where she is a KL2 Scholar.
Qato also teaches courses in epidemiology and health policy at the School of Pharmacy and the University of Maryland School of Medicine, and serves on multiple University-wide committees, including the Center for Global Engagement Advisory Committee. Before joining the School of Pharmacy in 2016, she was based at the Institute for Community and Public Health at Birzeit University in Palestine, where she was a Fulbright Scholar and served as an expert consultant to the World Health Organization.
 She also previously served as a Schweitzer Fellow, a Paul and Daisy Soros Fellow, and a U.S. research fellow of the Palestinian American Research Center (PARC) and the Arab Council for the Social Sciences.
"I am so grateful for this recognition and hope to bring my unique experience and perspective as a pharmacist, epidemiologist, and health services researcher to the Culture of Health Leaders program," says Qato. "As a Culture of Health Leader, my goal is to amplify the role that pharmacists can and do play in promoting health equity in the community, especially as it relates to improving access to substance use treatment and reproductive health care."
She adds, "I also look forward to the opportunity to support efforts across PHSR, the School of Pharmacy, and UMB broadly that advocate for enhanced education and action around health equity with a lens towards justice locally, nationally, and globally. The network, collaborative possibilities, and support offered by the Robert Wood Johnson Foundation will be invaluable to this pursuit."
For more information about the Robert Wood Johnson Foundation's Culture of Health Leaders program, please visit the program's website.
Related News Stories