SOP's Onukwugha Appointed to Statewide Prescription Drug Affordability Board
Independent group will evaluate costs for certain new and existing medications and make recommendations about how to curb high drug prices.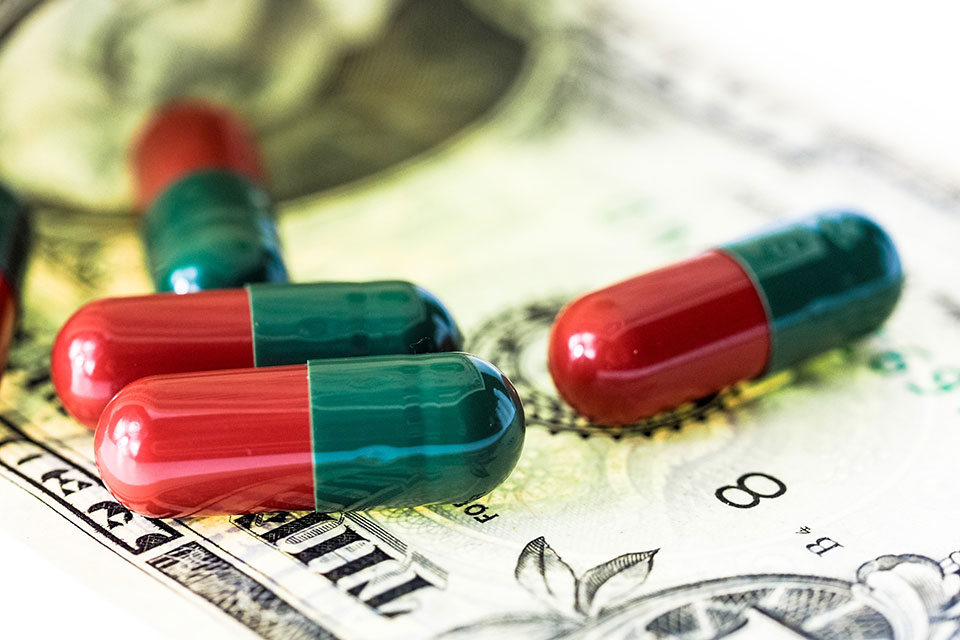 By Malissa Carroll
February 24, 2020
Ebere Onukwugha, MS, PhD, associate professor in the Department of Pharmaceutical Health Services Research (PHSR) at the University of Maryland School of Pharmacy, has been appointed to serve on Maryland's Prescription Drug Affordability Board. Established through legislation passed by the Maryland General Assembly in 2019, the Prescription Drug Affordability Board will examine the costs of certain high-priced medications and make recommendations to state leadership about methods to address these costs.
Maryland's Prescription Drug Affordability Board is the first-of-its-kind group in the nation.
"Dr. Onukwugha is an outstanding data analytics researcher," says C. Daniel Mullins, PhD, professor and chair of PHSR. "Her experience merging important data elements to help solve critical public health challenges will serve her well in this new role and help ensure that patients are able to receive important medications at prices they can afford. I am grateful that our state senators and representatives understand the significance of Dr. Onukwugha's research and appointed her to the board."
Fighting for Transparent Drug Pricing
Prices for medications are first determined by drug manufacturers and take into account costs associated with research and development for that medication as well as potential risks associated with producing the medication. However, the initial price can increase or decrease based on input from other stakeholders, such as manufacturers that decide to offer rebates for certain medications or pharmacy benefit managers who determine how much of a medication's cost will be covered by an insurer. These factors contribute to significant variability in the amount that patients might be required to pay for certain medications, with some specialty medications ranging from $20 per month to more than $4,000 per month.
Initially focused on state and local government employee-sponsored prescription insurance benefits, the Prescription Drug Affordability Board will examine the costs of select prescription medications with the greatest impact on the budgets of state, county, and local government programs and facilities, including new brand name medications that enter the market at $30,000 or more per year or course of treatment; existing brand name medications that increase in price by $3,000 or more per year or course of treatment; existing generic medications that increase in price by 200 percent or more per year or course of treatment; and any medication that creates an affordability challenge to the state of Maryland health care system, including patients.
The board will recommend methods for addressing the high costs of these medications to state leadership, which can include setting limits on what patients pay for them. In addition to providing improved education to individuals and families about how drug prices are determined, Onukwugha hopes her involvement with the board will lead to greater increased awareness and use of published evidence as it relates to drug prices and the utilization of prescription drugs.
"The pricing variability that we see with certain medications can present an affordability challenge for many individuals, with some individuals forced to choose between paying for their medications or paying for other necessary services," says Onukwugha, who was appointed by Speaker of the Maryland House of Delegates Adrienne Jones, and is one of five members to serve on the board. "And, we can all agree that an individual having to make those tough decisions is less than ideal. The Prescription Drug Affordability Board will carefully review drug prices and price increases, and in those cases where it is needed, develop recommendations to reduce the cost to state and local governments."
Bringing a Unique Perspective to a Complex Challenge
Onukwugha received her doctorate in economics from Virginia Polytechnic Institute (Virginia Tech) and completed a two-year postdoctoral fellowship in pharmacoeconomics and health outcomes research at the School of Pharmacy. Her research interests include pharmacoeconomic analysis, health disparities, and medical decision-making by individuals and institutions. As a researcher who has conducted numerous studies on population-based health outcomes, including medication utilization and utilization of other health services, she brings a unique perspective to the group.
"I bring a focus on the data and its relevance to population health," says Onukwugha, who also serves as executive director of Pharmaceutical Research Computing at the School. "When we talk about research, there is this focus on the average effect that a new practice or policy will have on a population. However, it is also important to consider individuals who are differentially impacted. These people may benefit more from a policy or may be more negatively impacted than the average individual. These potential differential impacts will be crucial to keep in mind as we consider how drug prices factor into patients' decision making."
She adds, "I plan to take a holistic approach to drug pricing. It will be important to engage all stakeholders in this process, including patients, health care providers, insurance companies, drug manufacturers, and others. In the end, the goal is to ensure that all individuals have access to the medications that they need to feel better."

Related News Stories