SOP's Mattingly Named Speaker-Elect for American Pharmacists Association
Dr. Joey Mattingly will preside over the association's House of Delegates and serve as a member of its Board of Trustees during three-year appointment.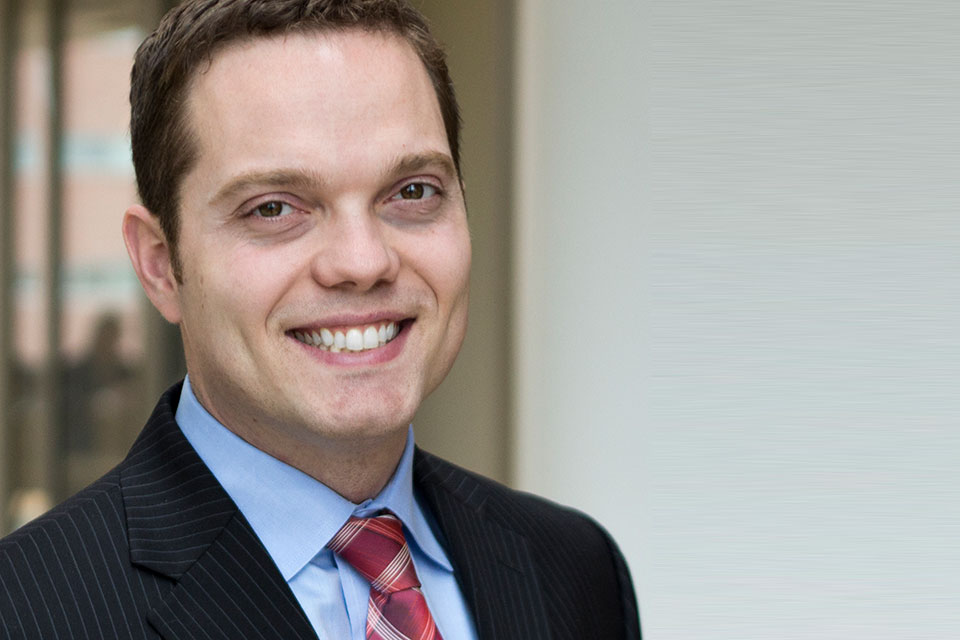 By Malissa Carroll
April 4, 2018
Joey Mattingly, PharmD, MBA, assistant professor in the Department of Pharmacy Practice and Science (PPS) at the University of Maryland School of Pharmacy, has been named speaker-elect for the American Pharmacists Association (APhA). In his new role, which he will serve while maintaining his faculty appointment at the School, Mattingly will preside over the APhA House of Delegates and serve as a member of the association's Board of Trustees.
"Our department was thrilled to learn that Dr. Mattingly had been chosen to serve as speaker-elect for the nation's largest professional association of pharmacists," says Jill A. Morgan, PharmD, BCPS, BCPPS, associate professor and chair of PPS. "Since joining the faculty at the School of Pharmacy, Dr. Mattingly has proven his skills time and again not only as a practicing pharmacist, but also as an educator and leader, both inside and outside of the classroom. He embodies our department's mission to advance pharmacy practice through innovation, collaboration, and advocacy, and we cannot wait to see the success that awaits him in this newest appointment."
Established in 1852, APhA is the leading professional association for the pharmacy profession, boasting a membership of more than 62,000 practicing pharmacists, pharmaceutical scientists, student pharmacists, and pharmacy technicians. Policies governing APhA's operations are developed by its House of Delegates, which is comprised of representatives from all major national pharmacy organizations, state pharmacy associations, federal pharmacy, and APhA's three academies: practitioners, scientists, and students.
Individuals elected to the role of Speaker of the House serve a three-year term. After completing his first year of service as speaker-elect, Mattingly will be officially installed as Speaker of the House in 2019. He will conclude his service as past Speaker of the House in 2021. He hopes to use his new appointment to help educate other members about the policy process as well as build new relationships that connect practitioners with resources to help them address some of the most challenging issues facing the profession and become stronger advocates for their work.
"Organizations like APhA are member-driven, which means that their continued success falls on the individuals who are willing to volunteer their time and energy to serve in these important roles," says Mattingly. "My appointment as speaker-elect is not about me, but about the delegates that I will serve over the next three years. A good speaker must be able to put his or her personal opinions aside and focus on guiding the delegates through the complex mechanisms within the rules of parliamentary procedure."
Mattingly received his Doctor of Pharmacy (PharmD) from the University of Kentucky College of Pharmacy and his Master of Business Administration (MBA) from the University of Kentucky Gatton College of Business and Economics. He began his career with the Kroger Company as a trainer for the company's EasyFill Pharmacy Retail Network (EPRN), and was later promoted to District 6 pharmacy coordinator, a position for which he oversaw operations for 12 pharmacies in the company's Mid-South Division. In 2013, he became the general manager for AlixaRx, a long term care pharmacy start-up company.
He joined the faculty in PPS as an assistant professor in 2014, where his practice interests have focused on patient care and business model challenges in a variety of pharmacy practice settings. He is also pursuing his PhD in Pharmaceutical Health Services Research (PHSR) at the School, for which his research interests focus on pharmacoeconomics and patient engagement. He serves as director of operations for the School's Patient-Centered Involvement in Evaluating the Effectiveness of Treatments (PATIENTS) program, and maintains an active interest in the policy process and parliamentary procedure, which led him to pursue an appointment as speaker-elect with APhA.
"This election was truly special for me, as it took place exactly 10 years to the day that I was elected to serve as Speaker of the House for the American Pharmacists Association-Academy of Student Pharmacists (APhA-ASP) in 2008," says Mattingly. "I love parliamentary procedure and the policy process, so I am excited to have this opportunity to continue my service to the association as a practitioner and to take a formal role in helping to shape the policies of the largest pharmacist organization in the United States."
Mattingly was officially installed as speaker-elect during the APhA Annual Meeting & Exposition, which was held March 16-19 in Nashville, Tenn.
Related News Stories