SOP's Trovato Named an AACP Academic Leadership Fellow
Year-long fellowship program is designed to support and contribute to the development of leaders in academic pharmacy and higher education.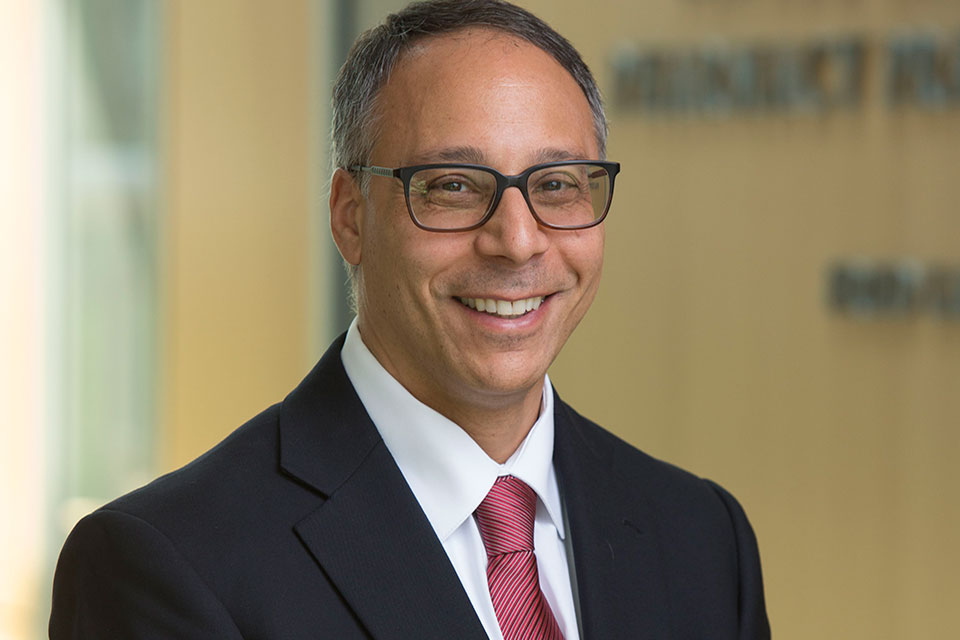 By Malissa Carroll
August 16, 2018
James Trovato, PharmD, MBA, BCOP, FASHP, associate professor and vice chair for academic affairs in the Department of Pharmacy Practice and Science (PPS) at the University of Maryland School of Pharmacy, has been accepted into the American Association of Colleges of Pharmacy's (AACP) Academic Leadership Fellows Program. This year-long program is designed to develop the most promising individuals from the organization's member institutions to become future leaders in pharmacy and in higher education.
Trovato is one of 30 pharmacy educators who will join the program's 2018-2019 cohort of fellows.
"Dr. Trovato embodies many of the skills, qualities, and attributes necessary to become an outstanding and impactful leader in pharmacy education," says Natalie D. Eddington, PhD, FCP, FAAPS, dean and professor of the School of Pharmacy, who will serve as Trovato's mentor during his time in the program. "He is well-positioned to both contribute to and benefit from AACP's Academic Leadership Fellows Program, and in return, he will be able to apply the results of his experience to help further augment the School's existing education and clinical infrastructure."
AACP's Academic Leadership Fellows Program supports and contributes to the development of leaders in academic pharmacy and higher education. Through his participation in the program, Trovato will have an opportunity to take part in talent and leadership development sessions, gain valuable team building experience, and explore the legislative and public policy issues critical to pharmacy and higher education.
He will also complete a personal assessment of his own competencies for leadership.
"I am excited to join the AACP Academic Leadership Fellows Program to represent not only myself, but also my department and the School of Pharmacy as leaders in pharmacy education at the national level," says Trovato. "I am looking forward to meeting with other educators from across the country to further hone my own leadership and team building skills, as well as learn how I can best apply these skills to help address some of the challenges facing our profession. It is truly a tremendous opportunity to take pharmacy education at the School of Pharmacy and across the state of Maryland to the next level."
Trovato received his Doctor of Pharmacy (PharmD) from Purdue University, and later completed a pharmacy practice residency in oncology at the University of Texas Health Science Center in San Antonio. He is a board certified oncology pharmacist whose research interests include the prevention and management of complications related to chemotherapy or malignant disease in patients with cancer. He also serves as the director of the School's PGY-2 Oncology Pharmacy Residency Program.
In addition, Trovato's commitment to collaborative practice and interprofessional education has helped the School of Pharmacy expand its practice sites beyond Baltimore City. He not only worked to establish a relationship between the School and the University of Maryland Marlene and Stewart Greenebaum Comprehensive Cancer Center, but also spearheaded the creation of a new collaborative oncology pharmacy practice site at the University of Maryland Baltimore Washington Medical Center (UM BWMC) in Glen Burnie. He is the principal investigator for the Joint Clinical and Educational Grant, a collaboration between UM BWMC and the School of Pharmacy; chair of the UM BWMC Chemotherapy Subcommittee; and a member of the UM BWMC Pharmacy and Therapeutic Committee.
"In my view, a true leader is someone who is able to bring disparate parties together in a collaborative manner and set a strategic course through consensus. Dr. Trovato has demonstrated this practice in many venues," says Eddington.
Trovato's participation in the AACP Academic Leadership Fellows Program began on Aug. 1. It will conclude on July 31, 2019.
Related News Stories