Assistant Professor Honored with National Pharmacy Leadership Award
The Albert B. Prescott Pharmacy Leadership Award recognizes young pharmacists no more than 10 years into their careers who have demonstrated exemplary leadership qualities.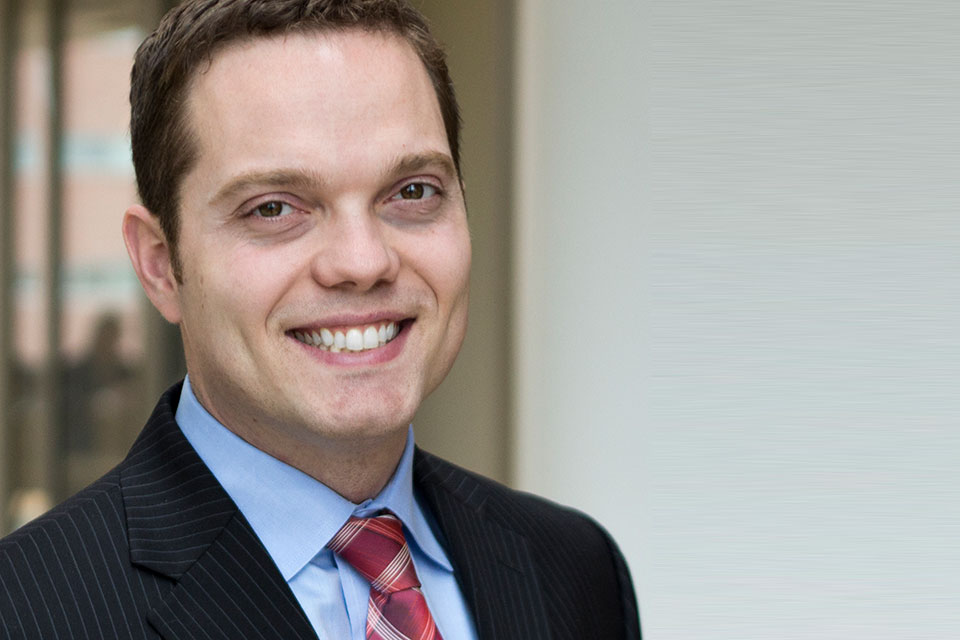 By Malissa Carroll
March 1, 2019
Joey Mattingly, PharmD, MBA, assistant professor in the Department of Pharmacy Practice and Science (PPS) at the University of Maryland School of Pharmacy, has been named the 2019 recipient of the Albert B. Prescott Pharmacy Leadership Award. Presented annually by the Pharmacy Leadership & Education Institute, in conjunction with the Phi Lambda Sigma Pharmacy Leadership Society, the award recognizes a young pharmacist no more than 10 years into his or her career who has demonstrated the exemplary leadership qualities indicative of someone likely to emerge as a major leader in the pharmacy profession over the course of his or her career.
"Our department was incredibly excited to hear that Dr. Mattingly had been named this year's recipient of the Prescott Award," says Jill A. Morgan, PharmD, BCPS, BCPPS, professor and chair of PPS. "This award seeks to recognize those young pharmacists who are going to have a major impact on the pharmacy profession as they progress in their careers. When Dr. Mattingly first joined the faculty at the School of Pharmacy, it was immediately clear to me that he was someone who was not afraid to jump in and be a leader, and I hope this award inspires him to continue to nurture and grow his leadership qualities both inside and outside of his roles at the School."
Mattingly received his Doctor of Pharmacy (PharmD) from the University of Kentucky College of Pharmacy and his Master of Business Administration (MBA) from the University of Kentucky Gatton College of Business and Economics. He began his career with the Kroger Company as a trainer for its EasyFill Pharmacy Retail Network (EPRN), and was later promoted to District 6 pharmacy coordinator, where he oversaw operations for 12 pharmacies in the company's Mid-South Division. He later briefly served as general manager for AlixaRx, a long-term care pharmacy start-up company, before joining the School of Pharmacy as an assistant professor in PPS in 2014.
In addition to teaching business strategy to student pharmacists and serving as a strategic consultant for the Department of Pharmacy at the University of Maryland Medical Center, Mattingly serves as director of operations for the Patient-Centered Involvement in Evaluating the Effectiveness of Treatments (PATIENTS) Program and is a doctoral candidate in the PhD in Pharmaceutical Health Services Research (PHSR) program at the School, where his research focuses on a mixed-methods approach to incorporate the patient voice in economic evaluations and other value assessment frameworks.
He also serves as speaker-elect of the American Pharmacists Association's (APhA) House of Delegates.
"There's a popular proverb that says, 'It takes a village to raise a child,' and that truly encapsulates how I feel about receiving this year's Albert B. Prescott Pharmacy Leadership Award," says Mattingly. "I am incredibly grateful for the amazing 'village' of pharmacy leaders who have mentored me and dedicated a lot of their time and energy to helping me grow as a pharmacy practitioner throughout the years. I hope to pay that forward now that I am in a position at the School of Pharmacy to help mentor and 'raise' future generations of our profession."
Established in 1987, the Albert B. Prescott Pharmacy Leadership Award is named in honor of Albert Prescott, MD, dean of the University of Michigan College of Pharmacy from 1870 – 1905. Prescott was widely viewed as a maverick during his time, initially rebuffed by APhA for his heretical view that pharmacy should be an education-based profession, not an experienced-based trade. However, his vision and convictions were proven correct by the 1890s, when schools of pharmacy across the country began to follow his lead. In 1899, Prescott was elected president of APhA, and later became the first president of the organization now known as the American Association of Colleges of Pharmacy.
"When you look at the criteria for the Albert B. Prescott Pharmacy Leadership Award, it's hard for Dr. Mattingly not to come to mind," says Frank Romanelli, PharmD, MPH, FAPhA, BCPS, AAHIVP, professor and associate dean for the University of Kentucky College of Pharmacy, who spearheaded the effort to nominate Mattingly for the award. "He is a young, dynamic, and energetic academic leader in pharmacy. He also has a bit of a challenging spirit about him that speaks to the maverick attitude for which Dr. Prescott was known. And, while I was pleased to hear that Dr. Mattingly was selected to receive this year's award, I was not surprised. He is deserving of the recognition, and we are certainly proud to count him as one of our alumni."
Mattingly will receive the award at the 2019 APhA Annual Meeting in Seattle, Wash., on March 23.
"It was an honor just to be nominated for this award, so to actually win the award was truly icing on the cake," says Mattingly. "But, while awards like this are fun to celebrate — and I am truly grateful to receive it — I also want to challenge others to think about the small wins that they encounter every day and celebrate those, as well. For a student pharmacist, maybe that win is getting an A on a quiz that he or she was not expecting. For a practicing pharmacist, maybe it is catching a potential drug interaction and changing the drug before anyone is harmed. From the entry level employee to the president of the university or chief executive officer of a corporation, we could all benefit from celebrating our small wins a little more."

Related News Stories