SOP's Boyle Selected for National Honor for Impact on Pharmacy Education and Profession
Dr. Cynthia Boyle will receive the 2022 Robert K. Chalmers Distinguished Pharmacy Educator Award from the American Association of Colleges of Pharmacy.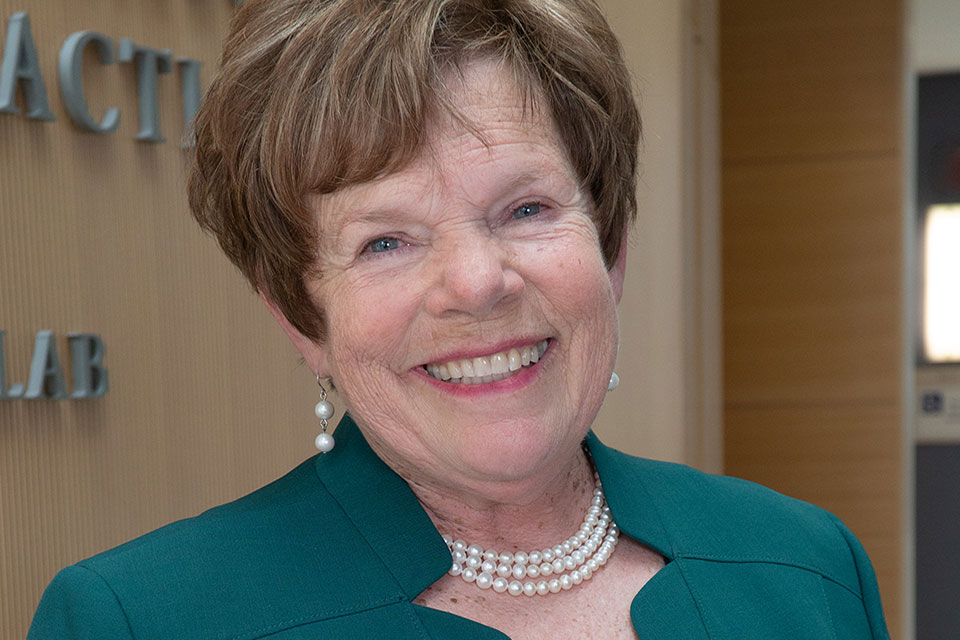 By Andrew Tie
March 31, 2022
The American Association of Colleges of Pharmacy (AACP) has chosen Cynthia J. Boyle, PharmD, FAPhA, FNAP, FASCP, professor in the Department of Pharmacy Practice and Science (PPS) at the University of Maryland School of Pharmacy (UMSOP), for a national award to honor her contributions in instruction, scholarly activities, professional and public service and outreach, and impact in pharmacy education.
The 2022 Robert K. Chalmers Distinguished Pharmacy Educator Award is one of the AACP's most prestigious honors, which Boyle will receive at the AACP Annual Meeting in Grapevine, Texas, in July.
"I feel profoundly grateful to AACP, my colleagues who nominated me, and the many colleagues and students I've worked with over the years," Boyle says. "As a practicing pharmacist, I was able to reimagine my career in academic pharmacy due to the incredible power of education and connection. I invest in the profession through a personal mission to connect individuals and organizations to opportunities, and it has been gratifying to see these efforts come to fruition."
Throughout her more than two-decade academic career, Boyle has been highly involved in leadership, advocacy, and experiential education activities. In 2001, she helped establish an annual Legislative Day at the Maryland General Assembly, which has brought together legislators, pharmacists, and student pharmacists across Maryland for the last two decades. Through the AACP Experiential Education Section, she collaborated to creatively advance quality standards and preceptor development and recognition, including the Academy of Preceptors she created at UMSOP.
More recently, Boyle has engaged in the preservation and dissemination of pharmacy history. Earlier this year, she was elected vice president of the Board of Directors of the American Institute of the History of Pharmacy. She is also a former president of the AACP.
"During her long career in academic pharmacy, Dr. Boyle has been a respected mentor, teacher, and colleague to students and faculty alike," says Natalie Eddington, PhD, FAAPS, FCP, dean and professor of the School of Pharmacy. "At UMSOP, she is deeply involved in the teaching of the history of pharmacy, the role of pharmacy in society, effective leadership and advocacy, and is course manager for the professional foundations of pharmacy course."
Boyle earned pharmacy degrees from the University of Oklahoma College of Pharmacy and UMSOP and has practiced pharmacy in the community, health system, and consulting settings. Boyle started her academic career at UMSOP, where she served as an assistant professor in PPS and assistant director for the Experiential Learning Program (ELP), before being promoted to associate professor and executive director for ELP. Boyle then served as professor and chair of the Department of Pharmacy Practice and Administration at the University of Maryland Eastern Shore School of Pharmacy and Health Professions from 2011-2017, including service as interim dean from 2014-15. In 2017, Boyle returned to UMSOP, where she teaches and serves as co-advisor to the Phi Lambda Sigma Leadership Society.
"Throughout her career, Dr. Boyle has demonstrated excellence as an educator, scholar, and mentor and is extremely well-deserving of the Chalmers Award," says Jill Morgan, PharmD, professor and chair of PPS. "She is a great inspiration to students, practitioners, residents, and colleagues."
In addition to the Chalmers Award, Boyle has won numerous accolades in her decorated career. She has received AACP's Crystal APPLE for contributions to Learning Excellence in Experiential Education, the American Pharmacists Association (APhA) Francke Leadership Mentor Award, the APhA Good Government Pharmacist of the Year Award, as well as the Maryland Pharmacists Association's Bowl of Hygeia and being named one of the Maryland Daily Record's Top 100 Women.
Boyle becomes the third UMSOP Chalmers recipient in recent years, joining Robert Beardsley, RPh, PhD, professor emeritus in the Department of Pharmaceutical Health Services Research, the 2011 honoree, and Mary Lynn McPherson, PharmD, MA, BCPS, CPE, professor in PPS and executive director of the advanced post-graduate education in palliative care, in 2013.
Related News Stories