PPS Faculty Member Named VP of American Institute of the History of Pharmacy Board of Directors
Volunteer leadership position supports Cynthia Boyle's longtime interest in history of pharmacy.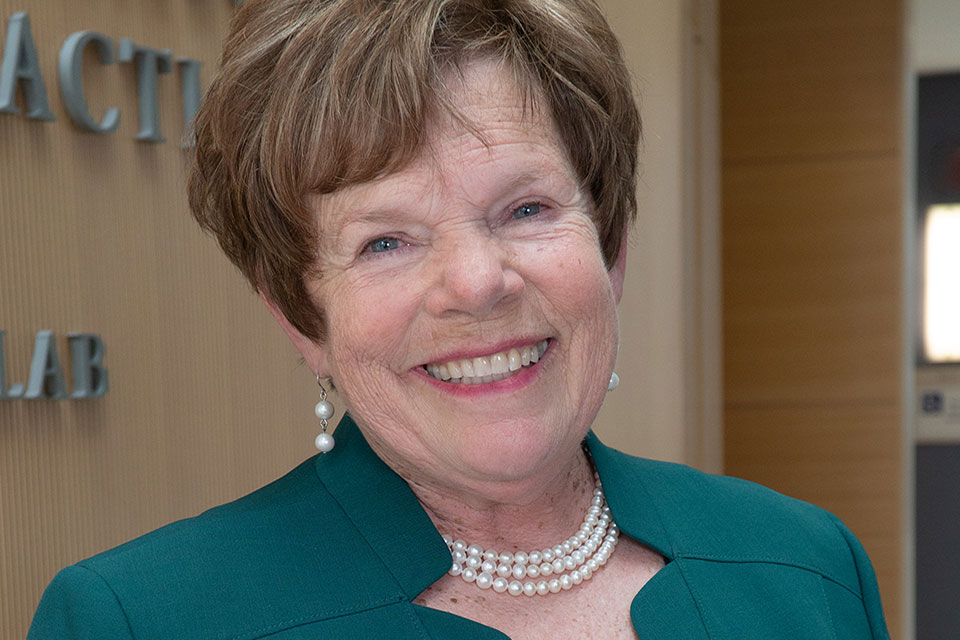 By Andrew Tie
February 9, 2022
Cynthia Boyle, PharmD, FAPhA, FNAP, FASCP, a professor in the Department of Pharmacy Practice and Science (PPS) at the University of Maryland School of Pharmacy, has been elected vice president of the Board of Directors for the American Institute of the History of Pharmacy (AIHP).
Boyle joined AIHP as a member in 2003 while teaching in the areas of professionalism and history. She joined the AIHP Board of Directors in 2020 and now, as vice president, joins the executive committee to advance the organization's goals and strategic plan. Boyle will serve the year remaining on the term of her predecessor, who is now AIHP's president.
AIHP is an independent, member-based non-profit organization and has been affiliated with the University of Wisconsin School of Pharmacy since 1941. The organization's primary goal is advancing knowledge and understanding the history of pharmacy and medicines by making historical materials available and funding research that promotes the profession.
"It is an honor to be named the board's VP, and I am eager to contribute to AIHP's governance, engagement, and philanthropy," Boyle said. "I am excited to learn from board members and members who are affiliated with education, industry, government, and even the Smithsonian."
Boyle's work at AIHP also aligns with her work at the School of Pharmacy, where she is the course manager for Professional Foundations of Pharmacy II in the Doctor of Pharmacy program and teaches the history of pharmacy and the role of pharmacy in society with several faculty colleagues. She also has worked with several students on pharmacy history research projects.
Boyle has also chaired the Maryland Pharmacists Association's (MPhA) Heritage Committee and supported MPhA's efforts to digitize collections and records.
"Dr. Boyle has always been a pharmacy leader and champion while also being heavily invested in celebrating the history of our profession," said Jill A. Morgan, PharmD, BCPS, BCPPS, professor and chair of PPS. "Understanding the history of pharmacy can benefit all of us in the profession as we work to expand pharmacy's role in patient care and as members of interdisciplinary care teams. Dr. Boyle will represent her colleagues and the School of Pharmacy well."
Boyle recently chaired an AIHP task force to provide comments to the Accreditation Council for Pharmacy Education (ACPE) on the 2025 accreditation standards regarding instruction in the history of pharmacy among required curriculum for Doctor of Pharmacy programs. In its findings to ACPE, the task force called for increasing curriculum devoted to the history of pharmacy to discover "untold stories and new voices from people, events, and milestones which contributed to the pharmacy profession over time."
"I believe in the value of learning history and applying it to leadership and advocacy in our lives and the pharmacy profession," Boyle said. "There is more to history than artifacts; it encompasses the traditions, cultures, and people which constitute our heritage. I look forward to making pharmacy history more accessible through digitization and to helping promote new stories and accomplishments."
Related News Stories