Two UMSOP Professors Honored in National Women in Pharmacy Campaign
Magaly Rodriguez de Bittner and Cynthia Boyle recognized for contributions to pharmacy profession.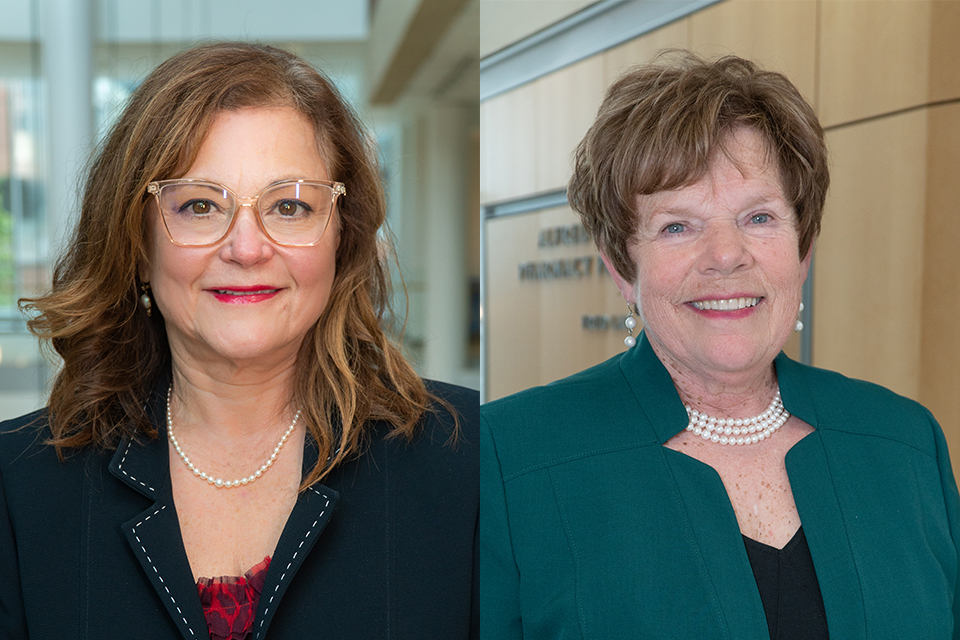 By Andrew Tie
August 23, 2022
Two professors at the University of Maryland School of Pharmacy are among those celebrated in the American Pharmacists Association (APhA) Foundation's Women in Pharmacy Recognition Campaign to recognize women and their impact throughout the history of pharmacy.
Magaly Rodriguez de Bittner, PharmD, FAPhA, FNAP, the Felix Gyi Endowed Memorial Professor in Pharmapreneurship, and Cynthia J. Boyle, BSP, PharmD, FAPhA, FNAP, FASCP, professor emeritus of pharmacy practice and science, are among the 10 recipients receiving this honor for distinguished women in pharmacy among a group of national candidates.
"Dr. Rodriguez de Bittner and Dr. Boyle both have countless achievements that positively impact the School of Pharmacy and the entire profession," says Natalie D. Eddington, PhD, FAAPS, FCP, dean and professor of the School of Pharmacy. "They have been mentors to hundreds of students and trainees, and their careers exemplify our School's tenets of influence, expertise, and impact. I am honored and proud to see two of our female faculty recognized and included with such a distinguished group of women."
"It is so exciting to have Dr. Boyle and Dr. Rodriguez de Bittner receive this great honor," says Jill Morgan, PharmD, BCPS, BCPPS, FNAP, professor and chair of the Departments of Pharmacy Practice and Science and Pharmaceutical Health Services Research. "They are amazing leaders, mentors, and advocates for the profession of pharmacy. The University of Maryland School of Pharmacy has been lucky to have them as part of our faculty."
Rodriguez de Bittner leads activities at the School related to pharmapreneurship, the School's commitment to supporting faculty and students to address health care challenges through pharmacy entrepreneurism. In addition, she serves as associate dean for clinical services and practice transformation and is director of the Maryland P3 Program, a patient-centered comprehensive medication therapy and chronic disease management program in the Mid-Atlantic. Rodriguez de Bittner is also executive director of the School's Center for Innovative Pharmacy Solutions.
"It is such an honor to be named alongside so many amazing women in pharmacy," Rodriguez de Bittner says. "I hope that many of our female student pharmacists see this recognition as an inspiration for what is possible for all women in pharmacy.
"I have dedicated my career to developing, promoting, and advancing the role of the pharmacist in health care and patient care. We have proven that we can make a difference clinically and economically to the health and well-being of our patients."
Boyle, who recently retired from UMSOP, had a decorated career that included nearly three decades as a community and hospital pharmacist and another two in academia. At UMSOP, Boyle precepted students, taught electives such as legislative experience, and was course manager or teacher in the Abilities Labs series, leadership and advocacy, and communication strategies. She received numerous awards during her career, including the American Association of Colleges of Pharmacy's Chalmers Distinguished Pharmacy Educator Award in July.
"I am profoundly honored to be selected among the 'Next Ten' for the APhA Foundation Women in Pharmacy Exhibit," Boyle says. "This is even more meaningful than the individual honors I have received over my career because the nine women selected with me are colleagues and friends with whom I have served in many endeavors. We have worked individually and collectively to advance the profession of pharmacy. We represent generational progress."
Rodriguez de Bittner and Boyle will be honored at a special APhA event on Oct. 14 in Washington, DC.
Related News Stories