SOP Students Finish in Top Three at NCPA National Business Plan Competition
Student pharmacists from across the country compete to deliver the best business plan for a new independent community pharmacy.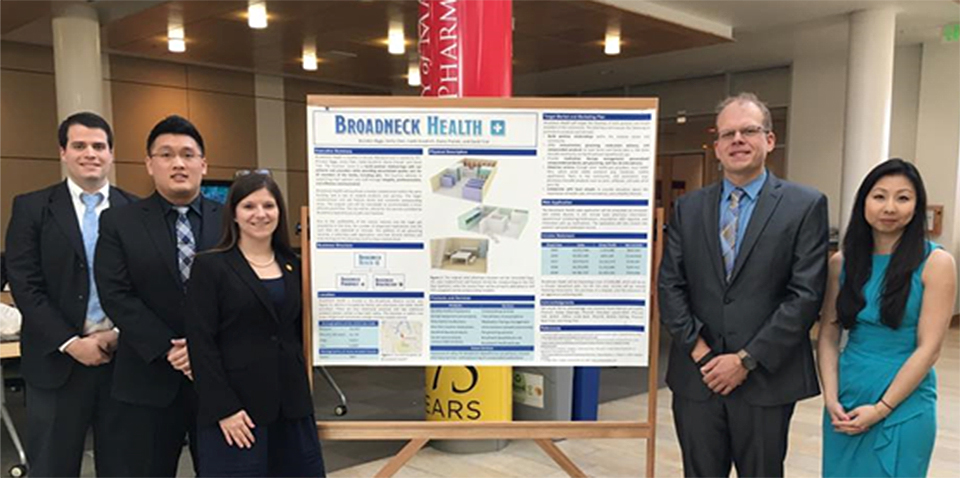 By Malissa Carroll
November 17, 2016
A team of four fourth-year student pharmacists and one recent graduate from the University of Maryland School of Pharmacy have been awarded third place in the National Community Pharmacists Association's (NCPA) Good Neighbor Pharmacy NCPA Pruitt-Schutte Student Business Plan Competition. Held each year at NCPA's Annual Convention, the competition is designed to promote student interest in independent community pharmacy ownership.
"Placing in the top three at a national competition is an outstanding accomplishment and one of which our student pharmacists should be tremendously proud," says Cherokee Layson-Wolf, PharmD, BCACP, FAPhA, associate professor in the Department of Pharmacy Practice and Science (PPS) and associate dean for student affairs at the School of Pharmacy. "The students truly capitalized on their entrepreneurial spirit, dedicating countless hours to develop a business plan that was not only well thought out, but also a viable fit for the current marketplace. We congratulate them on their success."
To compete in the NCPA Student Business Plan Competition, teams must develop a blueprint that outlines their plan to purchase an existing independent community pharmacy or establish a new pharmacy. The proposal presented by student pharmacists Brandon Biggs, Caleb Goodrich, Elaine Pranski, and David Tran and graduate Emily Chen detailed the creation of Broadneck Health – an umbrella company to include Broadneck Pharmacy to serve residents of the local community and Broadneck "Apawthecary" to serve their pets. The students planned to purchase the existing Broadneck Pharmacy in Arnold, Md., renovate the facility to improve workflow, and purchase a unit in a nearby medical complex to serve as a compounding center for both sterile and non-sterile pharmaceutical products.
"We wanted to establish a business that would provide quality pharmaceutical care to members of the community," explains Pranski, who served as the team's captain. "In addition to renovating an existing pharmacy, we devised a number of initiatives that, once implemented, would help improve patients' health and foster personal relationships. And, since the members of our team love animals, incorporating a veterinary pharmacy component seemed like a natural extension that would help us better serve our patients and their furry friends."
The team first presented its plan to establish Broadneck Health at the School's local NCPA Business Plan Competition in 2015. Although the team did not win the competition, its members regrouped and sought assistance from faculty and staff members Joey Mattingly, PharmD, MBA, assistant professor in PPS; Tim Rocafort, PharmD, BCACP, assistant professor in PPS; and Ashlee Mattingly, PharmD, abilities lab pharmacist and technician training coordinator, to refine their plan the following semester. In Spring 2016, the team earned first place in the local competition and a chance to compete in the national competition, for which they were selected from 46 colleges and schools of pharmacy across the United States.
"Potential entrepreneurs can learn a lot from this team's journey," says Joey Mattingly. "After losing the local competition in 2015, the team realized that entering the competition again would not only risk its members' reputations, but also the heartache that might come if their plan failed again. I was incredibly impressed with their ability to handle adversity and feel fortunate to have had an opportunity to work with such a dedicated team of student pharmacists."
In October, the team competed in the national competition against finalists from two other schools of pharmacy – the University of North Carolina Eshelman School of Pharmacy and the University of Texas at Austin College of Pharmacy. Team members presented their plan in front of a panel of distinguished judges that included a past president for NCPA, a representative from Pharmacists Mutual Company, and a representative from Live Oak Bank.
The team's third place finish in the competition earned them $1,000 to support the School's NCPA student chapter, as well as an additional $1,000 contribution to the School to help promote independent pharmacy.
"Although participating in this competition required a lot of time and hard work, I have truly learned a lot about the business behind pharmacy, how to lead a team, and the type of pharmacist that I want to become," says Pranski. "Our idea and our team have evolved so much from our initial meetings two years ago, and we are incredibly thankful for the support that we have received from the School, our NCPA student chapter, and our faculty advisors."
Related News Stories