SOP Partners with UM Quality Care Network to Expand Pharmacy Services
Collaboration will allow pharmacists from the School to provide services and medication management support to approximately 125,000 patients.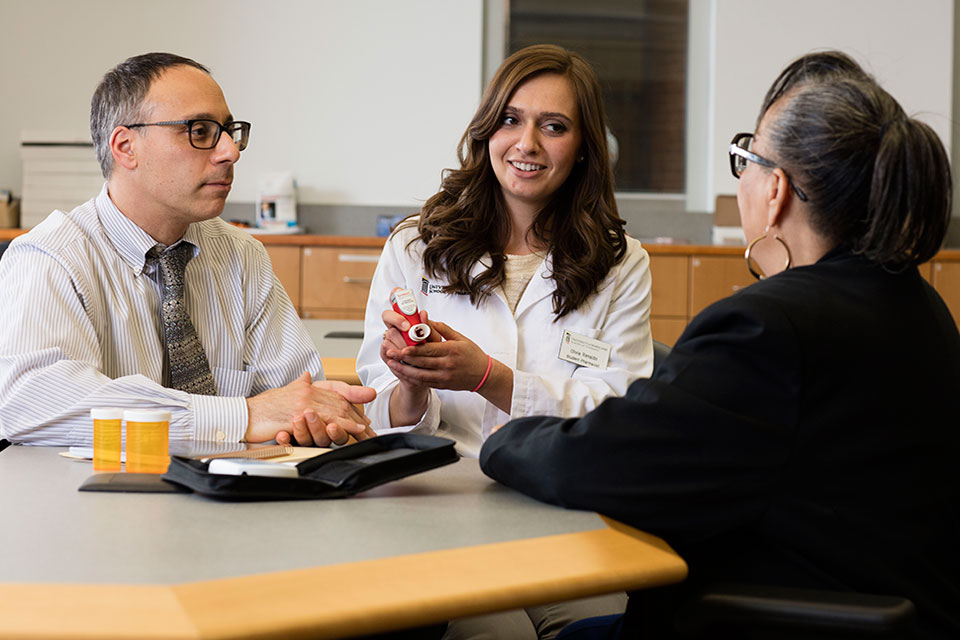 By Malissa Carroll
May 16, 2017
The University of Maryland School of Pharmacy has contracted with the University of Maryland Quality Care Network (UMQCN) to provide pharmacy services and case management support to approximately 125,000 patients who receive care under the network. Patients from private insurance, as well as Medicaid and Medicare patients, will receive care coordination services from pharmacy faculty and staff in the network in collaboration with more than 350 primary care providers across Maryland.
"The School of Pharmacy is committed to expanding the role of pharmacists and their impact on pharmacy education, research, and patient care," says Magaly Rodriguez de Bittner, PharmD, FAPhA, professor in the Department of Pharmacy Practice and Science (PPS) and associate dean for clinical services and practice transformation at the School. "The expertise of our faculty and staff, combined with the innovative resources and programs at the School, uniquely position us to support UMQCN in this endeavor and further advance its pharmacy and case management programs. We are excited to collaborate with UMQCN on this initiative and look forward to working alongside their team to improve health care for thousands of Maryland residents."
UMQCN is a provider-organized network of physicians and other health care providers in the state of Maryland. It employs an engaged primary care model, advanced medical management programs, and innovative technology platform to provide patients with high quality, efficiently coordinated, and cost-effective health care services. Through the new contract with UMQCN, faculty and staff from the School of Pharmacy will be responsible for providing a variety of services to patients in the network, including medication management, telehealth management, drug information, and patient and provider education on numerous medication-related issues.
"We are excited to have this opportunity to collaborate so closely with the University of Maryland School of Pharmacy," says Stacy Garrett-Ray, MD, MPH, MBA, president of the UMQCN. "By leveraging the intellectual capital at the School, we are tapping into a resource that will be very beneficial for our patients."
Integrated into UMQCN's comprehensive medical management model, the services provided by faculty and staff at the School will mirror those offered through the School's Maryland P3 Program – a pharmacist-delivered comprehensive medication management program for patients with chronic diseases.
"In the Maryland P3 Program, specially trained pharmacists apply a comprehensive model of care that offers patients step-by-step guidance on medication adherence, lifestyle changes, and self-care skills," says Rodriguez de Bittner, who also serves as the executive director of the School's Center for Innovative Pharmacy Solutions (CIPS), a national resource center and leader in the development of innovative patient care and business solutions to health problems, which will oversee the implementation of services under the contract. "By bringing similar services to patients in UMQCN, we are ensuring that the organization remains on the forefront of patient care, delivering high quality pharmacy-related programs to its patients and significant cost savings to its payers."
Faculty and staff working with providers and patients in the UMQCN will also gain new insights in the field of integrated population health management, which will help inform the School's curriculum and prepare future pharmacists for roles in the field of population health management.
"The School of Pharmacy continues to evolve its curriculum to provide future generations of pharmacists with the knowledge and skills needed to be essential contributors to the health care team," adds Rodriguez de Bittner. "Through our collaboration with UMQCN, faculty and staff from the School will gain invaluable, firsthand experience in the emerging field of population health management. This experience will enable the School to adapt its curriculum to meet developing needs, provide students with experiential rotations in the field, and potentially develop new revenue generating programs from which faculty, staff, students, and the community alike can benefit."
Services incorporated in UMQCN as part of this contract began in February 2017.
Related News Stories