School of Pharmacy Surpasses Philanthropy Campaign Goal
The School has met and passed its aim of $22 million in the university-wide Catalyst Campaign.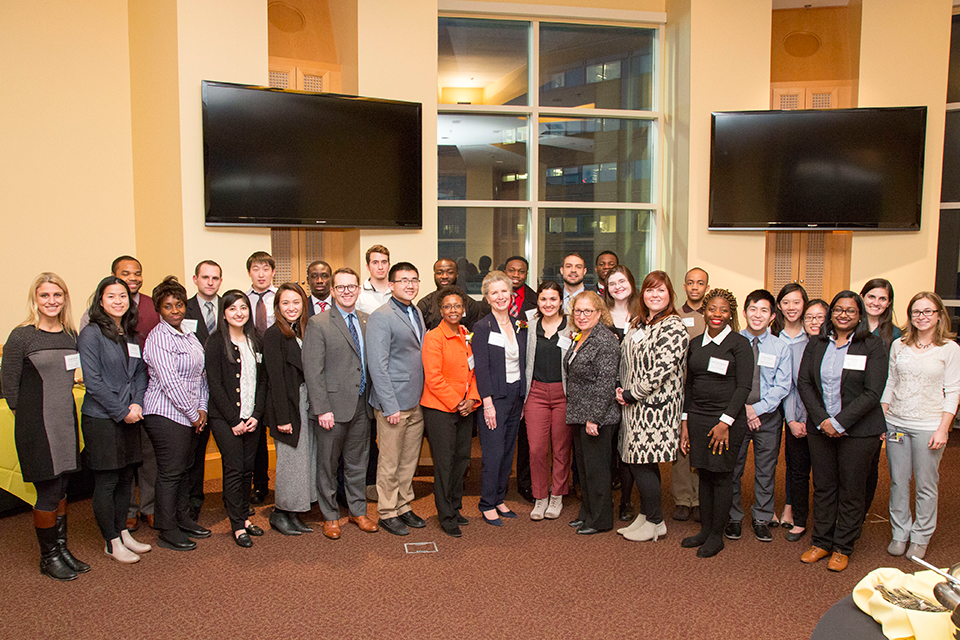 By Andrew Tie
February 17, 2022
The University of Maryland School of Pharmacy has achieved its goal in the 2017-2022 Catalyst Campaign, more than 10 months before the end of the University of Maryland, Baltimore's (UMB) institution-wide fundraising effort. As of Feb. 1, the School has raised more than $22.4 million, surpassing its goal of $22 million set as part of the five-year capital campaign ending this year.
"I am so incredibly grateful for the ongoing generosity and philanthropic support of our School of Pharmacy community," says Natalie D. Eddington, PhD '89, FAAPS, FCP, dean and professor of the School of Pharmacy. "As an alumnus myself and as a faculty member and dean, it is a point of pride and distinction that our graduates and friends step up to continually position the School as a top school of pharmacy in the United States."
Like all gifts made to the School of Pharmacy, funds generated from the campaign support student scholarships, faculty, practice, research, and community outreach activities.
"We continue to be in awe of the generosity of and are grateful for the School of Pharmacy community of faculty, staff, students, and alumni, who helped us reach our goal," says Greer Griffith, MS, executive director of development at the School of Pharmacy. "Ultimately, this campaign wasn't just about reaching a goal. It was about recognizing the critical need for investment in the School. Our donors graciously and enthusiastically responded to our call to action."
Across its six professional schools and the graduate school, UMB has reached more than 95 percent of its campaign goal of $750 million. The Catalyst Campaign is the largest fundraising endeavor in UMB history and will support student scholarships, faculty excellence, interdisciplinary research, and special initiatives.
"Continued investment in the School of Pharmacy is needed to maintain our leadership roles in education, research, and practice within the state of Maryland and beyond," says Ken Boyden, JD, associate dean for development and alumni affairs. "The School relies on annual giving to continue to support our education, research, practice, and community outreach initiatives, and the Catalyst Campaign is a great opportunity to get involved."
Donations to the Catalyst Campaign are still being accepted and are encouraged.
Related News Stories