School of Pharmacy Hosts Evening Gala to Celebrate Donors and Friends
David Stewart Associates Dinner recognizes individuals who participate in leadership level giving to the School.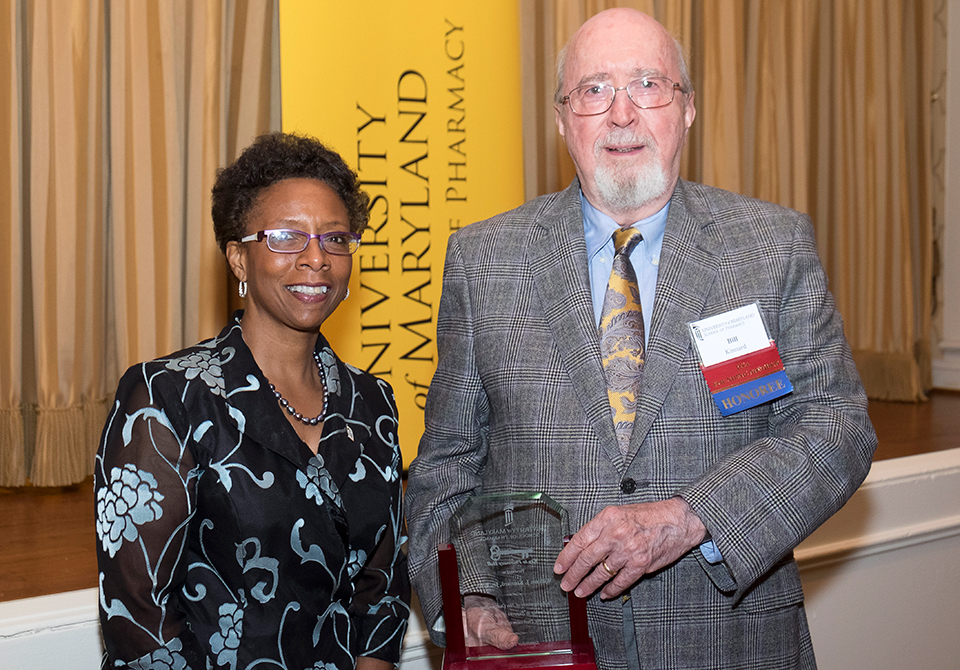 By Malissa Carroll
September 24, 2015
The University of Maryland School of Pharmacy hosted a special dinner on Sept. 17 to celebrate the members of the David Stewart Associates (DSA) Society, its recognition society for leadership level giving by individuals.
"Members of the David Stewart Associates Society support the School in many tangible ways, including scholarships, fellowships, and awards; by naming the School as a beneficiary in their wills; with named spaces in Pharmacy Hall; and by designating funding for our greatest needs or for one of our departments or centers," said Natalie D. Eddington, PhD, FAAPS, FCP, dean and professor of the School of Pharmacy. "It is the support of these individuals, and their leadership and commitment to the School that helps to propel the cycle of philanthropy into the next generation."
Established in the 1980s, the DSA Society is named for David Stewart, the nation's first professor of pharmacy and one of the School's founders. Members of this prestigious group recognize the importance of sustained, leadership giving to provide a solid base of private support and to ensure the School's continued prominence in the pharmacy profession. These individuals make an annual gift of $1,000 or more to an unrestricted or restricted gift designation.
Approximately 85 percent of students attending the School of Pharmacy receive scholarship support thanks to the philanthropy of DSA Society members. During the dinner, fourth-year student pharmacists Rachel Smith and Joseph Goble delivered heartfelt remarks about how support from the DSA has made it possible for them to pursue their dreams of becoming pharmacists.
The recipient of the Martin B. Mintz Scholarship, Smith spoke about how the School of Pharmacy ignited her passion for independent pharmacy. She described how the financial support afforded to her through the scholarship allowed her to take advantage of extracurricular opportunities to pursue this passion and enhance her professional development.
"With higher education costs continuing to increase, I have watched my peers sacrifice opportunities to grow professionally through involvement with student organizations in order to have more time to work," said Smith. "Thanks to your generosity, I was able to become even more involved with the National Community Pharmacists Association student chapter by serving as the organization's past president. I cannot thank you enough for investing in my future, and I hope to one day pay it forward by giving back to the School and showing that small businesses, like independent pharmacies, can have a big impact."
Goble, who received the 2014 Beardsley Scholar Leader Scholarship, recalled an interaction that he had with a patient during a health outreach event in which he participated as a first-year student pharmacist. He explained how that interaction reinforced his desire to become a pharmacist and how the financial support from the Beardsley Scholar Leader Scholarship has helped him to pursue more opportunities to directly impact patients' lives.
"After I finished speaking with the patient, she thanked me and told me that I would be successful no matter what path I chose to pursue in the profession because the care that I had for the patient's well-being truly showed through my interactions," said Goble. "She set me apart as a future health care professional and strengthened my passion for pharmacy. I am proud to stand before you as the 2014 recipient of the Beardsley Scholar Leader Scholarship — proof that your untiring support has an invaluable impact, ensuring that more students like me have the opportunity to pursue their passions and affect patients' lives in meaningful ways."
Before the evening concluded, Eddington presented the Key to Pharmacy Hall, which is awarded annually to an individual who has significantly impacted the School through his or her advocacy efforts and who has demonstrated commitment to assisting the School of Pharmacy with advancing its mission to lead pharmacy education, scientific discovery, patient care, and community engagement in the state of Maryland and beyond.
This year's recipient was William J. Kinnard, Jr., PhD, former dean and professor of the School of Pharmacy.
"With a career spanning beyond pharmaceutical education and research, Dr. Kinnard's dedication to the pharmacy profession, as well as to health care, remains unparalleled," said Eddington. "In addition to his recognition as a Distinguished Alumnus of both the University of Pittsburgh and Purdue University, Dr. Kinnard has been awarded the B. Olive Cole Honorary Alumnus Award by the School of Pharmacy. He was one of the first two pharmacists elected to the Institute of Medicine in 1978, and as one of the DSA Society's founding members, he helped to set the benchmark for philanthropy at the School. It is an honor to present him with this esteemed award."
Kinnard received his Bachelor of Science in Pharmacy and Master of Science in pharmacology from the University of Pittsburgh. He later completed his doctorate in pharmacology at Purdue University, and served as dean and professor of the School of Pharmacy from 1968 to 1989, as acting president for the University of Maryland, Baltimore (UMB) from 1989 to 1990, and as acting assistant chancellor of the University System of Maryland from 1990 to 1991. He also held a number of appointments with external organizations during his time at the School, including his service as vice chair of the Citizens Health Council, chair of the Board of Trustees of the United States Pharmacopeia Convention, and president and chair of the board of the American Association of Colleges of Pharmacy.
"Because of the ingenuity and leadership demonstrated by individuals like you, the role of the pharmacist as a member of the health care team continues to expand," said Kinnard. "As the pharmacy profession continues to evolve, so too will the School of Pharmacy. I have been fortunate to witness many changes within the School in the nearly 50 years since I became dean, and I am excited about the changes that the years ahead will hold. This School is one of the finest institutions in the United States, and it is an honor to receive this prestigious award."
If you or someone you know is interested in becoming a member of the DSA Society, please contact Megan Moorefield, associate director in the School's Office of Development and Alumni Affairs, at (410) 706-4415 or mmoorefield@rx.umaryland.edu.
Related News Stories