School of Pharmacy Hosts Evening Gala to Celebrate Donors and Friends
David Stewart Associates Dinner recognizes individuals who participate in leadership level giving to the School.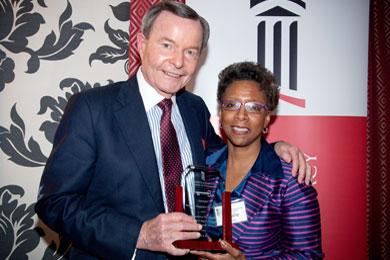 By Malissa Carroll
April 15, 2013
On Friday, April 5, the University of Maryland School of Pharmacy hosted a dinner to celebrate the members of the David Stewart Associates (DSA), its recognition society for leadership level giving by individuals.
"David Stewart Associate members support the School in many tangible ways, including scholarships, fellowships, and awards, by naming the School as a beneficiary in their wills, with named spaces in Pharmacy Hall, and by designating funding for our greatest needs or for one of our departments or centers," said Natalie D. Eddington, PhD, FAAPS, FCP, dean and professor of the School of Pharmacy. "It is the support of these individuals, and their leadership and commitment to the School, which helps to propel the cycle of philanthropy into the next generation."
Established in the 1980s, the DSA is named for David Stewart, America's first professor of pharmacy and a founder of the Maryland School of Pharmacy. Members of this prestigious group recognize the importance of sustained, leadership giving to provide a solid base of private support and to ensure the School's continued prominence in the pharmacy profession. These individuals make an annual gift of $1,000 or more to an unrestricted or restricted gift designation.
Approximately 85 percent of students at the School of Pharmacy receive some form of scholarship support thanks to the philanthropy of DSA members. During dinner, pharmacy students Jaimee Bible and Nkem Nonyel delivered heartfelt remarks about how support from the DSA has made it possible for them to pursue their dreams of becoming pharmacists.
Bible, a fourth-year student pharmacist, was the recipient of the 2012 Terry P. Crovo Memorial Scholarship, which was established by DSA members Thomas and Beverly Crovo, the brother and sister-in-law of deceased alumnus Terry Crovo.
"The financial support provided by the Crovo Scholarship has been incredibly vital during my fourth-year at the School of Pharmacy. The scholarship has allowed me to focus on rotations and attend important events, such as the American Society of Health-System Pharmacists Mid-Year Clinical Meeting," said Bible. "Being chosen as the recipient of this award was an honor and privilege, and I have tried very hard to live up to the values set forth by Terry Crovo – enthusiasm, compassion, respect, sensitivity, and cooperation in relationships with both patients and other health care providers."
Nonyel, a third-year student pharmacist showed a video produced by the School to illustrate the impact that scholarship dollars made available by members of the DSA have on students.
"College students around the world have struggled with the increasing costs of education, and often rely on financial assistance to help them pursue their dreams. Students at the University of Maryland School of Pharmacy are no different," said Nonyel. "As a single mother of four school-age children, life has been financially tough, and I hope you can imagine what these scholarships, no matter the amount, have done for me and many other students like me."
Before the evening concluded, Eddington presented the Key to Pharmacy Hall, which is awarded annually to an individual who has significantly impacted the School through his or her advocacy efforts and who has demonstrated commitment to assisting the School of Pharmacy with advancing its mission to lead pharmacy education, scientific discovery, patient care, and community engagement in the state of Maryland and beyond. This year's recipient was Harold Chappelear, BS, LLD (Hon.), a member of the School's Board of Visitors.
"Hal is a true friend to the School of Pharmacy. He can always be counted on for his positive attitude, his sage advice, and his readiness to help whenever asked," said Eddington. "In addition to his instrumental role in establishing UPM Pharmaceuticals, Hal was also a strong advocate for Pharmacy Hall Addition, and he has been a leader of our Capital Campaign, which is seeking to raise $30 million for the School of Pharmacy."
In 1993, after retiring from a career that spanned both private practice and industry, Chappelear accepted a position as an adjunct professor in the Department of Pharmaceutical Health Services Research. He was instrumental in establishing UPM Pharmaceuticals, an independent drug development and contract manufacturer in Baltimore, from research contracts awarded to the School by the Food and Drug Administration. He still serves as vice chair for the company, in addition to serving on the Board of Trustees of the University of Maryland Baltimore Foundation, Inc., and the School of Pharmacy's Board of Visitors. He is also owner of Internasource, a consulting firm he founded with his daughter focused on executive leadership development, student leadership development, organizational development, and strategic planning.
"I have received a few kindnesses from a variety of institutions over the years, but the honor accorded me by the School of Pharmacy is without parallel. I accept it with deep gratitude and affection," said Chappelear. "Coming from a profession I have served so long, and with people whom I have admired and respected so well, this award fills me with an emotion I cannot express. That I should be integrated in this way with so important an institution fills me with a sense of pride and also of humility, which will be with me always."
If you or someone you know is interested in becoming a member of the DSA, please contact Janice Batzold at (410) 706-1711 or jbatzold@rx.umaryland.edu.
Related News Stories