School of Pharmacy Celebrates the Class of 2018 at Convocation
More than 200 PharmD and graduate students receive degrees and embark on the next phase of their lives.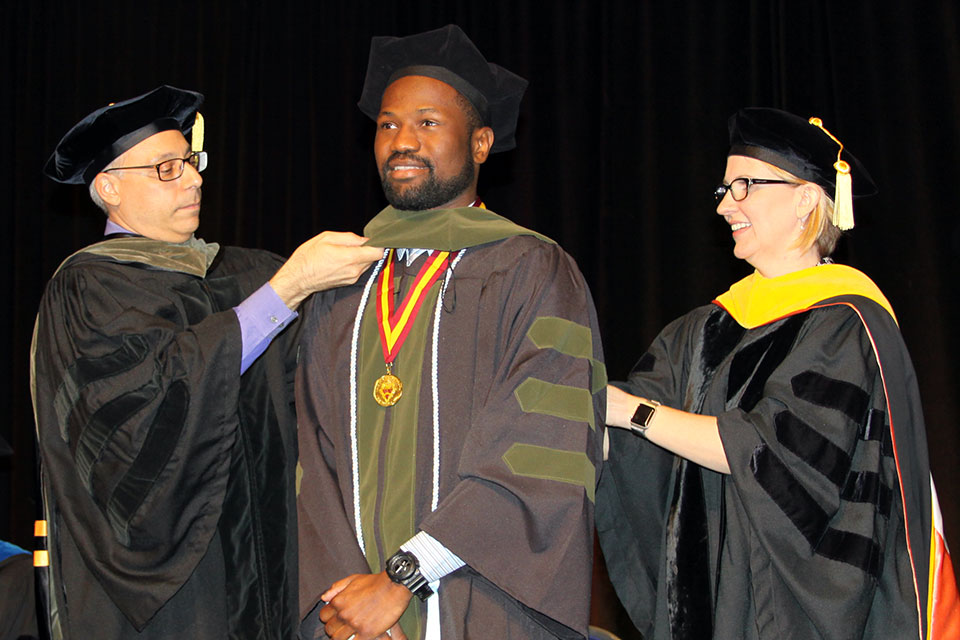 By Malissa Carroll
May 18, 2018
No other month in the academic year brings about more excitement at the University of Maryland School of Pharmacy than the month of May, as faculty and staff join family and friends in celebrating the graduation of the School's Doctor of Pharmacy (PharmD), Doctor of Philosophy (PhD), and Master of Science (MS) Class of 2018. This year's celebrations for graduates in all of the School's academic programs spanned two days, and culminated with the annual convocation ceremony held at the Hilton Baltimore Hotel on May 18.
In her opening remarks at the convocation ceremony, which focuses on the achievements of the PharmD Class of 2018, Natalie D. Eddington, PhD, FCP, FAAPS, dean and professor of the School, highlighted some of the class's noteworthy accomplishments from the past four years. She commended the graduates for their commitment to their pharmacy education, noting that some students had not only overcome significant personal challenges to complete their education, but also pursued additional opportunities along the way, including the completion of a dual degree, involvement in a wide range of community and global health projects, and election to local and national student leadership roles.
"Today marks the beginning of a celebration of what is to come for each of you as members of one of the most rewarding professions – pharmacy," she said. "As new practitioners, you have amazing opportunities in front of you to be critical thinkers and to solve the perennial, long-term problems facing health care, research, and society. Challenge the status quo approach to health care in this country. Use your passion and your enthusiasm to drive our profession to truly impact patient care in a more visible, sustainable manner focused on delivering positive health care outcomes."
Victoria Hale, BSP '83, PhD, founder and chief executive officer of OneWorld Health and Medicines360 – and one of the School of Pharmacy's Founding Pharmapreneurs – was selected by the Class of 2018 as the keynote speaker for convocation in recognition of her enduring passion for the development of important new medicines for all of humanity, with the specific goal of reducing health inequities. In her speech, Hale encouraged graduates to rely not only on their intellect as they progress through their careers, but also to listen to their hearts and make their own unique mark on the pharmacy profession.
"You are sitting here today as a graduate of the University of Maryland School of Pharmacy because of your intellect," said Hale. "All that you have learned here will carry you far in this world. But, there are a lot of people with great intellects. It is your heart that will direct you and guide you, if you are open to it. I chose the pharmacy path because it was what my heart told me to do. But, each of us has a different way of being in the world. It is only through knowing your heart that you will find your true path."
Amanda Oglesby-Sherrouse, PhD, assistant professor in the Department of Pharmaceutical Sciences (PSC); and James Trovato, PharmD, MBA, BCOP, FASHP, associate professor in the Department of Pharmacy Practice and Science (PPS); with assistance from Cherokee Layson-Wolf, PharmD, BCACP, FAPhA, associate professor in PPS and associate dean for student affairs, joined Eddington in presenting graduates with their doctoral hoods to signify their completion of the highest professional degree in pharmacy.
"Donning the traditional olive colored pharmacy hood represents the fact that you have entered a caring profession that depends upon your proper use of scientific and clinical knowledge," said Eddington. "You must care for your patients with compassion as well as intelligence. You will be trusted by patients – do not underestimate the importance of that trust, nor treat it lightly. You will have an impact on peoples' lives."
Twenty students graduating from the School's PhD in Pharmaceutical Health Services Research (PHSR) and PhD in PSC programs received their hoods during the University of Maryland, Baltimore's Graduate School ceremony on May 17. The MS in Regulatory Science program also hosted its third convocation in Pharmacy Hall on May 17 to celebrate its nearly 30 graduates.
"Progressing through this graduate program was a much different experience than pursuing my undergraduate degree," said Mark Hendrickson, senior director of sciences and regulatory affairs for the Association for Accessible Medicines and member of the program's Class of 2018. "Over 18 months, my classmates and I spent five semesters together, completing approximately 350 hours of online lectures, 30 scheduled live discussions with our peers, 10 individual papers, 10 group papers, and 10 group presentations. To have this opportunity to interact with other working professionals from all sorts of backgrounds – learning from these individuals and working together to pursue a combined interest – was really a fascinating experience."
The School's MS in Pharmacometrics program also celebrated its fifth graduating class. This year's graduating class featured 12 students, including two dual degree students from the School's Doctor of Pharmacy program – Priya Brunsdon and Minseok Lee.
Following the School's morning convocation ceremony, graduates assembled in the afternoon for a campus-wide graduation ceremony at the Royal Farms Arena, where Jody Olsen, PhD, MSW, director of the Peace Corps and former faculty member at the University of Maryland School of Social Work, delivered the keynote address.
To view more photos and video from this momentous occasion, please visit the School of Pharmacy's Facebook page.
PharmD Class of 2018 Awards and Prizes:
Preceptors of the Year: Jeffrey Mrowczynski, PharmD; Zachary Noel, PharmD, BCPS; Richard D. Parker, Jr., PharmBS; and Jessica Pyhtila, PharmD, BCGP, BCPS
Andrew G. DuMez Award for Superior Proficiency in Pharmacy: Alina Jane Kukin
Terry Paul Crovo Award in Pharmacy Practice for Performance and Promise to Uphold the Highest Standards of the Profession: Alyssa Theresa Henshaw and Rachel Allison Lumish
Lambda Kappa Sigma, Epsilon Alumnae Chapter-Cole Award for Proficiency in Pharmacy Administration: Chukwukadibia Jideofor Udeze
William Simon Memorial Prize for Superior Work in the Field of Medicinal Chemistry, Practical and Analytical Chemistry: Ana Luisa Moreira Coutinho
Wagner Pharmaceutical Jurisprudence Prize for Meritorious Academic Achievement in Pharmaceutical Jurisprudence: Ahrang Yoo
John F. Wannenwetsch Memorial Prize for Exceptional Performance and Promise in the Practice of Community Pharmacy: Kayla Lynn Otto
Conrad L. Wich Prize for Exceptional Work in Medicinal Chemistry and Pharmacognosy: Priya Brunsdon
S. Williams Practical Pharmacy Prize to the Student Having the Highest General Average in Basic and Applied Pharmaceutics: Jessica Hodge
Academic Excellence Award: Jessica Hodge and Rachel Allison Lumish
Universities at Shady Grove Academic and Community Excellence Award: Priya Brunsdon
Maryland Pharmaceutical Society Award: Gaelle Annick Ngadeu Njonkou
Maryland Society of Health-System Pharmacy Award: Kar-Yue Alvin Yee
Maryland Pharmacists Association Award: Meryam Sima Gharbi
Maryland-ASCP Award: Hongzhuo Lin
Alfred Abramson Entrepreneurship Award: Fahim Faruque
S. Public Health Service Excellence in Public Health Pharmacy Award: Priya Davey
Mylan Excellence in Pharmacy Award: Alaina Marie Robey
Leadership Awards: Priya Davey, Bahareh Ghorashi, Emmanuel Kim, Abigail Marie Klutts, Alina Jane Kukin, Joseph Robert Martin, Jenny Diep Nguyen, and Chukwukadibia Jideofor Udeze
Related News Stories