School of Pharmacy Announces Inaugural Assistant Dean of Equity, Diversity, and Inclusion
Chanel Whittaker, associate professor of pharmacy practice and science, will oversee further development and implementation of EDI strategic plan and initiatives.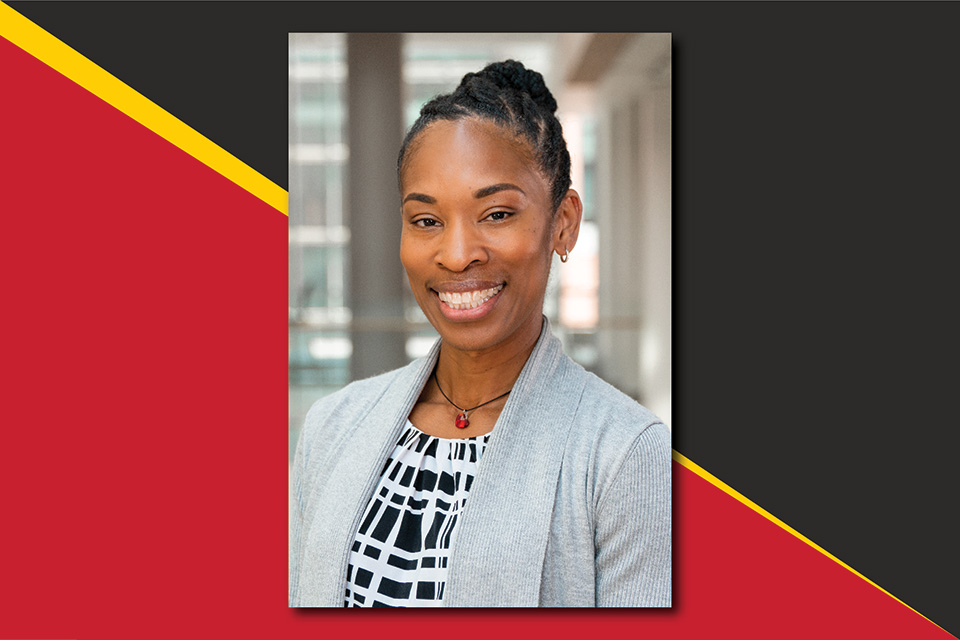 By Becky Ceraul
May 26, 2022
Chanel Whittaker, PharmD, BCGP, FASCP, has been appointed the University of Maryland School of Pharmacy's inaugural assistant dean of equity, diversity, and inclusion (EDI). An associate professor of pharmacy practice and science, director of the University of Maryland PGY2 Geriatrics Residency Program, and director of education and training at the School of Pharmacy's Peter Lamy Center on Drug Therapy and Aging, Whittaker has been on faculty at the School of Pharmacy since 2005.
"The national search process for this vital position at the School began a year ago to accomplish one of the key charges of our Diversity, Equity, and Inclusion (DEI) Taskforce," says Natalie D. Eddington, PhD, FAAPS, FCP, dean and professor of the School of Pharmacy. "I am so happy that we found the perfect candidate within our School of Pharmacy community."
Whittaker is a board-certified geriatric pharmacist and a fellow of the American Society of Consultant Pharmacists. Her practice and teaching specialties include geriatric pharmacotherapy and chronic kidney disease. She has practiced in several ambulatory and community settings providing services to older adults in the Baltimore area, including the Veterans Affairs Medical Center.
In 2013, Whittaker completed a fellowship in ethnogeriatrics with the Stanford Geriatric Education Center and has since leveraged this training to develop and incorporate new cultural competencies into the School's Doctor of Pharmacy curriculum and national standards for training PharmD students and residents in geriatrics. She has developed several evidence-based educational programs and resources to increase access to health information and improve the medication literacy of older adults and caregivers.
She is an American Geriatrics Society (AGS) Tideswell scholar and one of the few pharmacists who has participated in AGS's Emerging Leaders in Aging Program. Whittaker is currently in the second cohort of the University of Maryland, Baltimore's Faculty Leadership Program.
Whittaker has served in a leadership role as a co-chair of the School's inaugural DEI Taskforce, formed in the fall of 2020, along with Wendy Camelo-Castillo, MD, MSc, PhD, assistant professor of pharmaceutical health services research, and Mandy Oglesby, PhD, associate professor of pharmaceutical sciences. With emerging expertise on antiracism in pharmacy and in increasing access to health literate education in the community, Whittaker has worked collaboratively with School leadership, faculty, staff, and students to conduct internal and external environmental scans of EDI strengths and opportunities within the School and to learn about programs on campus and nationally. The Taskforce has also developed an initial strategic plan for EDI, of which Whittaker will now spearhead implementation.
"The University of Maryland School of Pharmacy has a long-standing reputation for excellence in its mission areas of education, practice, research, and community service, and now we have the opportunity to reimagine and redefine excellence through the lens of equity, diversity and inclusion (EDI), making the School inclusive to all members of our community. As assistant dean for EDI, I look forward to partnering with leadership, faculty, staff, and students to foster a community where EDI is foundational to how we operate the School, educate and train future leaders, conduct research, engage in clinical practice, and partner with communities. I am truly honored to be given this opportunity."
Whittaker will maintain some of her teaching and clinical responsibilities while leading EDI efforts and will work collaboratively with the DEI Taskforce, which now transitions to an advisory council. Her charges as assistant dean for EDI include:
Partner with School of Pharmacy leadership, faculty, and staff to integrate EDI priorities into the School's 2022-2026 strategic plan and cultivate a reputation for inclusive excellence.
Collaborate on the promotion of inclusive excellence and antiracism pedagogy in teaching, learning, and professional development.
Lead and coordinate new initiatives that demonstrate the School of Pharmacy's commitment to a culture of inclusion and belonging for all its students, trainees, faculty, staff, and visitors.
Partner with offices, departments, and programs to examine, revise, and create policies to cultivate an equitable and inclusive talent pipeline that results in meaningful diversity throughout the organization.
"I offer my thanks to the faculty, staff, and students who served on our DEI Taskforce and supported the search process," says Eddington. "Their efforts helped lay a strong foundation on which future EDI efforts will be built. And I invite each member of our community to join me in committing to work with Dr. Whittaker and the advisory council on the advancement of EDI initiatives at the University of Maryland School of Pharmacy."
Related News Stories