Educating the Educators: Teaching Excellence Day
Health care professionals across Maryland learn skills to precept and teach others.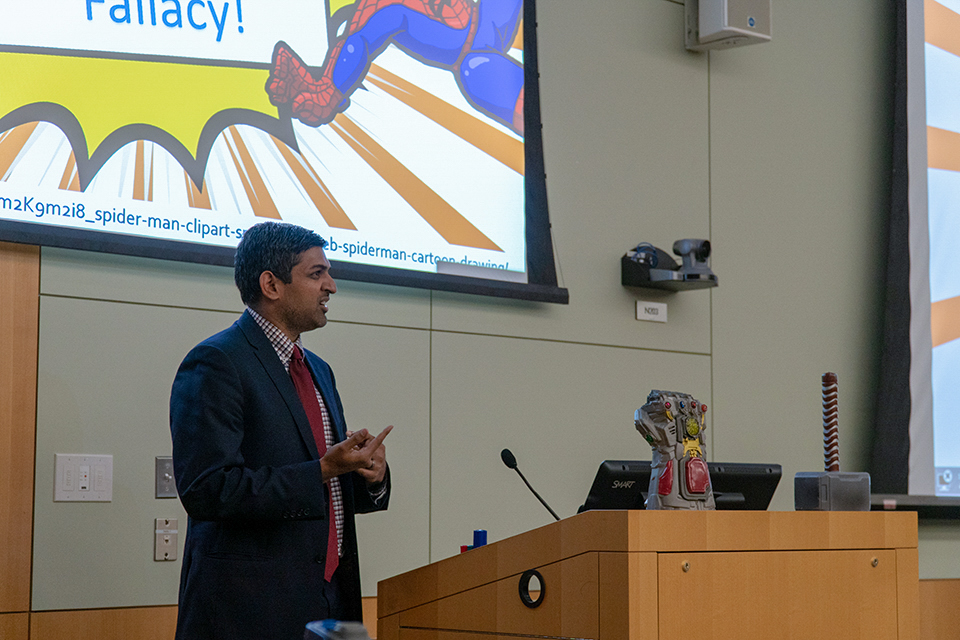 By Andrew Tie
August 10, 2022
In July, more than 130 faculty, preceptors, residents, and students from across the state convened at the University of Maryland School of Pharmacy (UMSOP) for Teaching Excellence Day, an annual event of seminars to promote pedagogical best practices and help new residents and trainees learn or hone teaching skills.
Teaching Excellence Day is open to health care professionals at other pharmacy schools and hospitals across Maryland.
Sandeep Devabhakthuni, PharmD, BCCP, an associate professor in the Department of Pharmacy Practice and Science (PPS) and director of postgraduate training, organized the agenda, which was split into a morning session on teaching in the classroom and an afternoon session on teaching as a preceptor on rotations.
"The majority of our participants are new trainees starting their residencies, so we want to make sure they have the skills they need to educate patients and other health care providers," Devabhakthuni says.
Celina Ferey, PharmD, a post graduate year (PGY)-1 pharmacy resident at the University of Maryland Medical Center, said Teaching Excellence Day provided a great introduction to precepting.
"A big takeaway for me – as a new resident, a new licensed pharmacist, but also someone who's going to be teaching someone else for the first time – is that I always have support from mentors and colleagues who are more experienced than me," Ferey says.
Equity, Diversity, and Inclusion (EDI) in Pharmacy Practice
A new addition to this year's Teaching Excellence Day was the integration of equity, diversity, and inclusion (EDI) topics. Chanel Whittaker, PharmD, BCGP, FASCP, an associate professor of PPS who was also recently appointed the School of Pharmacy's assistant dean for EDI, spoke about using equity-based language in clinical practice.
"Narrative and language inform all we do, but it's usually beneath the surface of our consciousness, and we don't think about how they have a significant impact on how we make decisions, how we treat patients, and this can contribute to health inequities," Whittaker says. "To provide person-centered care, it is important that we actively examine and shift exclusionary and stigmatizing narratives and language to more inclusive and humanizing narratives and language about people, places, and the communities in which they live."
In addition to Whittaker, Sandra Quezada, MD, MS, AGAF, associate dean for faculty diversity and inclusion and an associate professor of medicine at the University of Maryland School of Medicine, presented on mitigating bias in medical education curriculum.
Devabhakthuni said educating new trainees on EDI topics is part of preparing the new generation of pharmacists.
"Baltimore is a very diverse community, and our residents and preceptors are going to work with a culturally diverse population," Devabhakthuni says. "We want them to become culturally competent providers."
To learn more about strategies to incorporate inclusive narratives and language into your practice visit the American Medical Association's Advancing Health Equity: A guide to language, narrative and concepts.
Related News Stories