PSC Graduate Student Received Second Place in 15th Annual Graduate Translational Research Awards
Aziza Frank is a PhD candidate in the Department of Pharmaceutical Sciences.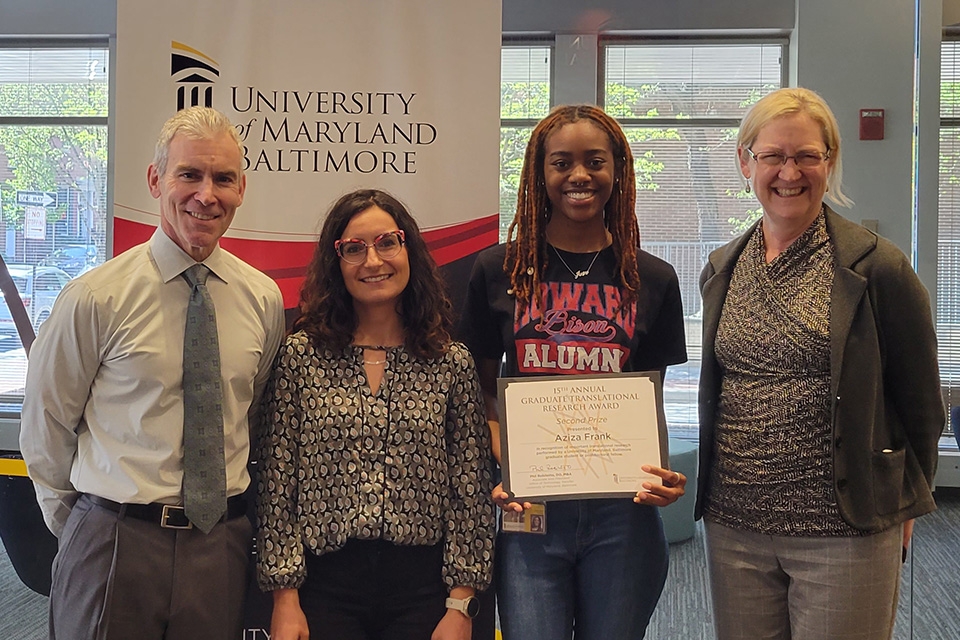 By Claire Murphy
August 2, 2023
Aziza Frank, a PhD candidate in the Department of Pharmaceutical Sciences (PSC) at the University of Maryland School of Pharmacy (UMSOP) received second place for her submission to the 15th Annual Graduate Translational Research Awards.
Frank is co-advised by Angela Wilks, PhD, interim co-chair of PSC and Isaac E. Emerson Chair of Pharmaceutical Sciences, and Fengtian Xue, PhD, an associate professor of PSC. The award, given by UM Ventures, honors Frank's research on identifying effective therapies for Pseudomonas aeruginosa, an infectious pathogen with no effective treatment that can cause antibiotic-resistant infections.
In 2021, the World Health Organization (WHO) compiled a list of antibiotic-resistant pathogens that pose the greatest threat to human health. Pseudomonas aeruginosa was designated a priority one pathogen – the highest level – due to its ability to cause severe and often deadly infections, extreme versatility, antibiotic resistance, and a wide range of dynamic defenses. The pathogen commonly develops in burn wounds, airways, or on medical implant devices; is the leading cause of persistent respiratory infection in cystic fibrosis patients; and is the second leading cause of ventilator-associated pneumonia in intensive care facilities.
Frank's research aims to enhance the potency and efficacy of a novel antipseudomonal agent called gallium-salophen-3 (GaSal-3). GaSal-3 is a dual-targeting small-molecule therapeutic that inhibits two proteins crucial for iron acquisition and the survival of Pseudomonas aeruginosa. Successful development of GaSal-3 is expected to decrease infections and greatly improve the life of burn wound and surgical patients, medical implant device users, and cystic fibrosis patients that suffer with life-threatening chronic infections.
"Known iron-chelator antipseudomonal agents have found limited success," said Xue. "Aziza's novel GaSal complexes circumvent this issue by inhibiting Pseudomonas's ability to sense and utilize heme, the primary source of iron in chronic infection. Aziza's research project represents a novel multi-targeting therapeutic formulation of gallium with increased efficacy and lower propensity to develop resistance."
Frank is interested in developing a nasal spray delivery system to administer the new treatment directly to the lungs, a common site of Pseudomonas aeruginosa infections.
"Our group was excited to meet Aziza and hear her zeal for applied research," said Phil Robilotto, DO, MBA, associate vice president for technology transfer at the University of Maryland, Baltimore (UMB) and director of UM Ventures, Baltimore. "It's critically important to develop new antimicrobial drugs to tackle the growing problem of drug-resistant infections."
Frank's project is part of an ongoing research program by Wilks and Xue, her mentors. Upon joining the research team, Frank directed her efforts toward optimizing the potency and efficacy of the compounds synthesized in Xue's lab.
In the future, Frank aspires to work at a pharmaceutical company before transitioning to her ultimate goal of establishing her own lab dedicated to researching ailments that disproportionately affect people of color, such as HIV/AIDS, sickle-cell anemia, Hepatitis C, heart disease, or cancer. She also envisions her lab as a place committed to hiring and developing underrepresented minority scientists.
"Often times, due to the lack of diversity, certain groups of people are overlooked, leading to increased health disparities. Increasing the number of underrepresented minority scientists would help to mitigate this issue," said Frank. "I would also like to work with other scientists I've met during my journey to create outreach programs, host career panels, create scholarships, and become mentors to underrepresented minority students interested in pursuing science, technology, engineering, and mathematics."
The Graduate Translational Research Award, presented in conjunction with UMB's annual Graduate Research Conference, recognizes the significant translational research conducted by a UMB graduate student or postdoctoral fellow. It embodies the mission of UM Ventures, Baltimore, which seeks to translate the outcomes of basic research into practical applications.
Related News Stories