Pharmaceutical Scientists Exploring New Therapeutics for Liver Disease
Drs. Yan Shu and Fengtian Xue continue longtime collaboration, focusing on non-alcoholic steatohepatitis.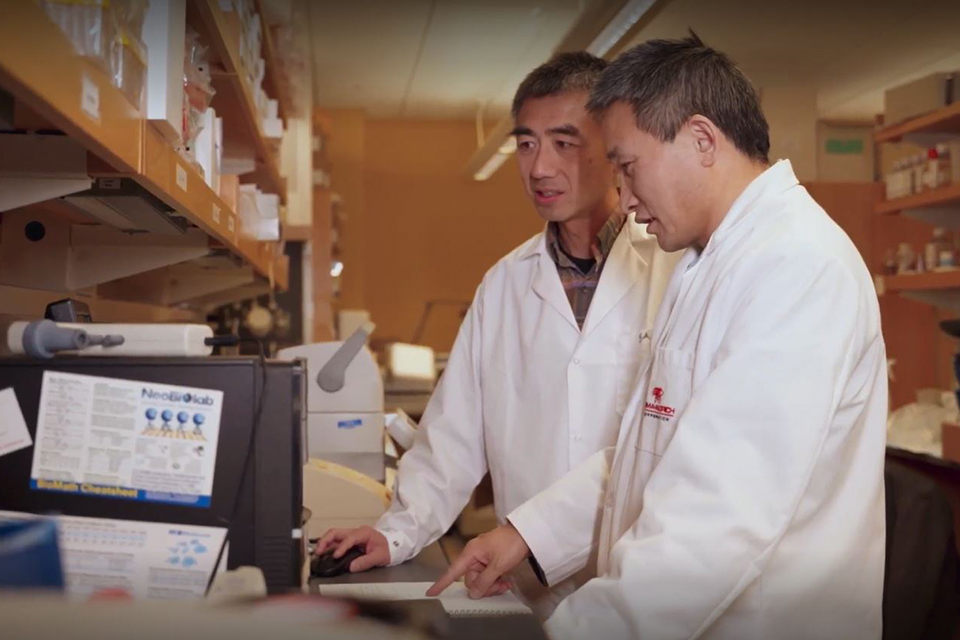 By Andrew Tie
June 21, 2023
Two faculty members in the University of Maryland School of Pharmacy's Department of Pharmaceutical Sciences (PSC) are working to create new therapeutic agents to treat a prevalent liver disease.
Yan Shu, MD, PhD, and Fengtian Xue, PhD, both associate professors of PSC, are continuing their longtime drug discovery collaboration through a five-year, nearly $2.7 million grant from the National Institutes of Health that could one day treat non-alcoholic steatohepatitis (NASH).
Nearly one in eight Americans are affected by NASH, a level of liver damage that can progress to cirrhosis or liver cancer. Currently, there are no approved drugs on the market to treat NASH, but Shu and Xue are working on new chemical compounds that have potential to become future treatments for the condition.
"This research from Dr. Shu and Dr. Xue could completely transform the therapeutic options for millions of people with NASH," said Sarah L.J. Michel, PhD, interim dean and professor of the School of Pharmacy. "NASH is very challenging with no current therapeutic options, but we hope this research can lead to a solution for treating this disease."
Drug Design and Testing Process
The current knowledge of NASH indicates that a novel drug would probably result from targeting the molecular pathways called Wnt/beta-catenin signaling pathway and adenosine monophosphate-activated kinase (AMPK) pathway. Xue and Shu are working to develop chemical compounds to simultaneously inhibit the Wnt/beta-catenin pathway and activate AMPK, which would regulate liver metabolism and treat NASH.
Xue and Shu's expertise complement each other in the drug discovery process. Xue, a chemist, specializes in drug design, synthesis, and in vitro testing of compound drug properties. Shu, a pharmacologist, helps evaluate the compounds by dissecting molecular mechanism, testing their efficacy in in vivo disease models, and evaluating their toxicity.
"Dr. Xue and I have been collaborating for a few years on this topic," said Shu. "Right now, there is no pharmacological option for patients with NASH, but given our previous work in this area and the potential we have seen so far, we hope to be closer to that option in the next five years."
Xue and Shu are now working with their second generation of novel compounds. The first generation proved the compound can target the Wnt/beta-catenin pathway and showed good efficacy in in vitro and in vivo tests. Now, the next step is to take the lead compound from the first generation and modify it to be more "drug like" while maintaining its therapeutic properties.
"One of the big issues we have to solve is the solubility of the compound," Xue said. "We want to optimize the physio-chemical characteristics of the compound, as well as its in vivo toxicity, efficacy, and metabolism of other aspects. By the end of this project, we hope to find a stronger candidate to be ready for clinical trials."
Related News Stories