Practicing P-SHOR Faculty Receive Statewide Recognition
Alison Duffy and Bethany DiPaula were honored by MPhA.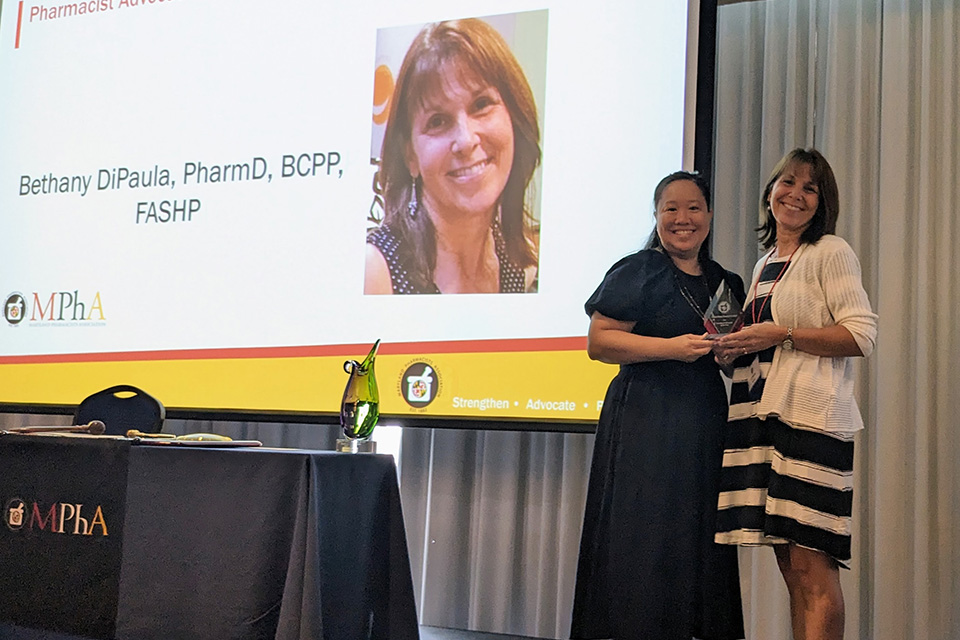 By Andrew Tie
August 31, 2023
Featured image: Bethany DiPaula receives the Pharmacist Advocate Award from Deanna Tran.
The University of Maryland School of Pharmacy was well represented during the Maryland Pharmacists Association's (MPhA) annual awards ceremony this summer.
Alison Duffy, PharmD, BCOP, associate professor in the Department of Practice, Sciences, and Health Outcomes Research (P-SHOR), and Bethany DiPaula, PharmD, BCPP, FASHP, professor of P-SHOR, as well as several UMSOP alumni received awards at the MPhA annual convention.
"Drs. Duffy and DiPaula represent the ideals of our practicing pharmacists – innovation, excellence, patient-centeredness," said Jill Morgan, PharmD, BCPS, BCPPS, FNAP, chair and professor of P-SHOR. "They are both extremely well deserving of these statewide awards and will continue to make a large impact on health care in Maryland."
Excellence in Innovation Award – Alison Duffy
Duffy received MPhA's Excellence in Innovation Award, which is given "to a forward-thinking pharmacist in Maryland who has expanded their practice into new areas and demonstrated innovative pharmacy practice resulting in improved patient care."
Duffy is a clinical pharmacy specialist in leukemia/lymphoma at the University of Maryland Greenebaum Comprehensive Cancer Center and director of the School's PGY-2 oncology pharmacy residency program.
She is being recognized for her innovative multidisciplinary strategies in improving patient care for patients with cancer. Duffy has established the inpatient hematologic malignancies service at the University of Maryland Medical Center and in 2015 documented more than $1 million in cost-savings due to her oncology pharmacy-related interventions. She has created, integrated, and expanded the role of the oncology pharmacy specialist within multidisciplinary clinics at University of Maryland Greenebaum Comprehensive Cancer Center, focusing on chemotherapy education, adherence, and tolerability management.
"Knowing how many incredible pharmacists there are in Maryland, I am deeply honored to receive the Excellence in Innovation Award," Duffy said. "I am grateful for the opportunity to make a meaningful impact on the quality and safety of oncology patient care across the state, and I'll keep striving to find innovative, collaborative solutions in my work."
Pharmacist Advocate Award – Bethany DiPaula
DiPaula, who serves as co-director of the School's Mental Health Program and director of the PGY-2 psychiatric pharmacy residency program, received the Pharmacist Advocate Award, which recognizes a pharmacist's advocacy efforts that contain legislative, professional, or service elements.
Among DiPaula's accomplishments in psychiatric pharmacy are her active efforts in shaping state physician-pharmacist collaborative drug therapy management (CDTM) legislation and practice in Maryland. Since 2006, she has created CDTM practices in three unique health care systems providing services to urban and suburban indigent/underserved populations with substance use disorders and other psychiatric disorders, which has led to expanded access to evidence-based care.
"The Pharmacist Advocate Award strengthens my commitment to increasing the role of psychiatric pharmacists in patient care," DiPaula said. "My career has been focused on partnering with other health care providers, and I will continue to advocate for pharmacists to be part of the solution."
University of Maryland School of Pharmacy Faculty, Student, and Alumni MPhA Award Winners
Excellence in Innovation Award: Alison P. Duffy, PharmD, BCOP
Pharmacist Advocate Award: Bethany DiPaula, PharmD, BCPP, FASHP
Outstanding Student Pharmacists Achievement: Sung Jin "Julie" Jeong, PharmD '23
Student Scholarship – Maryland Pharmacists Association: Dafne Espinal Pena
Mentor Award: Ashley Moody, PharmD '11, BCACP
Seidman Distinguished Achievement Award: Donald Taylor, BSP '69, RPh
Honorary President: G. Lawrence "Larry" Hogue, BSP '69
2023-2024 MPhA President: Marci Strauss, PharmD '12
Related News Stories