Incoming Students Welcomed to the School of Pharmacy During Orientation
Fun, informative activities help familiarize new Doctor of Pharmacy (PharmD) and graduate students with the School and campus community, as well as set expectations for the year ahead.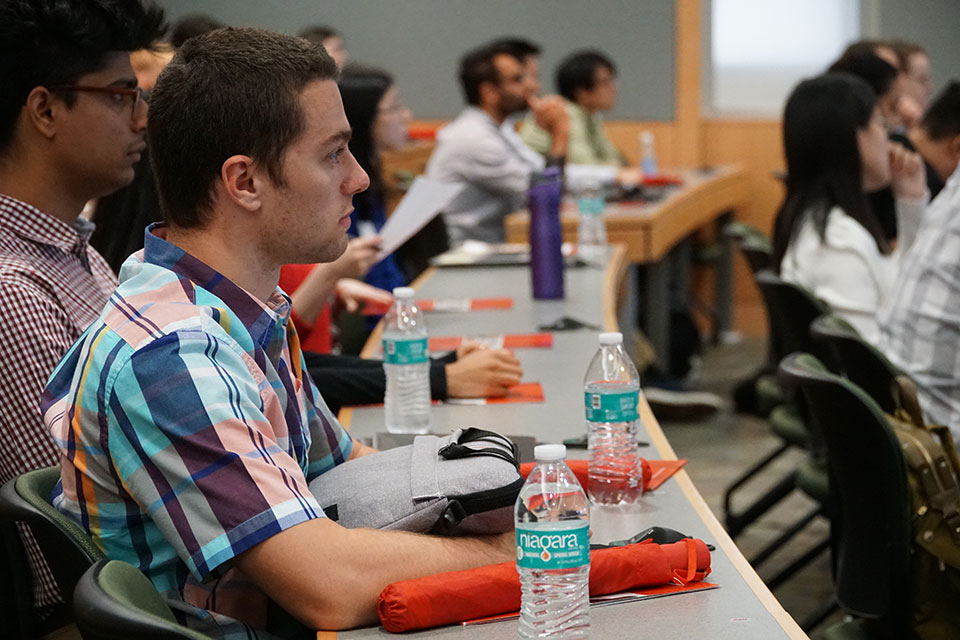 By Malissa Carroll
August 29, 2019
To help prepare incoming students for the upcoming academic year, the University of Maryland School of Pharmacy recently hosted new student orientation for members of its Doctor of Pharmacy (PharmD) Class of 2023, as well as first-year graduate students in its PhD in Pharmaceutical Sciences (PSC),  PhD in Pharmaceutical Health Services Research (PHSR), and MS in PSC programs.
"Today is the first day of your journey," said Natalie D. Eddington, PhD, FCP, FAAPS, dean and professor of the School of Pharmacy, as she welcomed the PharmD Class of 2023 to the School. "The next four years will be some of the most challenging, yet rewarding, years of your lives. The person you will become is significantly different than the person you are now. And, although it is ultimately you who will make yourself successful in this program, we are all here to help support you."
Activities for students in the PharmD program began on Aug. 20, and introduced students to the School of Pharmacy while setting expectations for the next four years. Students in the PhD in PSC and MS in PSC programs had an opportunity to attend presentations that showcased the wide range of research conducted in the department, while those in the PhD in PHSR program attended informative sessions that outlined expectations for coursework, teaching assistantships, and research rotations.
"It has been my dream to attend pharmacy school for a long time, so being here at the School of Pharmacy for orientation feels almost surreal," says Hamza Mohabbat, a first-year student in the PharmD program. "The experience has been amazing. I have been able to meet my professors and fellow classmates, and I am really excited to see how the semester progresses."
Orientation activities for the MS in Medical Cannabis Science and Therapeutics program will take place on Sept. 5, at the Universities at Shady Grove.
View the video below to see highlights from this exciting time.

Related News Stories