New Associate Dean for Student Affairs Appointed
Dr. Sandeep Devabhakthuni succeeds Dr. Cherokee Layson-Wolf in the position.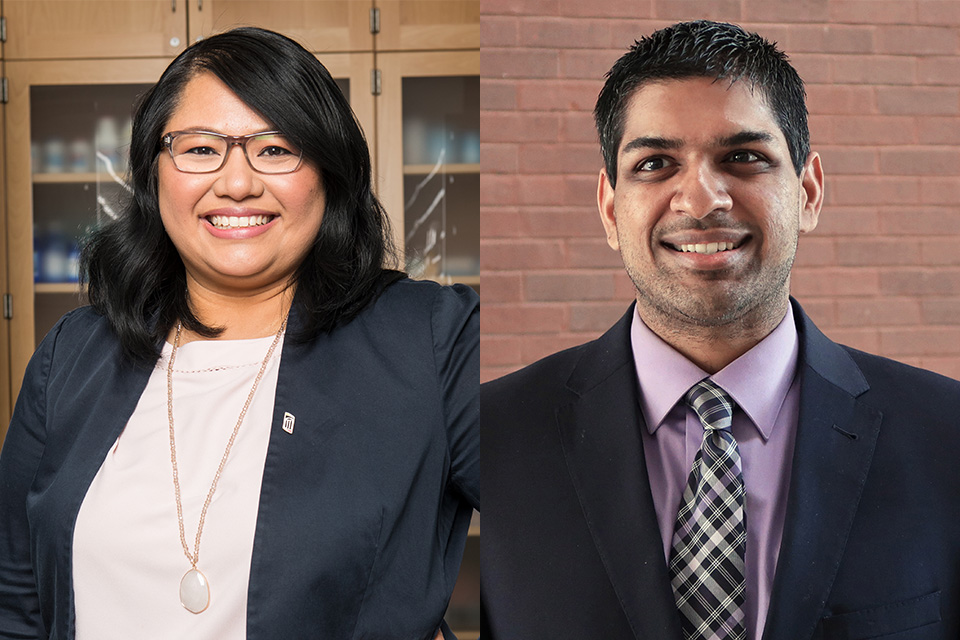 By Becky Ceraul
April 3, 2023
After 10 years of service as the University of Maryland School of Pharmacy's associate dean for student affairs, Cherokee Layson-Wolf, PharmD, BCACP, FAPhA, professor of practice, sciences, and health outcomes research (P-SHOR), is returning to her fulltime faculty position as of June 15. Sandeep Devabhakthuni, PharmD, BCCP, associate professor in P-SHOR, has been named her successor. He will start May 1 for a period of transition between the two leaders.
"Dr. Layson-Wolf's influence and reach across the School of Pharmacy and particularly with our pharmacy students cannot be overstated," says Natalie D. Eddington, PhD, FAAPS, FCP, dean and professor of the School of Pharmacy. "She is a longtime trusted advisor for pharmacy students, having guided thousands of them through matriculation to graduation. Her steady, problem-solving demeanor has been invaluable to me, our students, her faculty colleagues, and the School's leadership team, particularly with the many challenges presented by the COVID-19 pandemic."
During her tenure as associate dean, Layson-Wolf distinguished herself in several ways. Working with the staff in the Office of Student Affairs, she continued efforts to build the Doctor of Pharmacy (PharmD) admissions pipeline, expanded outreach to share information and develop interest in the School's highly ranked program, worked with the Office of Communications and Marketing to develop social media campaigns, stories, and videos to highlight the student experience, revised the student advising process, and evolved the Job Ready program into today's Career Navigation program to prepare students for the workforce. She also informally and formally mentored many, many students on their paths to becoming pharmacists, focusing on academic success, wellness, and mental health strategies.
Layson-Wolf collaborated with the Office of Academic Affairs on the creation of the Maryland Academy for Pharmacy Success (MAPS) program to better support incoming students on their path to success in the PharmD program and collaborated with the Student Government Association's Rho Chi Honor Society to establish RxPASS, a group-based tutoring and academic support program for pharmacy students.
During the COVID-19 pandemic, Dr. Layson-Wolf – an immunization advocate – oversaw the inclusion of pharmacists and student pharmacists in the University of Maryland, Baltimore's (UMB) vaccination efforts, coordinated student volunteers for clinic efforts, and was part of the School of Pharmacy team that oversaw COVID-19 vaccine dose preparation for the UMB clinic. She was also responsible for vaccine storage and management.
"Serving as associate dean for student affairs was always a professional goal of mine," says Layson-Wolf. "I thank Dean Eddington, Dr. Jill Morgan, and Dr. Magaly Rodriguez de Bittner for their support for the past 10 years. I value my close interactions with student pharmacists, student organization leaders, and our faculty and staff and am grateful to have been able to serve the School of Pharmacy in this capacity. I am forever indebted to the many members of the School of Pharmacy community who have worked to support our students and thank my colleagues in the Office of Student Affairs staff and our collaborators in the Office of Academic Affairs who have worked together to support all aspects of the student experience. I look forward to continued work with our students and student organizations in a different capacity."
As an associate professor, Devabhakthuni's practice and research interests include sedation in critically ill patients and appropriate use of cardiovascular medications. From 2016 to earlier this year, he was director of postgraduate training for the University of Maryland Residency and Fellowship program. A clinical pharmacy specialist at the University of Maryland Medical Center, he practices in the areas of advanced heart failure and cardiac transplantation.
In 2015, Devabhakthuni co-founded the Applied Therapeutics, Research, and Instruction at the University of Maryland (ATRIUM) collaborative, which is dedicated to managing patients with cardiovascular disease. He has published more than 30 peer-reviewed articles and three book chapters and delivered more than 50 national oral and poster presentations. He is a past president of the Maryland Society of Health-System Pharmacy (MSHP) and a past chair for the American Society of Health System Pharmacists' (ASHP) Section of Inpatient Care Practitioners' Educational Steering Committee. He is a current member of the ASHP Council on Education and Workforce Development. He is a recipient of MSHP's 2013 Pharmacist of the Year Award, the University of Maryland 2016 Residency and Fellowship Preceptor of the Year Award, the School of Pharmacy's Classes of 2018 and 2020 Teacher of the Year Award, and the University of Pittsburgh School of Pharmacy Rising Star Award in 2021.
Devabhakthuni received his Bachelor of Science in biomedical engineering from the University of Pittsburgh School of Engineering and a Doctor of Pharmacy from the University of Pittsburgh School of Pharmacy. He completed a PGY-1 pharmacy practice residency at the University of Maryland Medical Center and a cardiology/critical care specialty residency at the University of Pittsburgh Medical Center. He is a board-certified pharmacotherapy specialist in cardiology.
"I am honored and excited for this opportunity to serve as the associate dean for student affairs," says Devabhakthuni. "Since the beginning of my academic career, I have enjoyed working with students and helping them achieve their career goals. I plan to be an advocate for our students and ensure that they receive the best education possible."
Related News Stories