Rho Chi Chapter Supports Peers in Tutoring Sessions
New student-led initiative helps acclimate students to pharmacy education.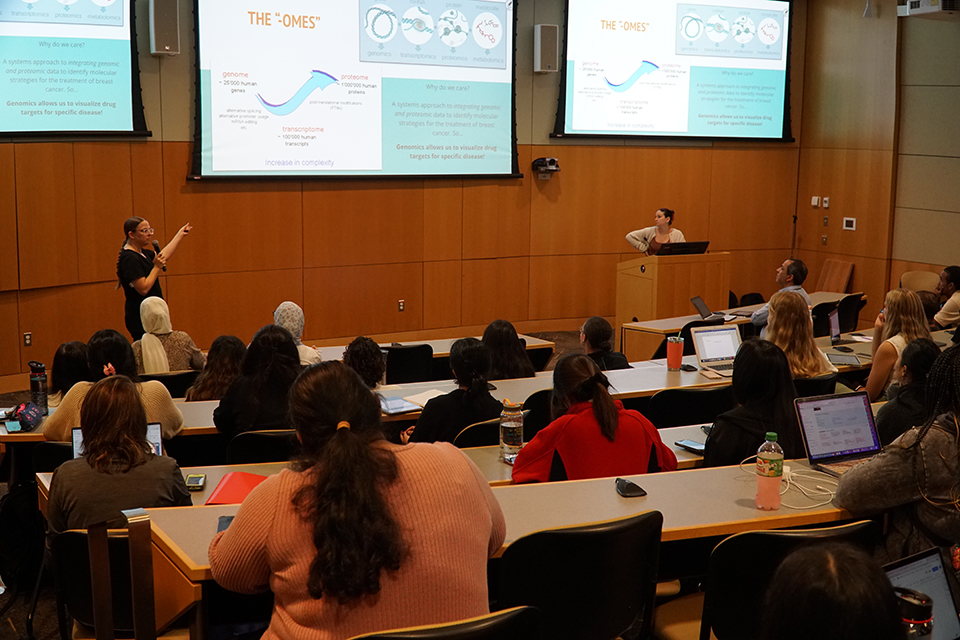 By Andrew Tie
October 17, 2022
Third-year student pharmacists at the University of Maryland School of Pharmacy have created a new initiative this fall to help their fellow classmates. Students affiliated with Rho Chi, an honor society that seeks to advance pharmacy through sustained intellectual leadership, are offering their peers free study sessions, known as Rho Chi Peer Assisted Student Success (RxPASS).
The 50-minute sessions are held weekly for first-year pharmacy students (P1) and biweekly for second-year students (P2). Sessions typically focus on core concepts that have challenged students in the past.
"Pharmacy school isn't easy," says Adriana Campos, vice president of Rho Chi and a third-year student pharmacist. "I can recall many times when I would struggle to conceptually grasp certain topics when I was a P1 and P2. By offering these tutoring sessions, we give the students additional academic support and reinforce concepts that may appear on exams."
Adrianna Losquadro, president of Rho Chi and a third-year student pharmacist, has worked with Campos on developing RxPASS. In the informal student-run classroom there is more flexibility, she says.
"What's nice is that each session is run differently because each week is a different pair of Rho Chi members," says Losquadro. "One week may be a trivia style session and the following week could be group work with discussion towards the end. We can appeal to all learning styles, which may not be as easy to do in a classroom setting."
Rho Chi members lead the teaching, but they also receive logistic and administrative help from Cherokee Layson-Wolf, PharmD, BCACP, FAPhA, associate dean for student affairs, and Andrew Coop, PhD, associate dean for academic affairs.
"RxPASS is a wonderful initiative led by our students," says Coop. "Students learn in a variety of ways, and what better way than from peers who have experienced the courses. Dr. Layson-Wolf and I congratulate Rho Chi for their leadership and commitment to the success of the School of Pharmacy family."
Campos and Losquadro said P1 and P2 students have enjoyed RxPASS so far, with some even requesting longer sessions.
"RxPASS has helped solidify and improve my understanding of material," said second-year student pharmacist Adamary Sanchez-Martinez. "I enjoy the student-to-student teaching because they help put concepts into simpler terms. It is a great resource I think every student should take advantage of."
Related News Stories