Natalie D. Eddington Stepping Down as Dean of School of Pharmacy
After a 15-year tenure as dean, Eddington will remain on faculty and lead UMB's new EMBRACE initiative.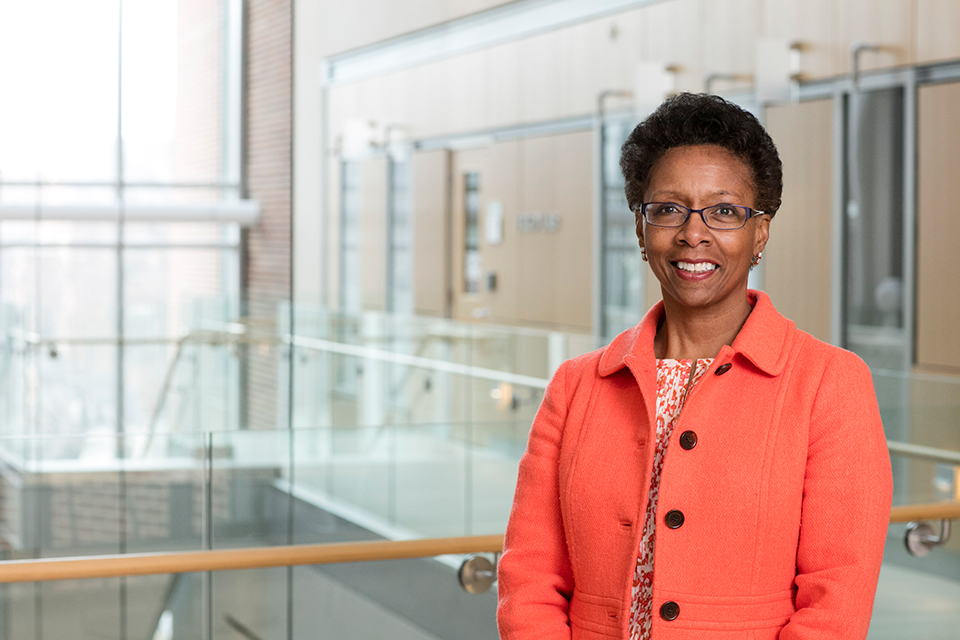 By Office of Communications and Marketing
January 25, 2023
University of Maryland, Baltimore (UMB) President Bruce E. Jarrell, MD, FACS, announced on Jan. 24 that Natalie D. Eddington, PhD, FAAPS, FCP, has decided to step down as dean of the University of Maryland School of Pharmacy (UMSOP) at the end of this academic year. She will remain on faculty and will lead UMB's EMBRACE initiative, a multifaceted approach designed to increase the vibrancy of the greater UMB campus, boost UMB's community impact in West Baltimore, and strengthen UMB's profile with our internal and external constituencies.
"Dean Eddington's long and impactful tenure at UMB has been characterized by building and leading strong teams, strategic and entrepreneurial thinking, competent and results-oriented leadership, and establishing and maintaining strong and meaningful relationships. As a result of her leadership, the School of Pharmacy is positioned for continued success," Jarrell said in his announcement. "These attributes will be essential in giving shape to the important new UMB EMBRACE initiative that she will lead."
An alumna of the school, Eddington has served as dean since 2007, having previously served UMSOP as an assistant professor, chair of the Department of Pharmaceutical Sciences, and director of the Pharmacokinetics-Biopharmaceutics Laboratory.
A nationally known expert in drug delivery and pharmacokinetics, Eddington focuses her research on medications used in the treatment of cancer, epilepsy, arthritis, and drugs of abuse, and on understanding the role of biopharmaceutics and pharmacokinetics in elucidating the underlying mechanisms important in optimizing drug therapy. Her research has served as the basis for numerous regulatory guidances implemented by the Food and Drug Administration (FDA).
Under her leadership, UMSOP has established several centers and programs including the Center for Innovative Pharmacy Solutions; the Patients, Pharmacists, Partnerships Program; the PATIENTS Program; the Bio- and Nano-Technology Center; the Center for Translational Medicine; the Mass Spectrometry Center; the Metallotherapeutics Research Center, and the Maryland Center of Excellence in Regulatory Science and Innovation. In addition, Eddington has designed numerous international regulatory courses for clinicians and scientists from South Korea, Argentina, Brazil, the United States, and Japan on the United States' drug development process and the FDA regulatory infrastructure surrounding medication and device development. Most recently, under her leadership, UMSOP launched a transformational Pharmapreneurship initiative.
During her tenure, Eddington oversaw the expansion of the School of Pharmacy's physical footprint with the opening of Pharmacy Hall Addition in 2010, a 126,000 square foot, seven-story building that provided modern learning, working, research, and collaboration spaces for faculty, staff, and students. She also oversaw the expansion of the School's academic offerings, which now include the Doctor of Pharmacy program, three PhD programs, and six MS programs, including the first of its kind MS in Medical Cannabis Science and Therapeutics.
"The majority of my professional life has been spent at the University of Maryland School of Pharmacy, an institution that I love," Eddington said. "It is here that I have learned, grown, and served an exceptional community of students, faculty, staff, preceptors, alumni, and collaborators. It has been the honor of my career to serve for the last 15 years as dean and to have had a front row seat to witness the expertise, influence, and impact of our scholars, practitioners, researchers, and professionals."
A national search for a new UMSOP dean will be conducted.
Related News Stories