John Gregory, UMSOP Alumnus, Honored with UMB Catalyst for Excellence Award
Award honoring success, achievement, and philanthropy given as part of Founders' Week activities.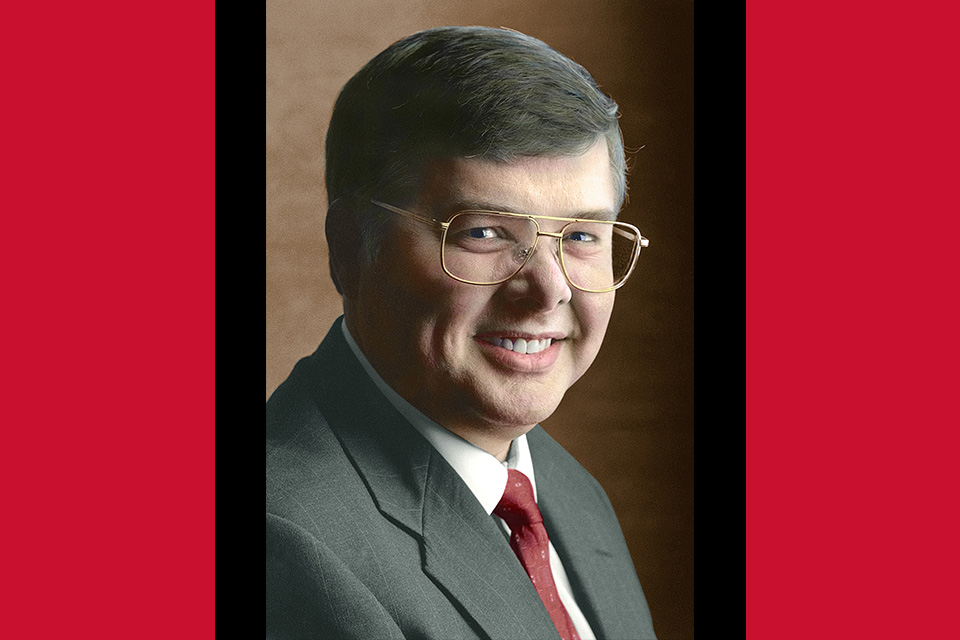 By Becky Ceraul
November 14, 2022
University of Maryland School of Pharmacy Founding Pharmapreneur John Gregory, BSP '76, DPS (hon) '02, board chair and CEO of Gregory Pharmaceutical Holding, Inc., who also founded King Pharmaceuticals, was honored on Nov. 9 by the University of Maryland, Baltimore (UMB) with a Catalyst for Excellence Award. It recognizes the honoree's powerful advocacy for success, achievement, and philanthropy for their respective UMB school while serving as a visionary for future progress.
An exemplar of excellence and inspiration, Gregory has accomplished meaningful progress in his life and career, in addition to devoting time, talent, and resources to numerous worthy causes.
Gregory has been an ardent and generous philanthropic supporter of the School of Pharmacy for decades. Most recently he established the Dean Natalie D. Eddington, PhD '89 Health Care Innovation Fund, which will provide $100,000 in startup funding to the winner of the School's annual business pitch competition in perpetuity. This startup funding surpasses the amount given by other renowned nationally ranked higher education institutions during their business competitions and will provide students with the capital to start businesses that have the potential to change the way health care is delivered.
"John Gregory's impact and many years of leadership benefit our School of Pharmacy, the pharmaceutical industry, and humankind itself," said Natalie D. Eddington, PhD, FAAPS, FCP, dean and professor of the School of Pharmacy. "As a proud alumnus, John remains a true example of Pharmapreneurship, with our students, faculty, alumni, and supporters looking to him as a model of persistence, selfless service, and transformational philanthropy. John is so deserving of the Catalyst for Excellence Award, of our gratitude, and our deepest appreciation for his ongoing counsel."
Gregory is managing partner of SJ Strategic Investments, LLC, a private, family-oriented investment vehicle with a diverse portfolio of public and private investments.
The driving force behind the company, Gregory founded three other successful businesses with his entrepreneurial family before establishing SJ Strategic Investments. In 2002, he received the Ernst & Young Entrepreneur of the Year award, honored as the national winner in the Health Sciences category.
After graduating from the University of Maryland School of Pharmacy in 1976, Gregory moved to Bastian, Va., where he opened the town's first retail pharmacy. In 1984, seeing an opportunity to expand, he co-founded General Injectables and Vaccines (GIV), a company that supplied injectable and vaccine products directly to physicians' offices. As president and CEO, he turned GIV into a successful enterprise with 550 employees and annual revenues exceeding $150 million per year.
In 1993, with a small initial investment in their pockets and a lot of debt on their shoulders, Gregory and his brothers purchased a pharmaceutical manufacturing facility in Bristol, Tenn. Under his leadership as chair and CEO, King Pharmaceuticals grew from a 90-employee family business to an S&P 500 Index company on the New York Stock Exchange with over 2,500 employees. By the time of his retirement at the end of 2001, the company had grown to over $1 billion in sales. In 2010, King Pharmaceuticals was sold to Pfizer, the largest pharmaceutical company in the world, for approximately $4 billion.
In 2008, Gregory was awarded the American Free Enterprise Medal by Palm Beach Atlantic University in Palm Beach, Fla. The medal is given annually to one person who by their knowledge, skill, and understanding of business, exemplifies the best of the American free enterprise system.
Gregory is also the founder and president of Kingsway Charities, an international benevolent medication ministry located in Bristol, Va., and is president of Serving Orphans Worldwide Ministry.
Gregory was recognized with six other honorees from UMB's Schools of Dentistry, Law, Medicine, Nursing, Social Work, and the Graduate School as 2022 Catalyst for Excellence Awardees.
"I want to thank UMB for this Catalyst for Excellence Award," Gregory said. "What business success I've had over my 45-year career as a pharmaceutical entrepreneur is due to the collective hard work, dedication, and support of many family members – my wife, two children, four brothers, sister, and many in-laws, nieces, and nephews. Whether it was in pharmacy, a distribution company, or our pharmaceutical manufacturing businesses, almost two dozen Gregory family members worked to develop and grow our family businesses. I thank them all for making my pharmaceutical career so exciting and joyful.
"I also thank the School of Pharmacy for providing me the foundational pharmaceutical education that allowed me to have the knowledge and participate in this wonderful industry called pharmacy."
Related News Stories