UMSOP Alumnus Honored with UMB Catalyst for Excellence Award
Award honoring success, achievement, and philanthropy given as part of Founders' Week activities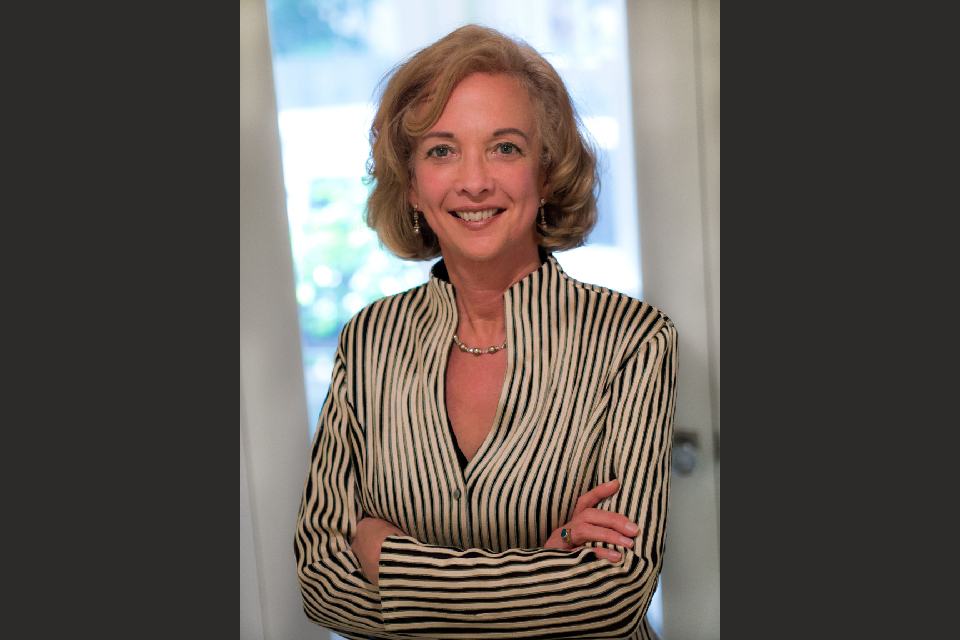 By Becky Ceraul
November 3, 2021
Social entrepreneur and generous supporter Victoria Hale, BSP '83, PhD, was honored on Oct. 23 by the University of Maryland, Baltimore (UMB) with a Catalyst for Excellence Award as part of UMB's annual Founders Week festivities. The award – given to a representative from six UMB's schools – recognizes individuals who exemplify powerful advocacy for success, achievement, and philanthropy for their respective schools while serving as visionaries for future progress.
Hale, a pharmaceutical scientist and global health social entrepreneur who received her Bachelor of Science in pharmacy from the University of Maryland School of Pharmacy (UMSOP), is the founder of Medicines360. She is also founder of OneWorld Health, the first nonprofit pharmaceutical company in the United States. She founded the company in 2000 and served as its first chair and CEO until 2008. Under Hale's leadership, the company developed a new cure for visceral leishmaniasis, launched novel research to treat cholera, and developed technology to reduce the cost of malaria drugs more than tenfold. She established her expertise in all stages of biopharmaceutical drug development early in her career at the U.S. Food and Drug Administration and at Genentech.
"Dr. Hale serves as a powerful advocate for the success and future progress of the School of Pharmacy through her support of our exclusive Pharmapreneurship™ initiative," says Natalie D. Eddington, PhD, FAAPS, FCP, dean and professor of UMSOP. "Her broad knowledge of the health care and business worlds have made her a vital asset to the School of Pharmacy. Her generosity of time, knowledge, advocacy, and networking has been transformative for the growth of pharmapreneurship."
In 2006, Hale received the MacArthur Genius Award. She was elected to membership in the Institute of Medicine of the U.S. National Academy of Sciences in 2007. She has received the President's Award of Distinction from the American Association of Pharmaceutical Scientists, and in 2005, The Economist named her the recipient of its Social and Economic Innovation Award. She has been recognized internationally as a senior social entrepreneur by the Skoll Foundation, Schwab Foundation, and Ashoka.
In 2017, the School of Pharmacy launched its pharmapreneurship initiative to commemorate its 175th anniversary. The initiative encapsulates the School's commitment to supporting and best positioning faculty and students to achieve their career aspirations and address the nation's health care, research, policy, and societal needs. The innovative initiative is used to advance pharmacy education, scientific discovery, patient care, and community engagement across the state of Maryland and beyond.
That same year, Hale and eight other School of Pharmacy alumni were named Founding Pharmapreneurs, recognized as leaders, innovators, and entrepreneurs who serve as inspirations to the School's faculty, staff, and students on what they too can accomplish with their unique skills as pharmacy educators, researchers, and practitioners.
"Dr. Hale has an unparalleled pharmapreneurial career and embodies pharmapreneurship in all elements of her work," says Eddington. "As a pharmaceutical scientist and global health social entrepreneur, her passion is the development of important new medicines for all, with the specific goal of reducing health inequities."
Hale currently sits on the School of Pharmacy's Board of Visitors and its Center for Women in Pharmapreneurship, both of which provide feedback to the dean on the most pressing issues facing the School of Pharmacy. She frequently interacts and provides important feedback to PharmD students enrolled in the School's Pharmapreneurship Pathway program, which offers students the opportunity to pursue special interests in innovation, entrepreneurism, and creativity with a high degree of individual attention and coaching by faculty and external advisors.
"I am deeply honored to receive the Catalyst for Excellence Award from the University of Maryland, Baltimore," says Hale. "It is a privilege to be licensed as a pharmacist, the trusted keeper of medicines. The development of new medicines has involved an extraordinary decades-long journey around the world. My vision of working in global public health began 40 years ago while I was in pharmacy school, and it was nurtured by the School's faculty. Thank you, Dean Eddington for prioritizing pharmapreneurship at UMB. Thank you, faculty for your devotion to future pharmapreneurs."
Each year, UMB celebrates the achievements and successes of its students, faculty, staff, alumni, and philanthropic supporters and pays tribute to UMB's 214-year history with a series of Founders Week events. The Catalyst for Excellence honorees accomplished meaningful progress in their lives and careers, in addition to devoting meaningful time, talent, and resources to numerous worthy causes. UMB, the city of Baltimore, and the state of Maryland are made much better through the impactful efforts of these extraordinary individuals.
Related News Stories