Alumnus Establishes Pharmapreneurship Award in Honor of Dean Eddington
Award created by John Gregory, BSP '76, DPS (hon.) '02, provides seed funding to winner of School's Pharmapreneurship™ competition.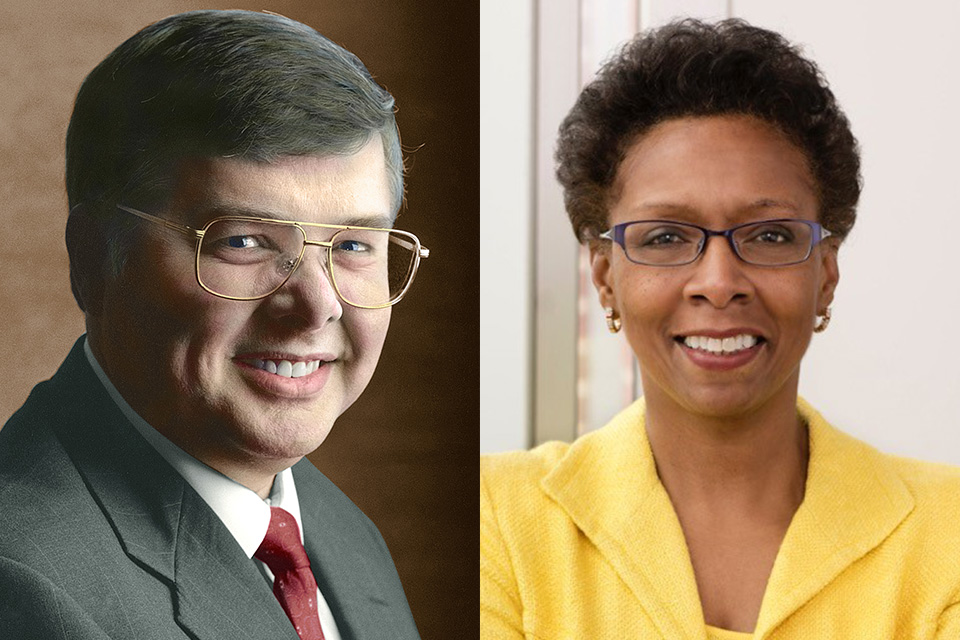 By Becky Ceraul
February 21, 2023
University of Maryland School of Pharmacy alumnus John Gregory, BSP '76, DPS (hon.) '02, board chair and CEO of Gregory Pharmaceutical Holding, Inc., who also founded King Pharmaceuticals, has created the Natalie D. Eddington Pharmapreneurship Award for Health Care Innovation to support pharmacy students and their innovative, transformative early stage pharmapreneurial ideas that have the potential to change pharmacy practice and health care.
Under the umbrella of the School of Pharmacy's Pharmapreneurship™ initiative and its Office of Pharmapreneurship, the visionary award will provide up to $100,000 in start-up funds over a one-year period to pharmacy student pioneers and innovators who present ideas at the School's new Pharmapreneur's Market competition. After initial submission of ideas and plans, a select group of pharmapreneurial students or teams will be invited to pitch their ideas to a panel of expert judges. One winner could receive the monetary award to help move their idea closer to reality.
"Dean Eddington has dedicated her time and talents as dean for more than 15 years," Gregory says. "Her unique combination of innovation and leadership places her among the unique leaders of academic pharmacy in the United States. It was an honor and privilege to provide the resources to establish the Eddington Pharmapreneurship Award in honor and recognition of her expertise, influence, and impact."
"This annual award is a remarkable opportunity to build on the long-standing tradition of our School of Pharmacy as the home of Pharmapreneurship and our commitment to scientific discoveries, patient care, education, community service, and advocacy," says Eddington. "As one of the largest awards available to students at any higher education institution, it helps further the University of Maryland School of Pharmacy as a hotbed for the next generation of talent. I am tremendously honored and grateful to John Gregory for his establishment of this award."
The inaugural Pharmapreneur's Market competition will be held May 2 and is open to individual Doctor of Pharmacy (PharmD) students or interprofessional teams lead by a PharmD student. It seeks innovative early-stage, for-profit or not-for-profit companies, ideas, solutions, or products that are still in development and have modest or no revenues. Submissions will be narrowed by a selection committee of staff, faculty, and community members to a field of five finalists who will pitch their ideas to a team of judges, including Gregory. The winning student or team will receive the Natalie D. Eddington Pharmapreneurship Award for Health Care Innovation over a one-year period, with funds disbursed after the attainment of mutually agreed upon milestones and deliverables.
Exclusive to the University of Maryland School of Pharmacy, pharmapreneurship describes the School's commitment to supporting and best positioning both faculty and students to achieve their career aspirations and address our nation's health care challenges. The term describes the School's faculty, staff, student, and alumni community of pharmacy entrepreneurs. Strategies and skills that pharmapreneurs across the fields of practice, sciences, and health outcomes research and pharmaceutical sciences might utilize include:
Innovation of new products, services, or processes
Continuous process improvement
Exploration
Technological innovation
Business intelligence
Development of future products and services
Optimized talent management
As the fourth oldest school of pharmacy in the United States, the University of Maryland School of Pharmacy globally engages and leads education, pharmacy practice, scientific research, and pharmapreneurial initiatives to collaboratively and equitably improve the health of society. With its cutting-edge research initiatives and innovative clinical services, the School fosters an unparalleled environment that both values and nurtures pharmapreneurship among faculty and students alike.
Eddington steps down from her 15-year tenure as dean at the end of the 2022-2023 academic year. She will remain on faculty and will have a new role as head of the University of Maryland, Baltimore's EMBRACE initiative.
Related News Stories