Faculty Members' Research Impacts FDA Guidance
Adjustments on detection method, type of trial should make it easier to gain approval of generic injectable iron drugs.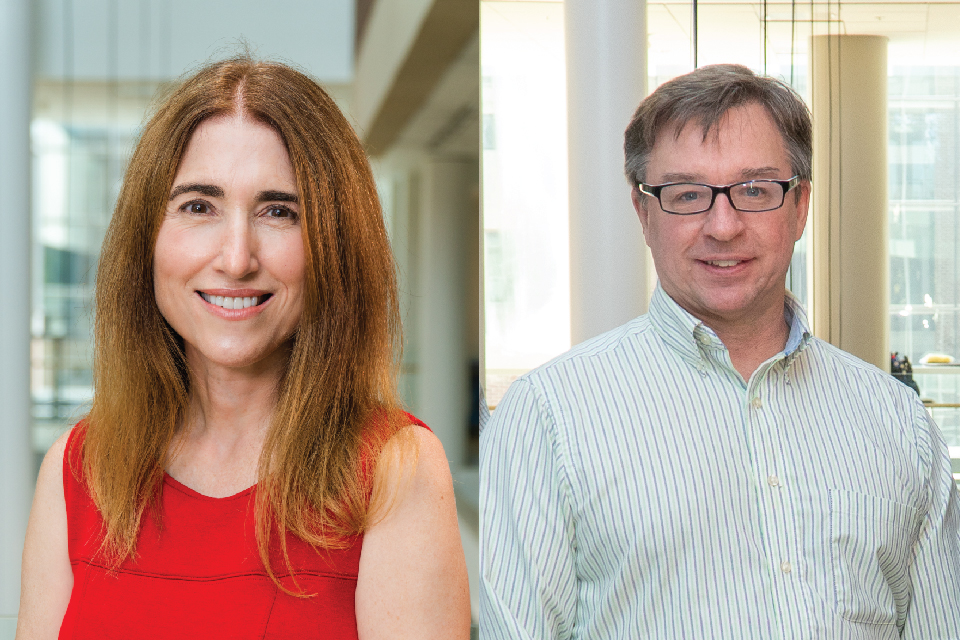 By Lou Cortina
November 30, 2021
When researchers from the University of Maryland School of Pharmacy (UMSOP) were asked to attend a Food and Drug Administration (FDA) virtual meeting in September, they didn't anticipate being recognized during the proceedings. In a pleasant surprise, they learned that work they'd done spanning almost five years on injectable iron drugs had resulted in a change in FDA draft guidance.
The FDA guidance on studies involving injectable ferric oxyhydroxide was changed to allow drug companies to use a crossover clinical trial — rather than just a more conservative parallel trial — and the LC-ICP-MS (liquid chromatography-inductively coupled plasma-mass spectrometry) method, which allows for direct detection of iron nanoparticle drugs in participant samples to demonstrate that a generic product is equivalent to a brand-name drug.
Sarah Michel, PhD, professor of pharmaceutical sciences (PSC) and associate dean for graduate programs at the School of Pharmacy, devised the LC-ICP-MS method, which was used in a crossover study on iron nanoparticle drugs led by James Polli, PhD, the School's Ralph F. Shangraw/Noxell Endowed Chair in Industrial Pharmacy and Pharmaceutics, and Jeffrey Fink, MD, MS, professor of medicine and division head, General Internal Medicine, University of Maryland School of Medicine. In addition, Maureen Kane, PhD, associate professor in PSC and director of the School's Mass Spectrometry Center, and her lab performed experiments to identify any secondary effects of drug administration.
In parallel studies, a participant is assigned to only one treatment arm (receiving drug A or drug B, but not both) and remains in that group for the duration of the trial. In crossover studies, a participant will receive both treatments in a random order over the course of the trial.
Crossover studies generally are more powerful than parallel studies, allowing for a smaller number of participants, but they also are riskier because they require assurance that the first dose of the drug has been eliminated, Michel said. This assurance had previously been difficult to achieve for injectable iron products, because there were no known laboratory methods that could distinguish the iron nanoparticle dose from the other iron forms that are naturally present in the body.
The development of the LC-ICP-MS detection method, which provides a direct measure of the iron nanoparticle drug in the patient plasma, was a big breakthrough because it allows for the detection of the iron nanoparticle drug alone for the first time. This method opens the door for robust crossover studies.
As for the detection method, Michel explains that people already have iron in their systems, so when a drug with iron nanoparticles is injected, it's more difficult to detect how the drug has broken down in the person's plasma, as opposed to, say, detecting an antibiotic if that had been injected. In their clinical trial, the LC-ICP-MS method allowed for direct detection and quantification of the drug in its iron nanoparticle, and the trial results showed that the generic drug and the brand-name drug were working the same way.
"Now the FDA guidance is telling the industry that there's this new method —  we would perhaps say a better method —  that allows you to test your generic drug and evaluate its equivalence with the brand-name drug," Michel said.
"The guidance also had said you could only do parallel studies, but the crossover study provided better, tighter data," she added. "So, there were two things changed in the guidance — the method and the type of study — and that resulted from our efforts."
Polli, Michel, Kane, and Fink were thrilled to see their work have an effect on federal policy.
"It's not often that you do research that actually impacts FDA guidance," said Polli, who also is co-director of the Center for Research on Complex Generics, an FDA-funded joint endeavor between the University of Maryland, Baltimore and the University of Michigan that is facilitating research collaborations to increase access to safe and effective generic drugs. "The American public wants drugs that are more affordable and accessible. It's gratifying to do experiments that make bioequivalence assessment more viable, particularly for complicated products like iron nanoparticle drugs, or for drugs with complex formulations."
Said Michel: "People with iron deficiencies and anemia are the type of patients who receive these drugs, and there is a need to approve generics to treat those conditions. It was hard for the generic drug companies to provide accurate data to the FDA to get approval, and this method helps in that regard. It's very satisfying to see this guidance change, because it makes you feel like you've had an impact."
Related News Stories