Pharmaceutical Sciences Professor Selected for International Award
James Polli leads two centers and an academic program at UMSOP.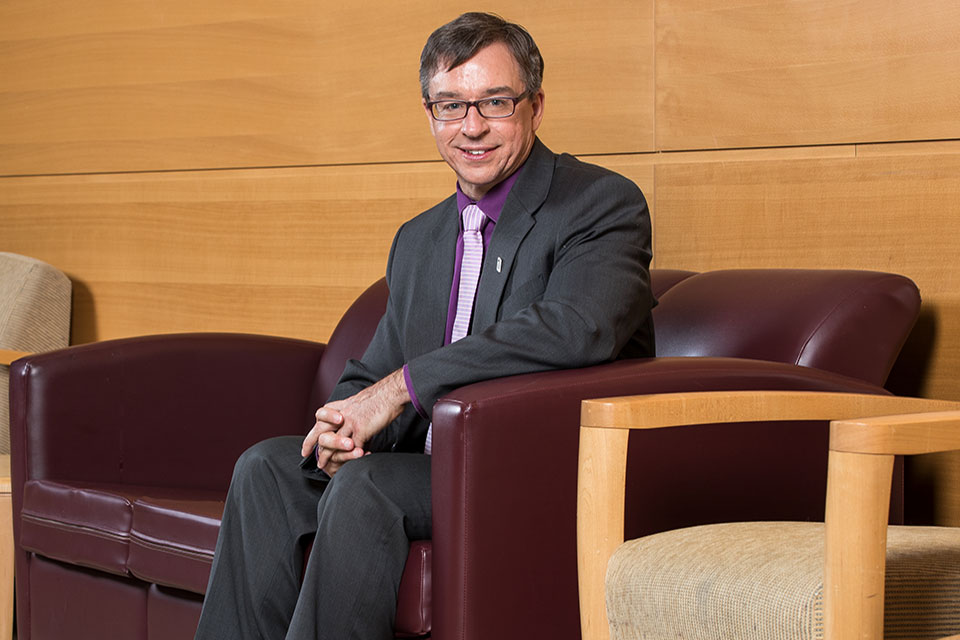 By Andrew Tie
September 9, 2022
James Polli, PhD, the Ralph F. Shangraw/Noxell Endowed Chair in Industrial Pharmacy and Pharmaceutics at the University of Maryland School of Pharmacy, has been selected to receive the American Association of Pharmaceutical Scientists' (AAPS) Global Leader Award, which recognizes a pharmaceutical scientist whose efforts have had a significant and broad impact on the availability, benefit, and use of needed therapies domestically or internationally.
Polli is co-director of the University of Maryland Center of Excellence in Regulatory Science and Innovation (M-CERSI), a U.S. Food and Drug Administration (FDA)-funded collaborative agreement with the agency and the University of Maryland, College Park, and director of the School of Pharmacy's innovative and first of its kind online MS in Regulatory Science program.
"As part of the groundbreaking M-CERSI, Dr. Polli envisioned a graduate educational program in regulatory science, which he created in 2014 and has since graduated more than 250 students," says Peter Swaan, PhD, chair of the School's Department of Pharmaceutical Sciences, associate dean for research and advanced graduate studies, and Distinguished University Professor. "Owing to the impact of regulatory science on global health and a strong international component of the MS program, Dr. Polli is highly deserving of the AAPS Global Leader Award. His impact on clinical topics with a global perspective is extremely valuable and has created tremendous visibility for his center and the School of Pharmacy."
In 2020, Polli helped form the Center for Research on Complex Generics (CRCG), a joint venture between the School of Pharmacy, the University of Michigan, and the FDA. CRCG supports the FDA's efforts to enhance research collaborations with the generic drug industry and increase access to safe and effective generic drugs. The center has hosted workshops attracting thousands of researchers from academia, industry, and government agencies.
"Receiving this award is a huge honor and thrill," Polli says. "But it is not my recognition alone. It reflects the support and possibilities that exist in pharmaceutical sciences at the University of Maryland School of Pharmacy. It is recognition of the patients and public health impacts from many laboratory and clinical studies focused on product quality, the many workshops at Maryland and around the world that move drug standards forward in a convergent fashion, and the implementation of regulatory science as an academic focus. All that work is not just me, but many faculty, staff, and students working together over many years. Special thanks to all of the collaborators at the Food and Drug Administration, who I very much enjoy working with, on drug quality, medication access, and regulatory relief."
Polli will receive the AAPS Global Leader award at the association's PharmSci 360 conference in Boston in October.
Related News Stories