Evening Gala Celebrates the School of Pharmacy's Donors and Friends
David Stewart Associates dinner recognizes individuals who participate in leadership level giving to the School.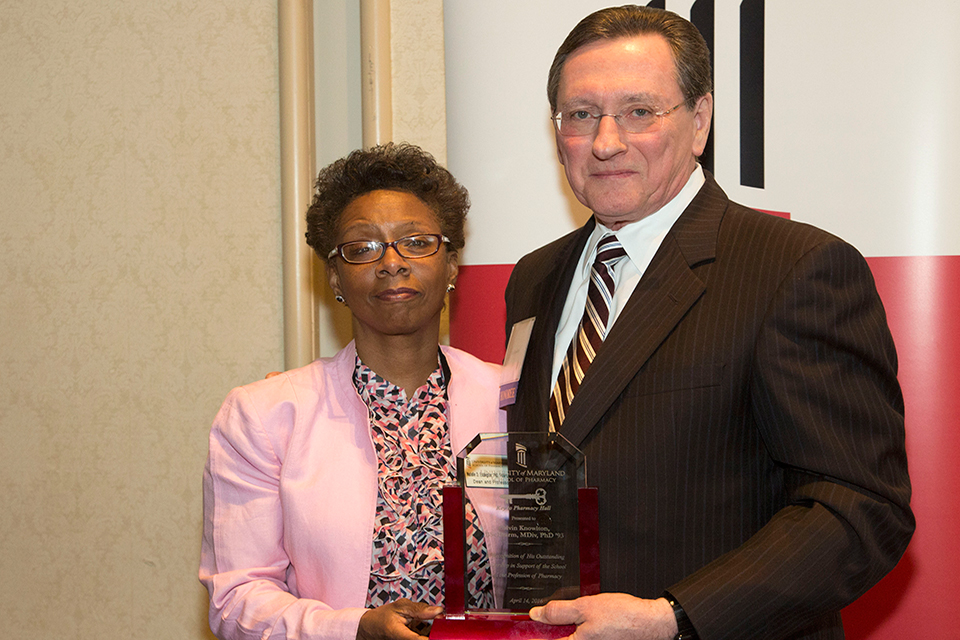 By Malissa Carroll
April 28, 2016
The University of Maryland School of Pharmacy hosted a special dinner on April 14 to celebrate the members of the David Stewart Associates (DSA) Society, its recognition society for leadership level giving by individuals.
"Members of the David Stewart Associates Society support the School in many tangible ways," said Natalie D. Eddington, PhD, FCP, FAAPS, dean and professor of the School of the Pharmacy, at the event. "As leadership level donors, you have contributed to scholarships, fellowships, and numerous other awards. You have named the School as a beneficiary in your will, named spaces in Pharmacy Hall, and designated funding for the School's greatest needs or for one of its departments or centers. The sustainability of the School of Pharmacy relies on your generosity, and we want you to know how much we appreciate all that you do to help make our School one of the best in the country."
Established in the 1980s, the DSA Society is named for David Stewart, the nation's first professor of pharmacy and one of the School's founders. Members of this prestigious group recognize the importance of sustained, leadership giving to provide a solid base of private support and to ensure the School's continued prominence in the pharmacy profession. These individuals make an annual gift of $1,000 or more to an unrestricted or restricted gift designation.
More than half of the students attending the School of Pharmacy receive scholarship support thanks to the philanthropy of individuals like DSA Society members. During the dinner, Brandon Biggs, a third-year student pharmacist in the School's Doctor of Pharmacy (PharmD) program, and Priyanka Gaitonde, a graduate student in the PhD in Pharmaceutical Health Services Research (PHSR) program, delivered heartfelt remarks about how support from the DSA has made it possible for them to pursue their dreams of becoming a community pharmacist and pharmaceutical health services researcher, respectively.
The recipient of the Nicholas Lykos Scholarship in Community Pharmacy, Biggs reflected on his unconventional journey to pharmacy school. He spoke about the unwavering emotional and financial support that he has received from his mother over the years. He explained how receiving the scholarship has helped him to give back to his mom – someone who has made tremendous sacrifices to help him to pursue him dream.
"Donations from members of the David Stewart Associates Society, and the scholarships that they create, truly make a difference," said Biggs. "Receiving the Nicholas Lykos Scholarship in Community Pharmacy has given me the opportunity to not only pursue my dream of becoming a pharmacist, but to also tell my mom – once and for all – that it is time for her to focus on her own life, and to stop worrying about me. Thank you for all that you do, and for your continued support of the School."
Gaitonde, who received the Arthur Schwartz Memorial Scholarship, spoke about the numerous opportunities that she has been afforded since joining the PhD in PHSR program at the School. She discussed her interest in assessing barriers and other factors associated with access to specialty drugs among older adults, and explained the important role that her scholarship played helping her achieve her goal of disseminating her research findings to health care professionals and members of the community by attending both national and international conferences and meetings.
"Scholarships not only represent applause for efforts, but also an expectation of continued excellence," said Gaitonde. "It has been my dream to have stakeholders around the world take the findings from my research into consideration when making decisions about issues that affect access to specialty drugs for older adults. As a result of the scholarship that I received, I now have the opportunity to disseminate those findings, and it is through the dissemination of my research that I will work to uphold the legacy of excellence associated with the Arthur Schwartz Memorial Scholarship. Thank you all for your generous support."
Before the evening concluded, Eddington presented the Key to Pharmacy Hall, which is awarded annually to an individual who has significantly impacted the School through his or her advocacy efforts and who has demonstrated commitment to assisting the School of Pharmacy with advancing its mission to lead pharmacy education, scientific discovery, patient care, and community engagement in the state of Maryland and beyond.
This year's recipient was Calvin H. Knowlton, BSPharm, MDiv, PhD '93, founder and chief executive officer of Tabula Rasa Healthcare, Inc., the parent company of CareKinesis, Inc., and an alumnus of the School.
"Dr. Knowlton has founded 10 companies during his career, and been the recipient of numerous awards," said Eddington. "In fact, when he joined the PhD in Pharmacy Administration (now PHSR) program at the School, Dr. Knowlton was already a successful pharmacy owner with strong ties to academic pharmacy. As an alumnus, he knows first-hand the emphasis that the School places in all of its academic programs on professionalism, compassion, achievement, and excellence. He is truly the embodiment of our motto of 'expertise, influence, and impact," and it is an honor to present him with this year's Key to Pharmacy Hall."
Knowlton received his Bachelor of Science in Pharmacy from Temple University. He completed a master's degree in divinity at the Princeton Theological Seminary, and later joined the graduate program at the School of Pharmacy. His long and storied career includes founding the medication management and distribution company Hospice Pharmacia/excelleRX, developing a cloud-based medication risk mitigation model that allows pharmacists to work with health care providers to optimize drug therapies, and serving as president of the American College of Apothecaries and the American Pharmacists Association (APhA). Knowlton was named the Most Influential U.S. Pharmacist in 1997, received both the 2003 and 2013 Ernst and Young Entrepreneur of the Year Award for the Greater Philadelphia Region, and was recognized with APhA's highest honor – the Remington Medal – in 2015.
"It is an honor to receive the Key to Pharmacy Hall during one of the most pivotal times of transition in health care," said Knowlton. "As we leave the era of safe, siloed practice and enter a new era of collaborative competition, we have an opportunity to empower the next generation of pharmacists with the business, leadership, and entrepreneurial skills that they will need to advance their careers and navigate a system that is increasingly centered on outcomes and patient satisfaction. Change is happening, and I am fortunate to be a part of that change at the School of Pharmacy. As one of the top ten schools of pharmacy in the nation, if any institution can tackle the new challenges that await, it is us."
If you or someone you know is interested in becoming a member of the DSA Society, please contact Ken Boyden, JD, EdD, associate dean for the School's Office of Development and Alumni Affairs, at (410) 706-3816 or kboyden@rx.umaryland.edu.
Related News Stories