Employee of the Month Is Brueckl's Latest Destination
Mark Brueckl honored for being a good ambassador for the Experiential Learning Program at the School of Pharmacy.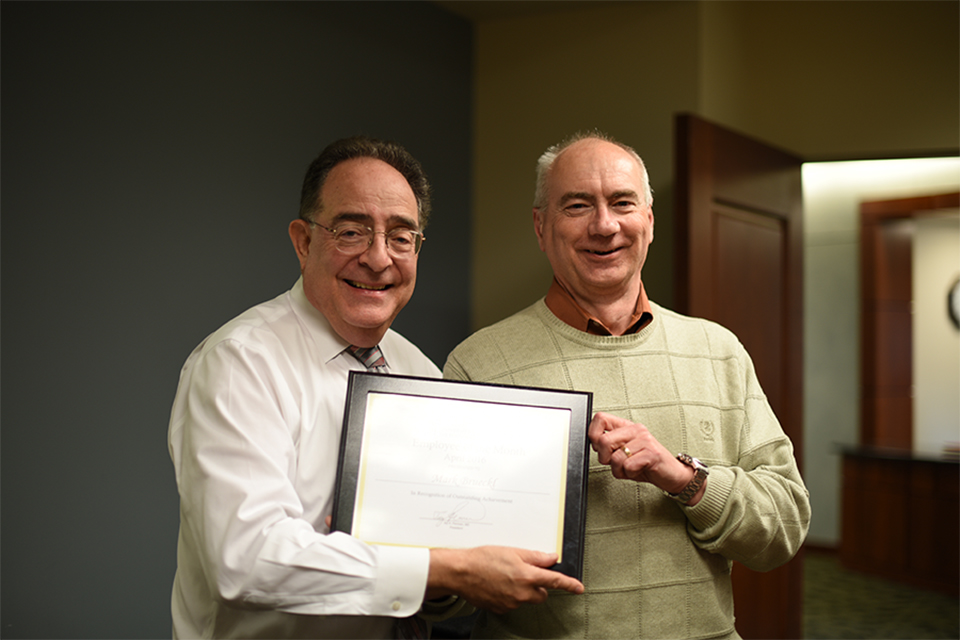 By Sarah Reback
April 14, 2016
Mark Brueckl, RPh, MBA, has traveled countless miles in making more than 250 site visits since becoming assistant director of the Experiential Learning Program at the School of Pharmacy in February 2014.
Few of the trips involved stopping at the Office of the President, however. So he knew something was up even before UMB President Jay A. Perman, MD, entered the conference room carrying a plaque.
"Do you know why you're here?" Perman asked. "Actually I do!" replied Brueckl, who was joined by former Employee of the Month Nathaniel Thomas and Toyin Tofade, PharmD, MS, BCPS, CPCC, assistant dean of experiential learning at the school.
Perman gave Brueckl a framed certificate and thanked him for taking his time to complete site visits to pharmacies throughout the state as part of the school's largely successful preceptor program. "Thank you for being such a good ambassador for the University."
'Lifesaver'
Brueckl, who also received $250 as the Employee of the Month for April, is described by Tofade as someone who "is a lifesaver on more than one occasion. He is willing to attend to matters on short notice and works extremely well with the team."
She said Brueckl goes above and beyond by applying his advanced data mining skills to help manage the copious amounts of student data that the office produces. "The organization is fortunate to have him and I certainly am fortunate to have him on my team," says Tofade.
Site Visits
Brueckl was praised for demonstrating UMB's seven core values of accountability, civility, collaboration, diversity, excellence, knowledge, and leadership during his travels. Plus his many site visits have improved the customer service component of the experiential learning rotations, an integral part of the school curriculum that constitutes more than 30 percent of PharmD students' requirements.
"In the past few years, the School of Pharmacy was struggling with rotation capacity for our students barely making the capacity numbers required by our accreditor. When Mark joined, he consistently made these visits and now we hear more positive feedback from our preceptors," says Tofade. Through Brueckl's visits, the School can now provide students with the best experiential learning experience.
Thankful Winner
Brueckl embraces the travel. "It's a task that I enjoy quite a bit — finding out what's going on in the 'real world' of pharmacy. Experiential learning is a very important component of pharmacy education, and everything we do ensures that our students receive a quality educational experience. I am quite honored to be chosen as Employee of the Month."
Related News Stories