Eddington Names New Associate Dean for Academic Affairs
Dr. Richard Dalby steps down as associate dean for academic affairs; former chair of the Department of Pharmaceutical Sciences named as successor.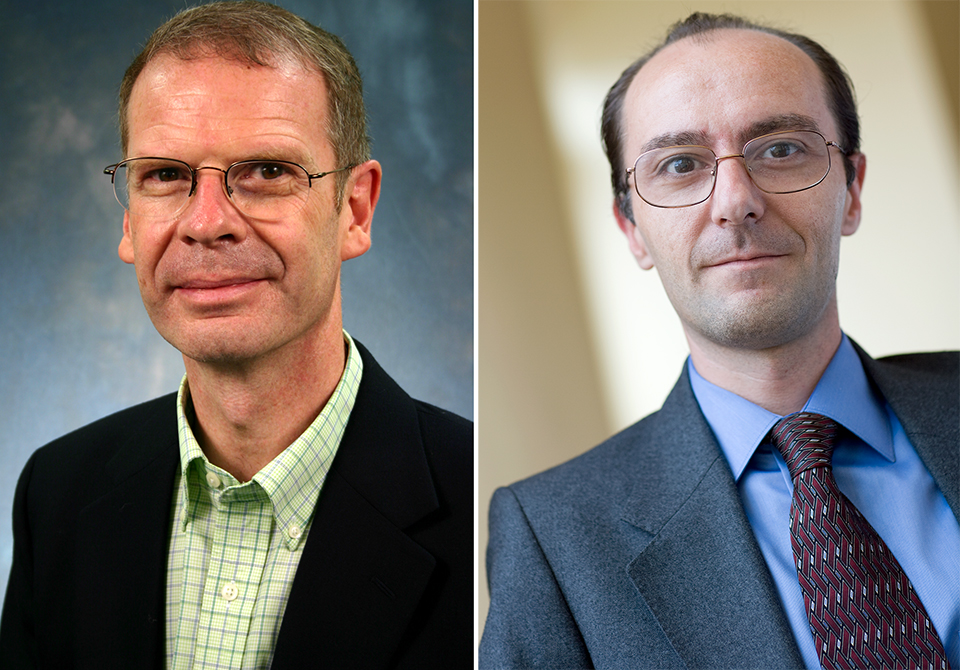 By Malissa Carroll
July 15, 2016
Following more than five years of service as the associate dean for academic affairs at the University of Maryland School of Pharmacy, Richard Dalby, PhD, professor in the Department of Pharmaceutical Sciences (PSC), has returned to his full-time faculty position at the School. Andrew Coop, PhD, professor and former chair of PSC, has been named as Dalby's successor in this role.
"I thank Dr. Dalby for the many contributions that he made to the School during his tenure as associate dean for academic affairs," says Natalie D. Eddington, PhD, FCP, FAAPS, dean and professor of the School. "Dr. Dalby oversaw many noteworthy achievements in the Office of Academic Affairs, where he led a successful self-study that resulted in the reaccreditation of our School's Doctor of Pharmacy (PharmD) program in 2013. I am truly grateful for his service, counsel, and expertise, and wish him the best as he returns to his faculty position."
The Office of Academic Affairs manages the School's PharmD program and policies, as well as oversees academic scheduling, instructional technology, and institutional assessment.
In addition to leading the self-study, Dalby helped to further advance the PharmD program by developing and implementing new approaches to address student performance on both the North American Pharmacist Licensure Examination (NAPLEX) and Multistate Pharmacy Jurisprudence Examination (MJPE) – exams that all student pharmacists are required to pass to become licensed pharmacists in the United States. He also implemented a number of new academic policies that continue to guide the development of both faculty and students at the School, as well as increased the School's visibility within the American Association of Colleges of Pharmacy (AACP) and on the Committee on Inter-institutional Collaboration created by the nation's "Big 10" colleges and schools of pharmacy.
"I appreciated the opportunity to serve as associate dean for academic affairs," says Dalby. "I enjoyed the time that I spent working alongside faculty, staff and students who shared my desire to ensure that our academic programs operated at the level of excellence expected of a school that prides itself on leading pharmacy education, scientific discovery, patient care, and community engagement across the state of Maryland and beyond. I am now excited to re-engage with faculty, staff, and students through teaching, research and my other professional commitments at the School."
As a former vice chair of education and chair of PSC, Coop comes into his new role as associate dean for academic affairs with experience in a variety of leadership positions at the School.
"Dr. Coop is a natural choice to serve as the School's new associate dean for academic affairs," says Eddington. "In addition to his involvement with the School's well-established PhD in PSC program and recently launched MS in Regulatory Science program, Dr. Coop has taught extensively in our PharmD program, mentoring pharmacy students interested in research and supporting doctoral students and postdoctoral fellows in his laboratory. I welcome him to this new role, and look forward to working alongside him to continue advancing our academic programs and preparing our students and trainees to excel as practitioners, researchers, and innovators in the profession."
Coop joined the faculty at the School of Pharmacy in 1999, and has been recognized nationally for his achievements in the field of medicinal chemistry. He received the 2003 Joseph Cochin Young Investigator Award from the College on Problems for Drug Dependence, as well as the 2014 AACP James E. Wynn Memorial Award from the organization's Chemistry Section. During his tenure as chair of PSC, the department created a state-of-the-art Good Manufacturing Practice (GMP) facility to produce capsules and tablets, secured a multimillion dollar award from the Food and Drug Administration (FDA) to establish a Center of Excellence in Regulatory Science and Innovation (CERSI), launched the MS in Regulatory Science program, and experienced consistent growth and diversity in its research funding.
"I am honored to have this new opportunity to continue serving faculty, staff, and students at all levels across the School of Pharmacy," says Coop. "The Office of Academic Affairs not only oversees the largest educational program at the School, but also takes pride in inspiring excellence in the students enrolled in that program. We work diligently to ensure that the School continues to offer contemporary curricula, innovative educational experiences, and strategic professional relationships that will help students succeed in the ever-evolving health care arena. I am excited to be a part of this fantastic team."
Related News Stories