David Stewart Associates Dinner Celebrates School's Donors and Friends
Evening gala recognizes individuals who participate in leadership level giving to the School.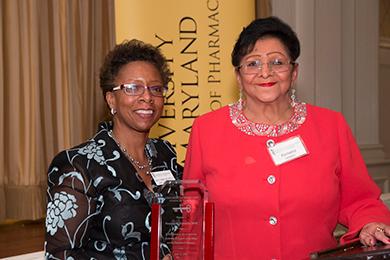 By Malissa Carroll
April 17, 2014
On April 10, the University of Maryland School of Pharmacy hosted a special dinner to celebrate the members of the David Stewart Associates (DSA), its recognition society for leadership level giving by individuals.
"Members of the David Stewart Associates support the School in many tangible ways, including scholarships, fellowships, and awards; by naming the School as a beneficiary in their wills; with named spaces in Pharmacy Hall; and by designating funding for our greatest needs or for one of our departments or centers," said Natalie D. Eddington, PhD, FAAPS, FCP, dean and professor of the School of Pharmacy. "It is the support of these individuals, and their leadership and commitment to the School that helps to propel the cycle of philanthropy into the next generation."
Established in the 1980s, the DSA is named for David Stewart, America's first professor of pharmacy and a founder of the Maryland School of Pharmacy. Members of this prestigious group recognize the importance of sustained, leadership giving to provide a solid base of private support and to ensure the School's continued prominence in the pharmacy profession. These individuals make an annual gift of $1,000 or more to an unrestricted or restricted gift designation.
Approximately 85 percent of students at the School of Pharmacy receive some form of scholarship support thanks to the philanthropy of DSA members. During the dinner, third-year student pharmacists Linda Lu and Michael Westbrook delivered heartfelt remarks about how support from the DSA has made it possible for them to pursue their dreams of becoming independent pharmacy owners.
The recipient of the EPIC Pharmacies' Leslie S. Feldman Memorial Scholarship, Lu shared her thoughts about how the award helped to enhance her professional development, providing the resources necessary for her to attend annual meetings and conventions for several professional pharmacy organizations.
"It is a great honor and privilege to be chosen as this year's recipient of the Feldman Scholarship," said Lu. "Supporting independent pharmacies is one of my greatest passions. Thanks to the generosity of donors like you, I was able to focus on achieving my professional dreams and giving back to a community that has already given me so much. As I go into my fourth year, I look forward to continuing to encourage others to get involved in the promotion of community health and embracing their inner entrepreneur."
Westbrook, who received the 2014 Thomas S. Petr and Family Endowed Scholarship, spoke about his dream to own an independent pharmacy and continue a family tradition of service and patient care. He thanked the donors for their selfless contributions to the School of Pharmacy.
"As a new father, I am very proud of the path that I am on, and I believe that my career will model those values that I want my children to embrace," said Westbrook. "I also continue to be amazed by the sacrifices, work ethic, and perseverance exhibited by my classmates. I can assure you that your scholarship contributions could not support a more deserving group of people. Your generosity will carry good deeds, positivity, and our School's strong community far into the future."
Before the evening concluded, Eddington presented the Key to Pharmacy Hall, which is awarded annually to an individual who has significantly impacted the School through his or her advocacy efforts and who has demonstrated commitment to assisting the School of Pharmacy with advancing its mission to lead pharmacy education, scientific discovery, patient care, and community engagement in the state of Maryland and beyond.
This year's recipient was Ramona McCarthy Hawkins, BSPharm, RPh, former review chemist for the Food and Drug Administration (FDA).
"Mrs. Hawkins developed an interest in pharmacy from an early age," said Eddington. "However, her successful career, which spans more than 57 years, was not without its challenges. As a female and an African-American, Mrs. Hawkins was faced with the realities of sexism and racism in the federal workforce. She took a lead role in the fight against inequality in the workplace, supporting professional women like herself, through advocacy and mentoring, to advance them to upper level policy and decision-making positions in government. We owe her a debt of gratitude, as the fruits of her leadership, advocacy, and mentorship are enjoyed by women and minorities to this day."
After receiving her Bachelor of Science in Pharmacy degree and completing a two-year fellowship in biochemistry at the Ohio State University College of Pharmacy, Hawkins moved to Baltimore in the mid-1950s to work for the National Institutes of Health as a research chemist. In the mid-1960s, she was recruited by the FDA. She held various board positions and memberships in national pharmacy organizations, including Federally Employed Women and Blacks in Government (BIG), where she mentored and promoted excellence in the profession of pharmacy.
Following her retirement in 1996, Hawkins was appointed as a commissioner on the Maryland Board of Pharmacy by former governor Parris Glendening, where she helped to set standards and policies in the practice of pharmacy. She is highly regarded by her peers as a pioneer in her field, and is a current DSA member, establishing a scholarship in the name of the Maryland Pharmaceutical Society along with four other members of that organization.
"It is with a great deal of humility that I stand before you to accept the Key to Pharmacy Hall," said Hawkins. "Throughout my life, I have been dedicated and determined to make a difference in the lives of others by giving back to my profession and my community. Although I am a graduate of the Ohio State University College of Pharmacy, I have always felt a kindred spirit with the University of Maryland School of Pharmacy, and have long admired its outstanding outreach, progressive forward thinking, and achievement of academic excellence. I feel honored, and consider it the ultimate blessing, to be selected as the recipient of this auspicious award."
If you or someone you know is interested in becoming a member of the DSA, please contact Janice Batzold, acting assistant dean of the School's Office of Development and Alumni Affairs, at (410) 706-1711 or jbatzold@rx.umaryland.edu.
Related News Stories