Class of 2017 Welcomed to the Pharmacy Profession at White Coat Ceremony
Annual ceremony provides traditional welcome to the pharmacy profession and emphasizes professionalism.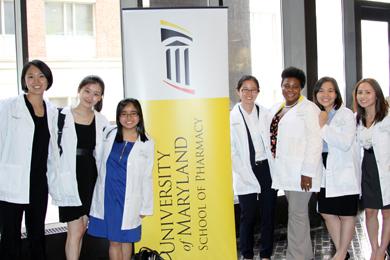 By Malissa Carroll
September 18, 2013
Family and friends joined faculty, staff, and alumni of the University of Maryland School of Pharmacy to watch the more than 160 students of the Class of 2017 don a pharmacist's white coat for the first time on September 9. The traditional White Coat Ceremony, which includes a formal recitation of the School's Pledge of Professionalism and an official signing of the student Honor Code, marks students' entry into the profession as student pharmacists.
"The goal of this ceremony is to transform you in mind, manner, and actions from simply a student to a student pharmacist," said Natalie D. Eddington, PhD, FAAPS, FCP, dean and professor of the School of Pharmacy. "The white coat represents your past and current leadership endeavors and achievements, as well as your commitment to provide the best care for your future patients. Wear it with pride and remember your responsibility to provide honest and accurate information to those in your care."
A graduate of the University of Maryland, College Park and George Washington University and now a first-year student pharmacist, Wambui Kiruthi, MPH, has traveled across the world to countries such as Uganda, Kenya, and South Africa, where she witnessed first-hand the challenges surrounding pharmaceutical care in developing countries. She sees her new responsibility as an opportunity to make a lasting impact on health care delivery in those areas.
"I am confident that receiving my Doctor of Pharmacy degree will provide me with the knowledge and skills that I need to work in an international setting to improve the pharmaceutical challenges unique to developing countries," says Kiruthi. "I am excited for future opportunities to use both my Doctor of Pharmacy and Master of Public Health degrees to assist in advancing the quality, access, and delivery of health care in these areas."
Kiruthi, whose family is from Kenya, currently lives in Rockville, Md. She applied as an early decision applicant to the School of Pharmacy and was elated to learn of her acceptance to the Doctor of Pharmacy (PharmD) program. "It was amazing to experience this reward for all of my hard work and pre-pharmacy preparation. Now, I am determined to work even harder to excel as a student at the School of Pharmacy," she says.
From the audience, Kiruthi's mother and father watched as she strode across the stage to slip on her white coat and accept her responsibilities as a student pharmacist.
"To me, receiving my white coat is symbolic of my joining the ranks of trusted and respected health care professionals," says Kiruthi. "I am honored to be assuming this new level of responsibility and commitment in my community."
Though graduation may still be four years away, Kiruthi looks forward to serving public health as a pharmacist, addressing pharmacy-related challenges as a member of an international organization, such as the World Health Organization, or as an officer in the US Public Health Service Commissioned Corps.
As the ceremony continued, Eddington advised the new class about changes in the landscape of how health care is provided, noting that it is a transformational time to be a student pharmacist.
"The pharmacist is an integral part of the health care team, and is often the most accessible member on that team," said Eddington. "You will play a significant role in modifying pharmacy practice under health care reform, providing valuable information on pharmacotherapy, drug-drug interactions and potentially dangerous side-effects, as well as valuable feedback to other health care professionals. Patients will place a high value on your service and put you in their circle of trust."
Keynote speaker Brian Hose, PharmD '06, owner of Sharpsburg Pharmacy and president of the School's Alumni Association, shared the story of how he decided to pursue a career in pharmacy after witnessing the compassion of a community pharmacist who helped his grandfather budget several expensive medications on a fixed income.
"I strive to be the type of pharmacist who works to help my patients in the same way that my community pharmacist helped my grandfather," said Hose. "It was this compassion for patients that ultimately led me to purchase my own pharmacy in 2008, and continues to allow me to go the extra mile for patients in my community. I hope that, as you wear your white coat, you will show the same compassion to the patients that you meet."
Hose also encouraged students to seize opportunities to get involved and advocate for the profession.
"Before I graduated, I had the opportunity to advocate for a number of advancements in Maryland pharmacy," said Hose. "Helping to open those professional doors while still in school felt great, but it also positioned me as an expert on new services. I challenge each of you to get off the sidelines and help mold your profession over the next four years, so that when you graduate, you too, are poised to be not only graduates of the School of Pharmacy, but leaders in the profession."
Related News Stories