Balassone Lecture Examines Pharmacist's Role in Population Health Management
Dr. Meghan D. Swarthout breaks down the buzzwords surrounding population health and encourages pharmacists to think "outside the box" to address the field's most fundamental challenges.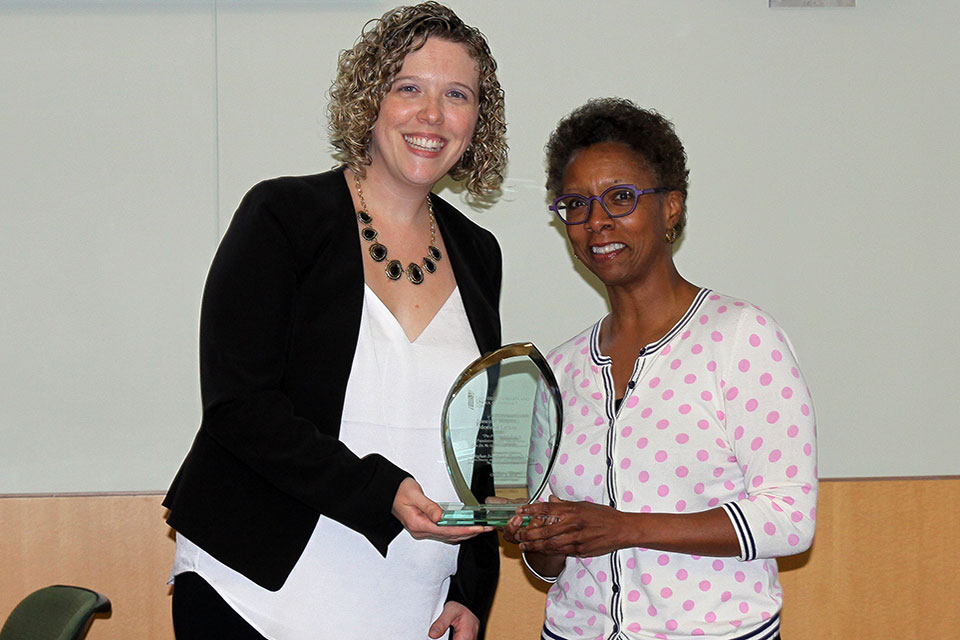 By Malissa Carroll
October 18, 2018
Faculty, staff, and students at the University of Maryland School of Pharmacy gathered in Pharmacy Hall on Oct. 3, to listen as Meghan D. Swarthout, PharmD, MBA, division director of ambulatory and care transitions in the Department of Pharmacy at Johns Hopkins Health System and director of clinical pharmacy services for Johns Hopkins Home Care Group, delivered the annual Francis S. Balassone Memorial Lecture. Titled "The Pharmacist's Role in Population Health Management: How Do We Go Beyond the Buzzword?", the lecture examined the practice of population health in the United States and offered insight into how pharmacists might begin to think "outside the box" to address some of the field's most fundamental challenges.
"Much of population health practice is still driven by the traditional four walls of the health care delivery system," explained Swarthout. "We focus on how we can treat patients within the hospital, clinic, and community pharmacy settings – the places in which we have always delivered care. But, we need to become more mobile and willing to meet patients where they are most comfortable. We need to break out of our traditional four walls, allowing patients to come to us for health care on their schedules, instead of ours."
Swarthout began her lecture with a brief look at the history of the field of population health in the United States. She noted that the term "population health" first began to appear in medical literature around the time of World War II, when researchers published the first article detailing a link between medical conditions and social conditions, specifically related to disease prevalence.
Following that premier publication, the field of population health garnered significant interest across the scientific community – interest that has exponentially increased within the past decade. However, Swarthout argued that a significant shift in thinking about how health care professionals provide care for their patients is needed before practitioners can truly transition from practicing population health medicine to engaging in population health management.
"As pharmacists, we think a lot about health care," said Swarthout. "We think about how we deliver health care to patients and what treatments those patients receive. But, I am not sure that we spend enough time thinking about patients' social environments, physical environments, and individual behaviors – all of which have a tremendous impact on patients' health outcomes."
She added, "Ultimately, our goal is to improve quality of life and outcomes for our patients, but we need to consider more holistically all of the factors that can impact a patient's health. This might be difficult for us, because we are going to have to think not only about the medications that a patient has been prescribed, but also about other, more personal aspects of their lives, such as whether they have access to healthy foods."
Swarthout also acknowledged that there are many challenges that must be addressed by health care providers and health systems alike before the field of population health management can realize its full potential in practice. In addition to managing resource trade-offs and improving communication across health care disciplines, Swarthout explained that the key to practicing true population health management is listening to the needs of patients and communities.
"Learning how patients get through their days and overcome their challenges will help us better understand how we might alter their treatment plans or improve their access to care to meet their unique health goals," explained Swarthout. "For one patient, that goal might be to be able to play with his or her grandchildren more. For another patient, it might be to spend more time on the golf course. It is looking at health from the patient's perspective, and recognizing that some goals cannot be measured with clinical laboratory values."
Swarthout continued her lecture by emphasizing the need for creative and synergistic partnerships to help address some of the challenges surrounding population health management. She spoke about a project housed within the Johns Hopkins University School of Nursing that demonstrates the value such partnerships can bring to patients and the community. Known as Project CAPABLE, the initiative leverages the expertise of an interdisciplinary team that includes a nurse, pharmacist, physical therapist, and handyman to help older adults remain in their homes as they age. The nurse, pharmacist, and physical therapist assess each patient's home environment and individual behaviors to identify repairs that the handyman can implement, such as adding a new railing to an existing stairway or building shelves at a lower height in the kitchen, to ensure the environment remains safe for the patient, bypassing the need for the patient to move into an assisted living facility.
"We need to recognize that it is not about making the community find solutions to its challenges alone, nor is it about us continuing to deliver care in traditional ways on our own," said Swarthout. "We have to actively engage with patients and communities, elbow-to-elbow, to figure out how to best improve the health of our populations."
Concluding her lecture, Swarthout acknowledged that, while the challenges facing the field of population health management might appear overwhelming, it is important to maintain perspective. She explained that the goal does not have to be finding a solution to each challenge, but simply making a strategic commitment to start, even without having all of the answers.
"We can't let perfect be the enemy of the good," said Swarthout. "We have a long way to go in our journey to population health management. It is really exciting, but it is also very overwhelming. However, I think we could develop some incredibly creative and innovative ways to care for patients if we embrace population health at its truest form — thinking outside of the traditional health care delivery silos, looking holistically at the way we take care of patients, and better training the future of our pharmacy workforce to be prepared for these challenges."
Related News Stories