AAPS/DDDI Meeting Brings Drug Design and Discovery Experts to the School
Event spotlights cutting-edge pharmaceutical sciences research being conducted across the region and offers networking opportunities for attendees.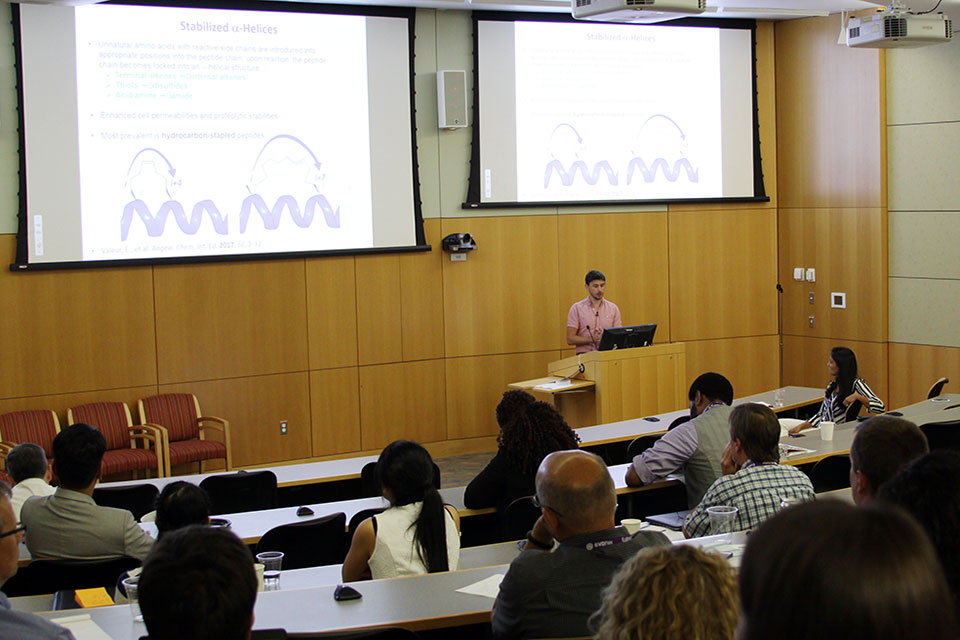 By Malissa Carroll
September 18, 2017
The University of Maryland School of Pharmacy hosted the regional meeting of the American Association of Pharmaceutical Scientists (AAPS) Drug Discovery and Development Interface (DDDI) section in August. Designed to provide a forum for drug discovery and preclinical scientists to discuss recent advances in the field of pharmaceutical sciences, the event was attended by more than 50 researchers and featured seven engaging presentations focused on the theme of advancements in drug discovery .
"Faculty across the Department of Pharmaceutical Sciences (PSC) at the School of Pharmacy are involved in a number of professional and scholarly activities through AAPS," says Andrew Coop, PhD, professor in PSC and associate dean for academic affairs for the School, who helped secure the location for the meeting. "Because the organization and our department share a common goal to advance the field of pharmaceutical sciences through the development of new therapies that improve global health, it was a natural fit for us to host the AAPS/DDDI regional meeting at the School. The turnout was phenomenal. We were truly proud to be part of such a successful event."
The DDDI section brings together researchers from academia, government, and industry whose work focuses on issues at the critical interface between drug discovery and drug development. Hazem E. Hassan, PhD, MS, RPh, RCDS, assistant professor in PSC, and Steven Fletcher, PhD, associate professor in PSC, are actively involved with the section and served as members of the Program Committee tasked with organizing the meeting.
The event featured three keynote lectures delivered by Mike Hageman, PhD, former executive director of discovery pharmaceutics at Bristol-Myers Squibb; Capt. Edward D. Bashaw, PharmD, director of the Division of Clinical Pharmacology at the Food and Drug Administration (FDA); and Justin Pennington, PhD, executive director of the Pharmaceutical Sciences Department: Biopharmaceutics and Specialty Product Development at Merck Research Laboratories. The remaining presentations were divided between two "Hot Topic" forums.
In addition to helping organize the event, Fletcher served as a moderator for the meeting's keynote presentations and delivered a presentation during the first Hot Topic session, which focused on transforming skillsets in early development to meet the changing landscape in the drug discovery space. Titled "New Therapeutic Modalities," his presentation focused on his team's research to develop new therapeutics through the disruption of protein-protein interactions in the cell.
"With protein-protein interactions, we have a much larger interface that we need to target, so the question becomes, 'How can we do that?'" said Fletcher. "Because targeting these interactions presents so many challenges, only a few researchers conducted studies in this area, even as late as the 1990s. However, thanks to recent advances in the field, we now have new treatment modalities aimed at these interactions that can be used to develop new therapeutics for a wide range of illnesses."
Moderated by Patrice Jackson-Ayotunde, PhD, associate professor in the School of Pharmacy and Health Professions at the University of Maryland, Eastern Shore, the second Hot Topic session highlighted academic collaborations and preparing current and future researchers for the drug discovery support role in industry. "When we think about collaborations between academia and industry, it is almost a perfect marriage. Scientists in both areas share the same goal to bring new compounds or drugs to the market for the benefit of patients. It is truly a mutual partnership and can be a 'win-win' for everyone involved," she said.
A speed-networking event was also included in the agenda to provide attendees with a fun way to learn about each other's research through brief, structured one-on-one exchanges.
"The AAPS/DDDI Regional Meeting hosted by the School of Pharmacy provided attendees with an amazing opportunity to interact with distinguished scientists from across academia, industry, and the FDA as they discussed recent changes in the pharmaceutical landscape," says Hassan. "The quality of the presentations, the thought-provoking discussions during the Hot Topic debates, the speed networking event, and the participation from students were exceptional. I am thrilled by the positive feedback that we have received."
Related News Stories