UMB, JHU Host Third Biennial Drug Discovery Symposium
Event enhances collaboration between two Baltimore institutions.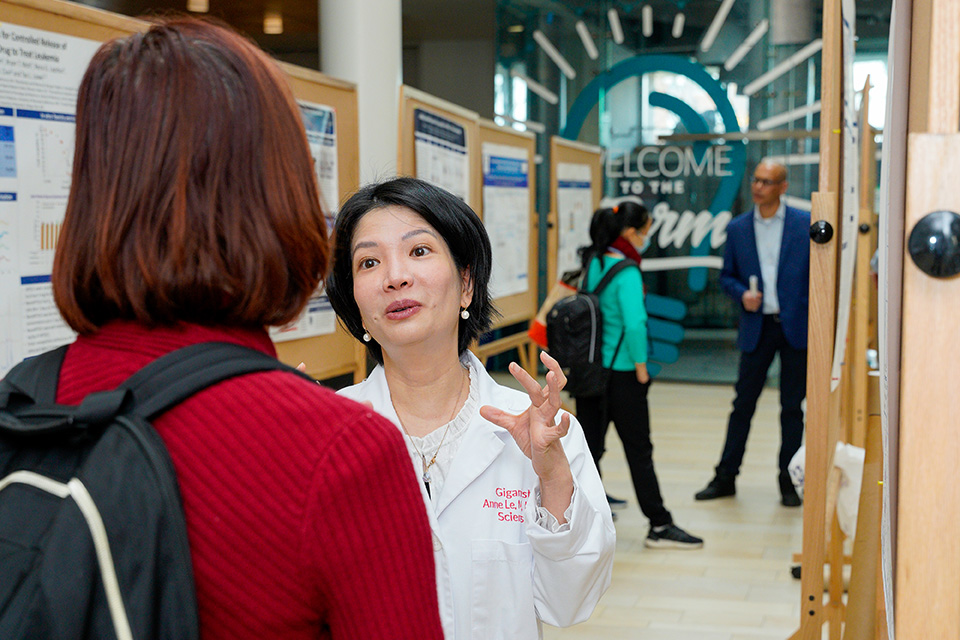 By Andrew Tie
April 5, 2023
The University of Maryland School of Pharmacy (UMSOP) and Johns Hopkins University (JHU) hosted the UMB-JHU Joint Symposium on Drug Discovery on March 22 in Pharmacy Hall to showcase the schools' shared and robust community of research.
Nearly 135 researchers from both campuses attended the symposium, which has been held every two years since 2017 with a pause in 2021 due to the COVID-19 pandemic. The focus of the symposium is translational research, the process of developing and discovering new drugs from the initial stages in the lab through trials, and into the market to improve health care.
"It's at events like this that we move science forward," said Natalie D. Eddington, PhD, FAAPS, FCP, dean of UMSOP and professor in the Department of Pharmaceutical Sciences (PSC). "It's the exchange of information that energizes us to go back to our home institutions and labs with new ideas and new collaborations to further develop existing and new therapies for the treatment of diseases."
The half-day symposium featured oral presentations and a student poster session, as well as networking opportunities to strengthen the relationships for future collaborative efforts between two of Baltimore's premier educational institutions.
"There's nothing that replaces in-person meetings," said Paul Shapiro, PhD, professor of PSC and associate dean for research and advanced graduate studies at UMSOP. "It's great to get together, exchange ideas, and allow young scientists to show their work, interact, and hopefully develop collaborations and long-term projects together."
The symposium is part of the activities of the UMB-JHU Institute for Clinical & Translational Research (ICTR), a joint NIH-funded collaboration between the University of Maryland, Baltimore (UMB) and JHU. The institute is a mechanism for the two institutions to enhance translational research and combine complementary expertise in drug design.
"There's been more collaborative projects between Johns Hopkins and the University of Maryland, Baltimore," said Barbara Slusher, PhD, MAS, professor of neurology and director of Johns Hopkins Drug Discovery, of the impact of the ICTR. "You can't collaborate if you don't know the people who are doing interesting things. I hope this will continue. This symposium is a good start."
Brianna Scotland, a fifth-year PhD student in PSC and Genentech-Meyerhoff fellow who presented during the oral presentations, said the symposium created a space for students and faculty from both campuses to network and cultivate future collaborations on drug discovery research.
"Learning about the fantastic research from my fellow UMB colleagues and JHU students through oral and poster presentations was exciting," Scotland said. "I also engaged in conversations that challenged me to think of my research project from multiple perspectives. I want to thank Drs. Shapiro and Slusher for organizing this symposium and for the opportunity to give an oral talk on my research."
Related News Stories