UMSOP's Center for Translational Medicine to Aid Artificial Blood Research
CTM faculty sought for pharmacometrics expertise.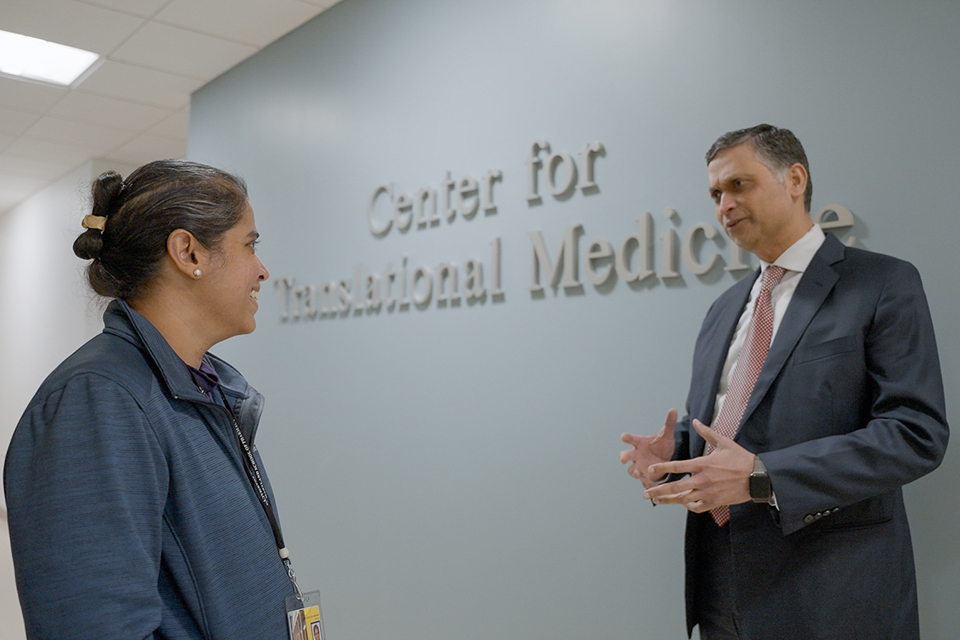 By Andrew Tie
February 22, 2023
Three faculty members from the University of Maryland School of Pharmacy's Center for Translational Medicine (CTM) will be part of an ambitious research collaboration that aims to create an artificial, shelf-stable blood product.
This research endeavor is federally funded by a $46.4 million four-year grant from the Defense Advanced Research Projects Agency (DARPA) and led by the University of Maryland School of Medicine (UMSOM). A synthetic blood product could potentially save thousands of lives, with applications including soldiers bleeding out in active war zones and trauma victims in remote locations.
"We have assembled an outstanding team to develop a bio-synthetic whole-blood product that can be freeze-dried for easy portability, storage, and reconstitution," said study principal investigator (PI) Allan Doctor, MD, professor of pediatrics and director of the Center for Blood Oxygen Transport and Hemostasis at UMSOM. "It will be designed for easy use in the field by medics at the point of injury, and will perform like a traditional blood transfusion to, for example, stabilize a patient's blood pressure or facilitate blood clotting."
UMSOP is part of more than a dozen university and biotech company partners in this collaboration. CTM, which is part of UMSOP's Department of Practice, Sciences, and Health Outcomes Research (P-SHOR), will help streamline the drug development process with its expertise in pharmacometrics.
Pharmacometrics measures and evaluates existing information on a given drug, a disease, and experiments, including clinical trials, to lay the groundwork for strategic decisions on drug regulation and/or drug development.
"In the drug development process, there are stages of testing, first in the lab, then in animals, and finally in humans," said Joga Gobburu, PhD, MBA, professor of P-SHOR, director of CTM, and a PI on the project. "The CTM faculty bring a wealth of expertise in optimizing the product and translating the findings across each stage. This is a complex product, and the translational science researchers will help design and analyze in vitro and in vivo experiments now so they will meet the clinical targets later in humans."
Gobburu will oversee all quantitative aspects regarding statistical and scientific machine learning. A former top scientist at the Food and Drug Administration (FDA), he will also leverage his prior regulatory experience with drug development to assist the entire process with the goal of submitting an investigational new drug application with the FDA.
Other CTM faculty involved in the project include Mathangi Gopalakrishnan, PhD, MS, assistant professor of P-SHOR, who will be responsible for the statistical and pharmacometrics analysis and design, and Vijay Ivaturi, PhD, assistant professor of P-SHOR, who will apply scientific machine learning to guide the experimental design and interpretation of the data.
"The researchers from CTM play a vital role in this project," Gobburu said. "We look forward to participating in this large project that will surely transform health care."
Related News Stories