Special Reception Celebrates the School of Pharmacy's Scholarship Donors
Nearly a dozen donors attended an evening gathering aimed at connecting them with the students who have benefitted from their generosity.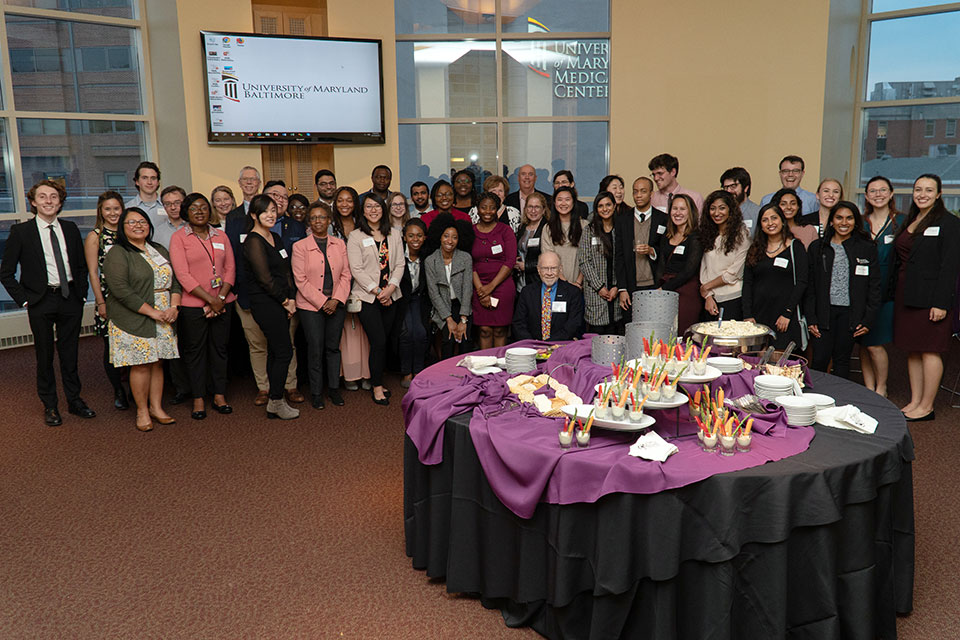 By Malissa Carroll
May 7, 2019
The University of Maryland School of Pharmacy hosted its annual reception for scholarship donors and recipients on April 11. Organized by the Office of Development and Alumni Affairs, this special event provided a forum for scholarship donors to meet the students who have benefitted from their generosity and offered students an opportunity to express their gratitude to the donors.
"It is an honor to bring together some of our School's most dedicated supporters and top students for this special occasion that recognizes the continued commitment demonstrated by our scholarship donors to helping ensure the success of our students," said Natalie D. Eddington, PhD '89, FCP, FAAPS, dean and professor of the School of Pharmacy, who was also the recipient of a scholarship during her time as a graduate student at the School.
Ninety-eight percent of eligible students qualify to receive financial aid or scholarship assistance at the School of Pharmacy, which offers more than 90 scholarships for students in its Doctor of Pharmacy (PharmD) and other graduate programs – some of which have been endowed by the School's own faculty members.
"The School of Pharmacy is incredibly fortunate to have such a wonderful group of donors who are truly committed to the continued success of our students," says Greer Griffith, MS, director of alumni relations and annual giving in the Office of Development and Alumni Affairs. "It is a pleasure to host events like our Scholarship Donor Reception, because these gatherings not only help our students understand the important role that scholarship donors play in advancing their education, but also further cement a culture of philanthropy here at the School."
Established in 2005, the Beardsley Scholar Leader Scholarship Fund provides support for third-year students in the PharmD program who demonstrate academic achievement, financial need, and significant leadership ability. The fund was started by Robert Beardsley, RPh, PhD, professor and vice chair for administration in the Department of Pharmaceutical Health Services Research (PHSR) at the School of Pharmacy, and his wife Katherine P. Beardsley, PhD, both of whom attended the reception to hear from students whose education had benefitted from the School's scholarship awards.
"The Scholarship Donor Reception provides a unique opportunity for donors and recipients to meet each other face-to-face" says Beardsley. "As donors, my wife and I enjoy talking with students about their current educational experiences and learning about how they are preparing to launch their future careers. Of course, the reception also provides students with an opportunity to thank us for our support, which we gladly give as a way to 'pay it forward' in recognition of the many people who provided us with financial and mentoring support during our career development."
In addition to providing the School with the chance to thank its donors for their generous contributions, the reception highlighted the strength of the School's alumni donor community, instilling within current students the importance of giving back to the individuals and organizations that have supported them.
"I am tremendously grateful to have been named a recipient of the Beardsley Scholar Leader Scholarship Fund," says Lafon Jones, third-year student pharmacist at the School. "Navigating the pharmacy profession as a student pharmacist can be rewarding, but also incredibly challenging and humbling. Receiving this award has shown me how invested others are in my professional endeavors, and that they believe in my ability to succeed. This investment continues to motivate me in my pursuit to become a pharmacist."
For information about how you can establish or support scholarships at the School of Pharmacy, please contact Greer Griffith at (410) 706-5893 or ggriffith@rx.umaryland.edu.
Related News Stories