SOP's Ehret Elected President of College of Psychiatric and Neurologic Pharmacists
Dr. Megan Ehret will lead the organization in continuing its mission to advance the reach and practice of psychiatric pharmacy.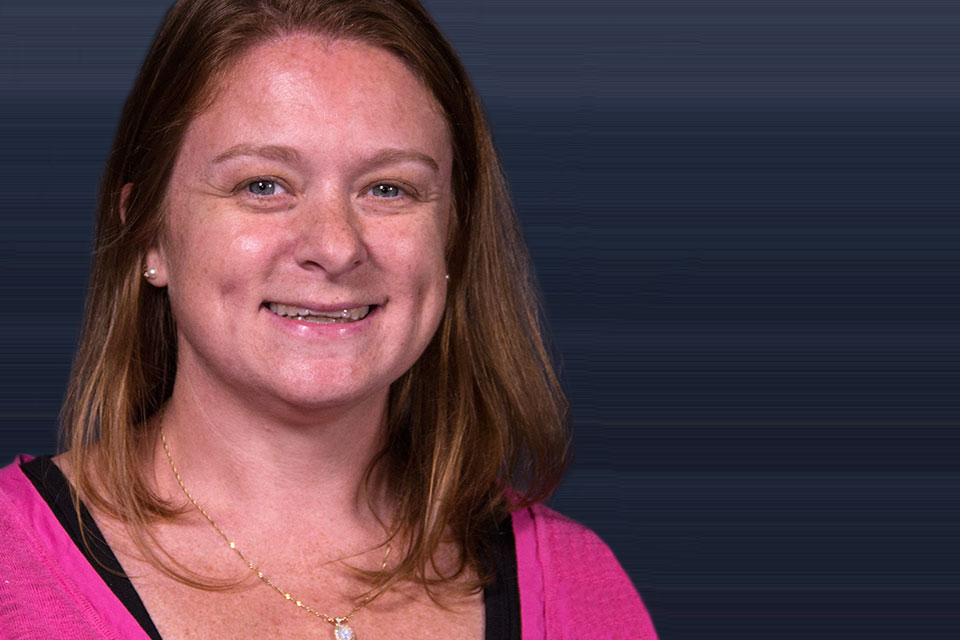 By Malissa Carroll
August 10, 2018
Megan Ehret, PharmD, MS, BCPP, associate professor in the Department of Pharmacy Practice and Science (PPS) at the University of Maryland School of Pharmacy, has been elected president of the College of Psychiatric and Neurologic Pharmacists (CPNP). She will lead the organization in continuing its mission to advance the reach and practice of psychiatric pharmacy while maintaining her faculty appointment at the School.
"Dr. Ehret's election as president of CPNP is a testament to her unwavering commitment to advance the field of psychiatric pharmacy to better serve both patients and practicing pharmacists alike," says Jill A. Morgan, PharmD, BCPS, BCPPS, professor and chair of PPS. "Our department is thrilled for her to have this opportunity to lead the field to which she has dedicated her career, and we cannot wait to see how CPNP continues to evolve under her leadership."
Established in 1998, CPNP is a professional pharmacy association dedicated to promoting excellence in pharmacy practice, education, and research to optimize treatment outcomes for individuals affected by psychiatric and neurologic disorders. It has a membership of more than 2,100 pharmacists and pharmacy students across the United States, and strives to ensure that all individuals living with mental illness receive safe, appropriate, and effective treatment.
"Because of shortages in properly trained psychiatric health care professionals, inadequate local and national laws, as well as other limitations, there are many patients who cannot access appropriate psychiatric care," says Ehret. "CPNP strives to ensure that all patients with a mental health concern, neurologic disorder, or substance use disorder have access to a specially trained pharmacist who can work with them and their health care team to determine the best treatment options for their unique circumstances."
Ehret received her Doctor of Pharmacy (PharmD) from the University of Toledo in Ohio. She completed a residency in psychiatric pharmacotherapy at the Louis Stokes Cleveland VA Medical Center as well as a fellowship in psychopharmacology and pharmacogenomics at Nova Southeastern University in Florida. In 2006, she joined the faculty at the University of Connecticut School of Pharmacy, where she also completed a master's degree in clinical and translational research. Ehret later served as a behavioral health clinical pharmacy specialist with the Department of Defense in Fort Belvoir, Va., before joining the faculty in PPS in 2017, where she teaches in the PharmD program and pursues research in the areas of precision medicine, psychotropic medication adherence, and the role of the psychiatric pharmacist on the health care team.
She is the senior editor for CPNP's Psychiatric Pharmacotherapy Review Course and has experience treating patients across the spectrum of mental illnesses and substance use disorders.
"One of the most rewarding aspects of practicing in the field of psychiatric pharmacy is being able to help patients when they are at their most vulnerable," says Ehret. "To help a patient understand their medications as well as their illness, and to see them experience a better quality of life as a result of my interventions, has been very meaningful to me."
Ehret assumed the role of president of CPNP on July 1. In her new role, she will chair the organization's Board of Directors, serve as the primary representative of the organization, outline goals for both the organization and its internal committees, participate in strategic planning, mentor future leaders in the profession, and foster teamwork among officers, committee chairs, and staff.
Following the completion of her term, she will serve as past-president for CPNP for 2019-2020.
"It was truly humbling to learn that I had been elected president of CPNP — that my peers and colleagues put their trust in me to lead the field of psychiatric pharmacy to the next level," says Ehret. "To be on the forefront leading our organization as the practice of pharmacy continues to evolve beyond a dispensing role to a more collaborative team approach is incredibly exciting. I'm hoping that my service will help push that envelope even further, allowing us to create more opportunities for psychiatric pharmacists that help make their scope of practice even more fulfilling."

Related News Stories