SOP's Pixley Receives University Employee of the Month Award
Erika Pixley, MBA, earns recognition as "the glue" to the School of Pharmacy's Online Master of Science and Graduate Certificates in Palliative Care program.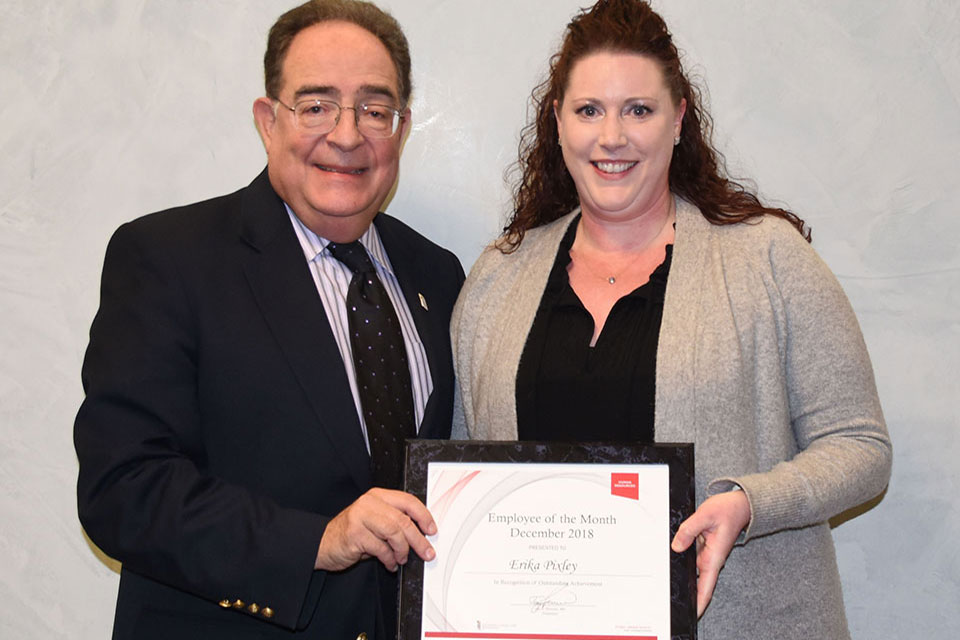 By Lou Cortina
December 11, 2018
Mary Lynn McPherson, PharmD, MA, MDE, BCPS, CPE, program director of the School of Pharmacy's Master of Science and Graduate Certificates in Palliative Care, jokes that she sometimes feels superfluous in her role because of one person: Erika Pixley, MBA.
"Everyone calls Erika," McPherson says of Pixley, senior academic program specialist. "In fact, when someone calls in, both of our lines ring on both of our phones. I'll answer it and say, 'Lynn McPherson.' And someone will say, 'Oh, I'm sorry, is Erika there?' And I'll say, 'Well, this is Dr. McPherson, can I help you?' And they say, 'No, I really need to speak to Erika.'
"She's indispensable to this program. She's the glue."
Helping to manage the program since its inception in spring 2017, Pixley was rewarded for her efforts Dec. 7 with the University of Maryland, Baltimore's (UMB) Employee of the Month Award for December. UMB President Jay A. Perman, MD, presented Pixley with the award at the Saratoga Building, praising her professionalism, work ethic, and ability to meet the needs of students.
"Your colleagues have said a lot of great things about you," said Perman, who gave Pixley a plaque, a letter of commendation, and news that an extra $250 would be in her next paycheck. "You've helped to build up a whole new program and you serve the students exceptionally well. This award is well-deserved, and on behalf of the University, I want you to know that your work is very much appreciated."
The online program, which is open to other UMB disciplines such as medicine and nursing, is designed to meet the educational needs of those who already work or wish to work in hospice or palliative care environments and want to gain deeper understanding of the physical, psychological, spiritual, and social needs of patients and families involved in end-of-life care.
McPherson describes the program as "a university within a university" and says of Pixley: "Erika is the welcoming committee and the admissions committee and the student affairs committee and the graduation committee. She's everything. And people adore her.
"She is extraordinarily professional in all her dealings — with faculty, students in the program, pharmacy students, and any other interested parties. She helps the students apply, enroll, develop their plan of study, pay their tuition, resolve technology issues, request graduate certificates, and does many, many more tasks."
Pixley, an employee of the school's Department of Pharmacy Practice and Science who came to UMB in 2016 to help launch the palliative care program, takes great pride in its success, with the first cohort set to graduate next spring.
"I'm with the students from Day 1 through graduation," she says. "We are not even two years old yet and we have over 150 students, so I think that's pretty successful. And we have great retention, because everyone who has started in the program is on their way to completion."
Pixley says she learned more in the first few months in this role than in seven years in her previous jobs in education enrollment and admissions, adding that she appreciates the creative freedom she's given with tasks such as managing social media, producing the program's newsletter, and assisting with marketing materials.
"I've been given the flexibility to utilize my own resources and the freedom to try different things," she says. "If I have an idea that will aid students or the program, I can actually go to somebody with the idea, instead of just sitting in my cubicle."
Pixley collaborates with faculty, too, of course, but says the best part of her job is being in constant contact with the students.
"In previous positions I've held, students are handed off to other departments after their initial enrollment has ended," she says. "Here, I like that I'm our students' main go-to person and that they know they're with me from beginning to end, through thick and thin. They know I have their backs, that I'll handle all issues or changes that arise, and that they can come to me with any type of question.
"Our students feel comfortable with me, and many of them have said the students in this program and the support staff feel like a family. I'm very proud of that."
And McPherson is clearly proud of Pixley.
"Erika is an asset and friend to our program, the School of Pharmacy, and UMB," she says. "The program is an enormous success, and we cannot imagine that it would have been doing as well under anyone else's care."
Related News Stories