Practice Faculty Earn Fellow Status from the American Academy of Hospice and Palliative Medicine
McPherson and Walker are the first pharmacists to receive fellow designation from 5,500-member professional organization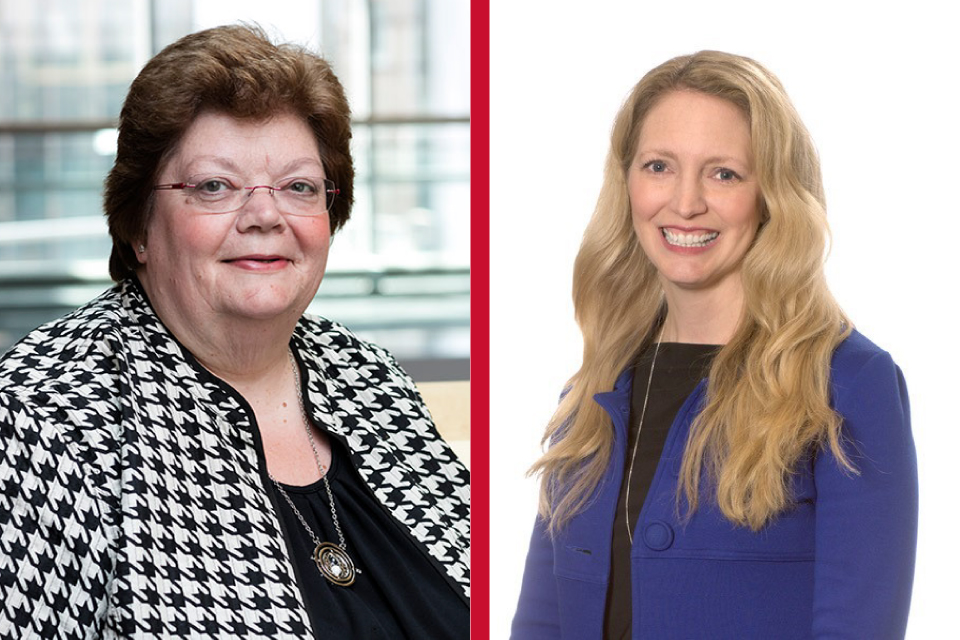 By Becky Ceraul
December 14, 2021
Mary Lynn McPherson, PharmD, MA, MDE, BCPS, and Kathryn Walker, PharmD, BCPS, both faculty members in the Department of Pharmacy Practice and Science (PPS) at the University of Maryland School of Pharmacy, have recently earned the designation Fellow of the American Academy of Hospice and Palliative Medicine (FAAHPM). This is the highest honor that can be bestowed upon a member by AAHPM, which is the professional organization for physicians specializing in hospice and palliative medicine, nurses, pharmacists, and other health care providers.
McPherson is a professor in PPS and executive director of advanced post-graduate education in palliative care. She has maintained a practice in both hospice and palliative care throughout her career. She teaches extensively in the School's Doctor of Pharmacy (PharmD) program on pain management and end-of-life care, including didactic and experiential content. She also developed one of the first palliative care pharmacy residency programs in the United States and is executive program director of the School's online graduate studies in palliative care, including a Master of Science, Doctor of Philosophy, and graduate certificates.
McPherson currently serves as the first pharmacist selected for the board of the American Association of Hospice and Palliative Care and is a founding trustee and board member of the Society of Pain Management and Palliative Care Pharmacists. She has received many honors for her work, including the American Pharmacists Association Distinguished Achievement Award in Specialized Practice, the University System of Maryland Board of Regents Award for Excellence in Teaching, the University of Maryland, Baltimore's Founders Week Teacher of the Year Award, the Maryland Society of Health-Systems Pharmacists W. Purdum Lifetime Achievement Award, and the Robert K. Chalmers Distinguished Pharmacy Educator Award from the American Association of Colleges of Pharmacy.
She has written five books, including the best-selling Demystifying Opioid Conversion Calculations, A Guide to Effective Dosing, 2nd ed.
"I have long been a proud member of AAHPM and strongly endorse their mission and vision," says McPherson. "I appreciate the opportunity afforded to all members to aspire to Fellow status and am delighted to have been chosen for this honor."
Walker is an associate professor in PPS and assistant vice president for palliative care at MedStar Health, where she creates palliative care strategy, demonstrates its value within the health system, and leads and collaborates on interdisciplinary research focused on health services related to telehealth and appropriate medication use. She teaches in both the School's PharmD program and its MS in Palliative Care program. She also serves as site director for the pain/palliative care residency program that is shared between the University of Maryland and MedStar Health. At MedStar, she serves as the clinical co-leader for the health system and oversees inpatient palliative care consultation teams at nine hospitals as well as the community-based Palliative Telehealth Connecting to Home (PATCH) program, which she started in 2015.
"It is a tremendous honor to help pave the way for AAHPM in their insightful decision to make Fellow status more inclusive," says Walker. "With pharmacists and other team members recognized in this way, we more closely represent the field of palliative care, which is very exciting."
McPherson and Walker are the first pharmacists to receive fellow status from AAHPM. They will receive the designation during the closing plenary session at the Annual Assembly of Hospice and Palliative Care in Nashville, Tenn. in February.
"Drs. McPherson and Walker work tirelessly to expand the practice of palliative care and the interdisciplinary education of all health care team members in palliative care," says Jill Morgan, PharmD, professor and chair of the School's Department of Pharmacy Practice and Science. "As the first two pharmacists to receive fellow status from AAHPM, it is clear they have made a significant impact for years nationally and internationally in this field and are truly deserving of this recognition."
The American Academy of Hospice and Palliative Medicine (AAHPM) is the professional organization for physicians specializing in hospice and palliative medicine (HPM), as well as nurses, PAs, social workers, and other health and spiritual care practitioners committed to improving quality of life for seriously ill patients and their families. For more than 30 years, AAHPM has been dedicated to expanding access to high quality palliative care, and advancing the discipline of HPM, through professional education and training, development of a specialist workforce, support for clinical practice standards, research, and public policy. AAHPM is governed by a 20-member Board of Directors and managed by a full-time staff along with additional, support provided by Association Management Center (AMC) based in Chicago, IL.
Related News Stories