Palliative Care Graduate Program Celebrates 2023 Convocation
Graduating class is the largest in the program's history.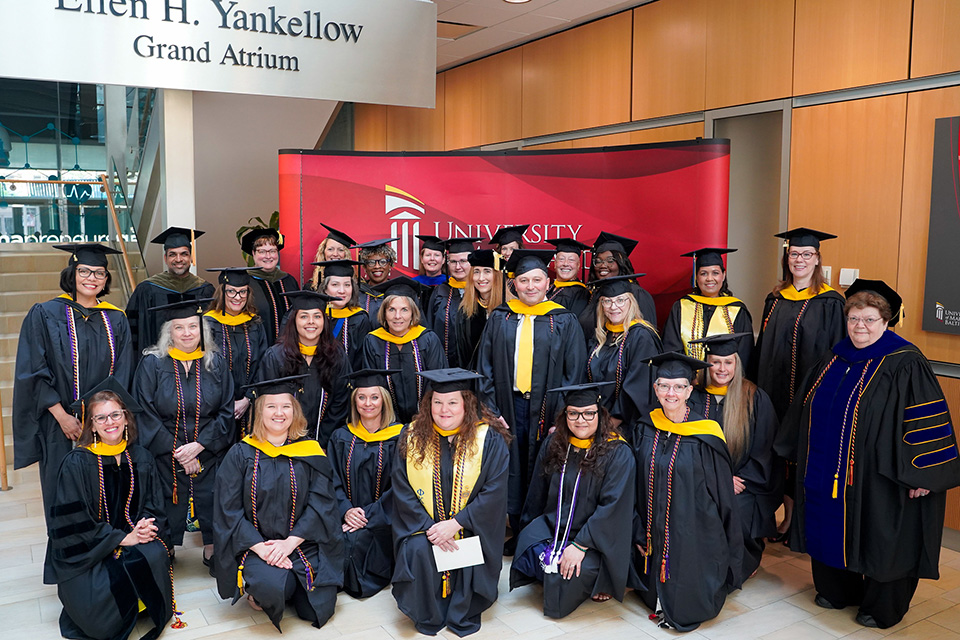 By Andrew Tie
August 28, 2023
The online Graduate Studies in Palliative Care program at the University of Maryland, Baltimore honored 69 members of the Class of 2023 who earned a master's of science degree or graduate certificate during a graduation ceremony at Pharmacy Hall on Aug. 11.
In her remarks at the celebration, Sarah L.J. Michel, PhD, interim dean and professor of the School, praised the program for the skills and knowledge it has provided to the graduates to make an impact in palliative care.
"My advice is to continue to focus on what is important," Michel said. "To be leaders who challenge the status quo and contribute to the greater good; to be optimistic and to use your knowledge, skills, and passion to drive innovation and change; to care. There is no limit to what you can achieve."
Mary Lynn McPherson, PharmD, PhD, BCPS, professor in the Department of Practice, Sciences, and Health Outcomes Research (P-SHOR) and executive director of graduate studies in palliative care, lauded the multi-tasking efforts of the graduates, most of whom have been working full-time while caring for families and completing schoolwork.
"I'm so excited to be hosting today's graduation celebration," McPherson said. "This is the culmination of all your blood, sweat, and tears, and I'm very proud of all of you."
The palliative care graduate programs are delivered online and educate people interested in a deeper understanding of the physical, psychological, spiritual, and social needs of patients and families affected by advanced illness.
A priority of the program—which also includes a new PhD—is fostering an interprofessional, team-based approach to treatment, much like the students will experience in practice. In each course, students are taught by two or more faculty from different disciplines to model interprofessional practice.
Perspectives from students
After the ceremony, students reflected on the past few years, their path to the palliative care program, and their career goals going forward.
Donna Apolinario, MD, MPH, MA, MS '23, said the instructors were one of the highlights of the program.
"They're rock stars in their fields," Apolinario said. "Dr. McPherson has managed to wrangle up the movers and shakers in the palliative field, so that's been a fun experience."
Apolinario previously worked as an internal medicine physician but paused her career to be a stay-at-home mom. She's now going back to work, and after earning her degree in palliative care, Apolinario has pivoted into her passion as a hospice physician.
Carol Noon, MS '23, who previously worked as an end-of-life doula, said the program requires students to dig deep, draw upon previous experience, and be open to new perspectives.
"We're in this program to synthesize everything we've learned from our personal, professional, and academic experience, what we learn from each other, and to pull that together and answer questions thoughtfully that show the breadth and scope of knowledge and push forward in our professions," Noon said.
Kristin Watson, PharmD, MS '23, BCCP, an associate professor in the School of Pharmacy's P-SHOR department who was a student in the program, called it one of the most transformative experiences of her life.
"I've become a better provider, a better communicator, and I have no doubt I'm doing better for my patients," said Watson, who is a cardiology specialist with an ambulatory care heart failure practice at the Veterans Affairs Medical Center in Baltimore. "When it comes to end-of-life care, I never thought I'd be the person to lead the conversation about what we can do for our patients and their families."
Related News Stories