SOP's Mullins Honored with University Diversity Award
Award recognizes the efforts of Dr. Daniel Mullins and the PATIENTS program to support diversity and inclusiveness in clinical studies.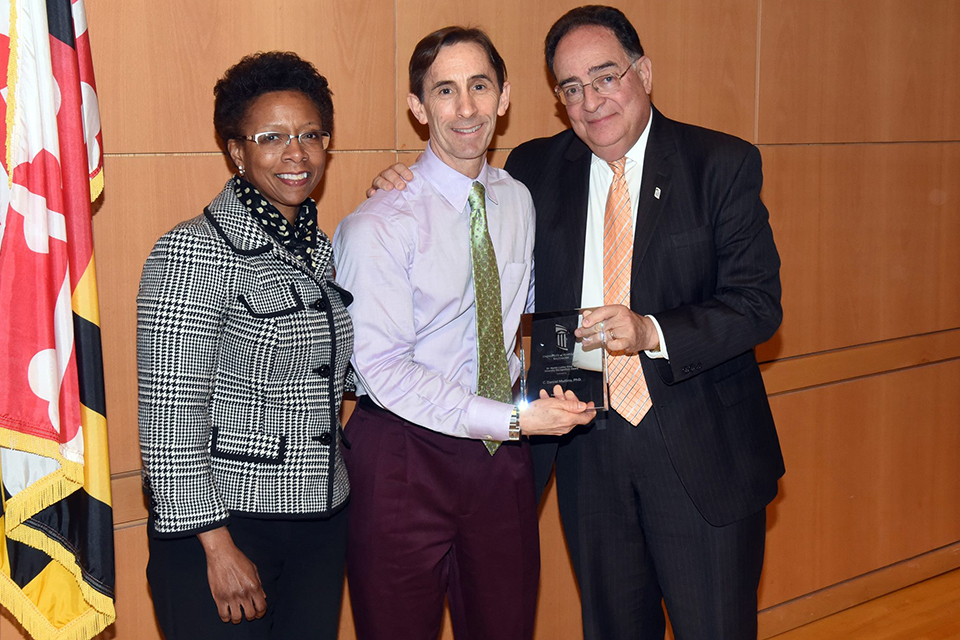 By Malissa Carroll
February 8, 2017
C. Daniel Mullins, PhD, professor and chair of the Department of Pharmaceutical Health Services Research (PHSR) at the University of Maryland School of Pharmacy, has received the University of Maryland, Baltimore's (UMB) 2017 Martin Luther King, Jr. Diversity Recognition Award for Outstanding Faculty. Presented to individuals who serve as models of the ideals epitomized by the life and work of noted civil rights activist Dr. Martin Luther King, Jr., the award recognizes Mullins' work as director of the Patient-Centered Involvement in Evaluating the Effectiveness of Treatments (PATIENTS) program, which strives to empower patients to propose questions about their health care concerns and actively participate in studies to address those questions.
"It has been remarkable to watch the PATIENTS program expand and evolve under the direction of Dr. Mullins," says Natalie D. Eddington, PhD, FCP, FAAPS, dean and professor of the School of Pharmacy. "In the three years since the program launched, he and his team have worked tirelessly to engage residents across Baltimore's diverse communities and partner them with researchers to help inform the design of studies conducted in the field of patient-centered outcomes research (PCOR). These partnerships are not only helping researchers reach patients often underrepresented in clinical trials, but also driving change in the way that we conduct PCOR studies at both UMB and other institutions across the nation. I could not be more proud to offer him my congratulations on this award."
Mullins received his doctorate in economics from Duke University, and later joined the faculty at the School of Pharmacy in 1995. His research and teaching have focused on the areas of pharmacoeconomics, comparative effectiveness research (CER), PCOR, and health disparities. In 2013, he established the PATIENTS program to help reduce health disparities by building relationships between patient communities and health care systems to ensure that patients, health care providers, and other partners are actively engaged in research. The program – which was initially funded by a five-year, $5 million grant from the Agency for Healthcare Research & Quality (AHRQ) – works to engage individuals from all communities, particularly those from underserved and minority populations, in every step of the PCOR process.
"Being selected to receive the Martin Luther King, Jr. Diversity Recognition Award for Outstanding Faculty is not just a prestigious honor, but also a call to arms to continue our important work of advancing health equity," says Mullins. "With this honor comes a responsibility to move forward the transformational change necessary to make research more patient-centered. Unlike many research programs, the PATIENTS program encourage patients and caregivers to get involved in every aspect of our studies, because we believe that incorporating patients' perspectives can improve health care research and delivery for all Americans."
In addition to his work with the PATIENTS program, Mullins serves as co-editor-in-chief for Value in Health, the journal of the International Society for Pharmacoeconomics and Outcomes Research. He received the Dr. Daniel D. Savage Memorial Science Award from the Association of Black Cardiologists in 2013 for his outreach to minority patients, and was named one of UMB's Researchers of the Year in 2014.
Mullins received the Martin Luther King, Jr. Diversity Recognition Award for Outstanding Faculty during the University's Black History Month celebration on Feb. 1.
Related News Stories