$2 Million Grant Investigates Diversity, Recruitment, and Retention in Aging Research
Collaboration between the Schools of Pharmacy and Medicine aims to develop strategies other investigators can use to help recruit and retain older adults and diverse populations in research.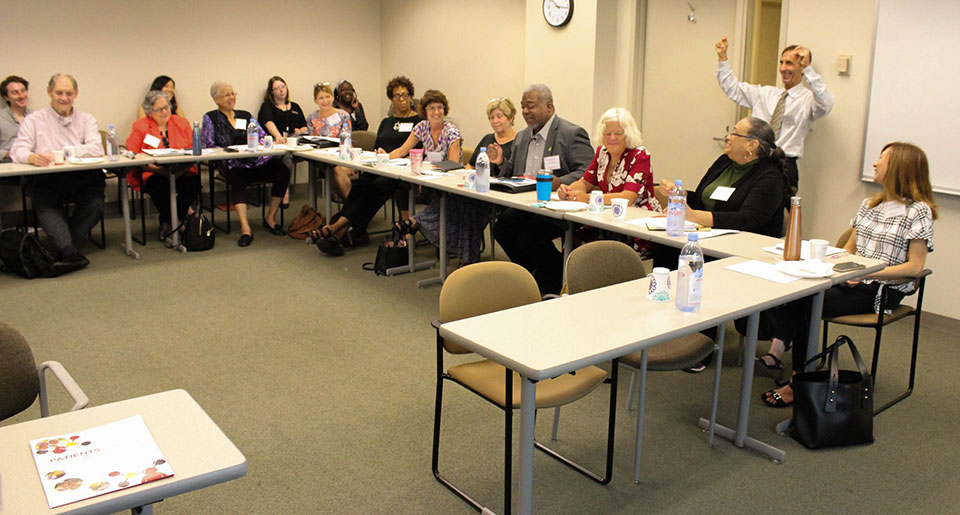 By Malissa Carroll
October 22, 2019
Daniel Mullins, PhD, professor and chair of the Department of Pharmaceutical Health Services Research (PHSR) at the University of Maryland School of Pharmacy, and Jay Magaziner, PhD, MSHyg, professor and chair of the Department of Epidemiology and Public Health at the University of Maryland School of Medicine, have been awarded a three-year, $2 million grant from the National Institute on Aging (NIA) to examine diversity, recruitment, and retention in aging research. They will lead a collaborative team that includes researchers, community members, and other stakeholders to develop evidence-based strategies that investigators can use to help recruit and retain older adults and diverse populations in research, and establish a registry of West Baltimore community members who are willing to participate in NIA-funded clinical research studies.
"As co-principal investigators, Dr. Magaziner and I are excited to lead this stellar A-team collaboration that will help us determine the best strategies and methods for enhancing diversity in aging research," says Mullins, who also serves as executive director of The Patient-Centered Involvement in Evaluating the Effectiveness of Treatments (PATIENTS) Program at the School of Pharmacy. "We want to facilitate effective bi-directional learning throughout this study, and learn from our community members what approaches they believe will work best in their communities, as well as have them learn from us about the importance of research and how participation can help them, their families, and their communities."
Research has demonstrated that medications, medical devices, and behavioral interventions can be made safer and more effective for all people when clinical studies include diverse populations. However, addressing the wide range of physical, socioeconomic, and other barriers that prevent individuals from aging populations, as well as underserved populations, from participating in these studies remains a challenge for many researchers. Building on the pioneering patient engagement efforts led by The PATIENTS Program and cutting-edge research conducted by faculty in the Center for Research on Aging at the School of Medicine, this project uses a collaborative team-based approach to address existing knowledge gaps and assess the effectiveness of strategies designed to increase diversity among older adult participants in clinical research studies.
"Most medications and therapies are tested and brought to market based on studies conducted not only in younger people, but in a relatively homogeneous group of volunteers," says Magaziner, who also serves as director of the Center for Research on Aging. "These are typically individuals who have never been diagnosed with a chronic illness and who are able to easily travel to and from the location where the study is being conducted, which is often not an accurate representation of the majority of people who will use these drugs in the real world."
He adds, "Fortunately, times are changing. There is now a big push to include not only older adults in research, but also individuals from more diverse populations. Thanks to the expertise of The PATIENTS Program and the Center for Research on Aging, we will be able to have an impact in this important area."
The study will use a mixed-methods approach that leverages both qualitative and quantitative methodologies to test and compare recruitment and retention strategies. It will primarily focus on three populations that are not often engaged in clinical research studies: older African Americans, older adults with disabilities, and older adults who cannot leave their homes.
The research team will be divided into three cores, as well as an External Advisory Board that will provide guidance and advice on the study. Under the direction of Mullins and Magaziner, the Executive Committee Core will manage project oversight and help foster authentic partnerships for community-engaged research. The Community and Collaboration Core and Aging Research and Bioethics Core will be co-led by a key community partner leader and a researcher at the University of Maryland, Baltimore, and will oversee the engagement and bi-directional learning elements of the study and manage the enrollment of participants into the registry, respectively.
Researchers will also employ a process known as collaborative evaluation, which will engage community members and other stakeholders throughout the evaluation process, improving the overall quality and effectiveness of the study and increasing the relevance of its findings.
"As a person whose career started in community engagement, outreach, and research, who now receives requests to share my expertise and perspective of the communities that I have served, I truly appreciate the work that is being done on this project and cannot wait to see the impact it will have on local communities," says Dwyan Monroe, patient advocate and member of the study's Community and Collaboration Core. "I hope we continue to do this right, and make sure that the community is at the forefront of all that we do."
"It is critical that we increase the diversity of participants in clinical research to guarantee that health care providers become better acquainted with the needs, cultural and social practices, and perspectives of a variety of patients," says Daniel Frye, JD, executive director of services for the blind and visually impaired at the New Hampshire Bureau of Vocational Rehabilitation and a member of the study's Aging Research and Bioethics Core. "I am excited to represent the needs and views of the blind and low-vision community to the health care community. We are a community that experiences a full array of medical needs, and mostly regard our vision loss as a permanent, social status rather than a medical condition. I hope this study will render clinical research more responsive, empathetic, and attentive to the varying needs of the diverse patient community."
Mullins and Magaziner hosted a kick-off event at the School of Pharmacy in August, which brought together all of the members of the study's cores and its External Advisory Board to discuss how recruitment and retention strategies might be selected and assessed for the study, as well as what information might be collected from participants for the study's registry.
At the conclusion of the study, Mullins and Magaziner estimate that approximately 3,000 West Baltimore community members will have been recruited into the registry, giving their consent to be contacted to participate in future NIA-funded clinical research studies.
"This study represents an opportunity for us as researchers to take a step back and understand how traditional recruitment methods often lacked an appreciation for background, life circumstances, and personal histories," says Keith Whitfield, PhD, provost and senior vice president for academic affairs and professor of psychology at Wayne State University, who will serve as a member of the study's External Advisory Board. "The way in which investigators approach a population truly can make all of the difference in terms of the success of that engagement. By comparing and contrasting different strategies, this study will help us ensure that the individual characteristics of underserved populations are included in new approaches that we can use as a roadmap for future studies."
Related News Stories