The PATIENTS Program Kicks-Off New Fundraising Campaign with Virtual Event
Key stakeholders from The PATIENTS Program come together to celebrate past achievements and look towards future successes.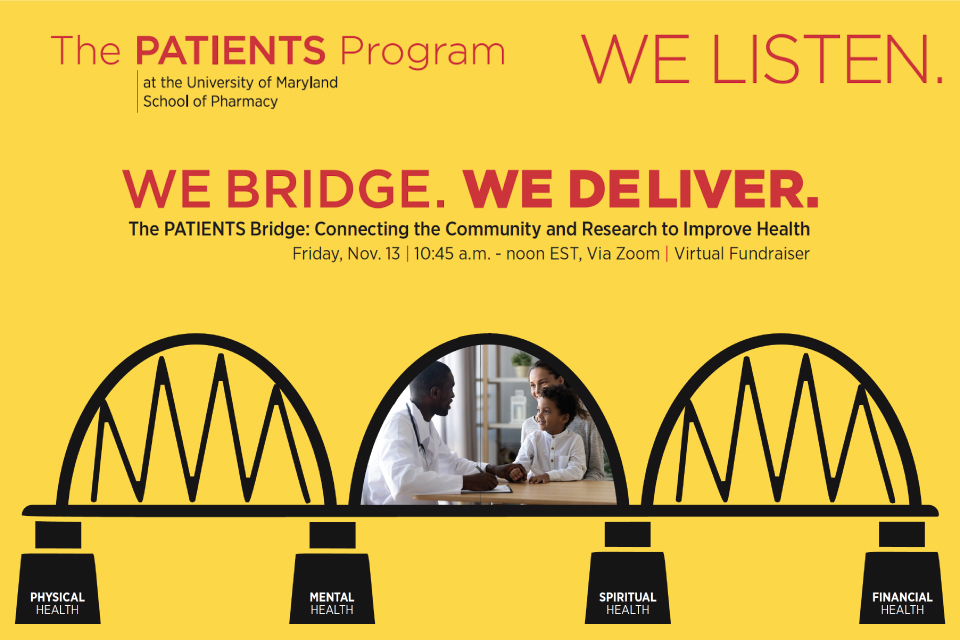 By Malissa Carroll
November 25, 2020
The PATIENTS Program at the University of Maryland School of Pharmacy hosted a virtual event on Nov. 13 to help kick-off a new fundraising campaign. Titled "The PATIENTS Bridge: Connecting the Community and Research to Improve Health," the event brought together faculty, staff, and key stakeholders from The PATIENTS Program to hear from some of the program's West Baltimore partners and learn more about how the program serves as a bridge between the community and researchers at University of Maryland, Baltimore (UMB).
The PATIENTS Program is an interdisciplinary research team at the School of Pharmacy that has changed the way research is conducted by creating a path for health equity in West Baltimore. It strives to engage underrepresented populations in research to improve the well-being of people and communities.
Following opening remarks from Dwyan Monroe, program coordinator at the Institute for Public Health Innovation and long-time patient advisor to The PATIENTS Program, and Sam Ross, MD, chief community health officer for Bon Secours Mercy Health, the event featured two panel discussions that addressed the four pillars of health: physical, mental, spiritual, and financial. Together, these pillars support a bridge to holistic health for all people.
Moderated by Franklin Lance, DMin, senior pastor at Mt. Lebanon Baptist Church, the first panel discussion focused on spiritual and financial health and included panelists Jennifer "Ayana" Harrison, a wellness coach and founder of Ayana Wellness Spa and Educational Resources, and Ebere Onukwugha, MS, PhD, associate professor in the Department of Pharmaceutical Health Services Research (PHSR) at the School of Pharmacy. The panelists addressed topics such as why spiritual and financial health are important to an individual's overall health, and what steps individuals can take to improve these aspects of their health.
"Spiritual health is incredibly important to a person's overall health, because if a person does not understand their true worth, then their health will take second place," said Harrison. "However, once people understand that they are important, they become empowered. They understand and value their well-being, which impacts not only their spiritual health, but also their physical, financial, and mental health."
The second panel discussion focused on physical and mental health, and was moderated by Curtis Eaddy, marketing and communications director for the Southwest Partnership. Panelists Matthew King, MBA, president of the Harlem Park Community Development Corporation, and Jaih Craddock, PhD, assistant professor at the University of Maryland School of Social Work, explained the personal and professional endeavors in which they are involved to improve mental health and discussed the role that research can play in rural and Black communities to improve health.
"Early in my career, I realized there was very little positive research geared towards Black communities, especially in the area of sexual health," said Craddock. "Much of what I uncovered was not conducted by Black individuals and did not have the perspective that I felt was representative of our experience. It was this discovery that motivated me to become a researcher to provide that space and voice, and give feedback on what our true experience is as Black individuals."
Natalie D. Eddington, PhD, FCP, FAAPS, dean and professor of the School of Pharmacy, also attended the event and delivered remarks that highlighted many of the major accomplishments that The PATIENTS Program has achieved since it launched in 2013. She noted that, although the program was initially funded with a $5 million grant from the Agency for Healthcare Research and Quality (AHRQ), it has since submitted more than 170 new proposals, of which 46 received funding that totaled nearly $45 million – an 890 percent return on investment.
"As a school of pharmacy, the foundation of our work is to build trust in the community and to ensure adequate representation and diversity in effectiveness trials, so that the drugs produced work for everyone, and so that patients can make the best health care decisions for themselves based on the options presented to them," said Eddington. "We can develop the best drugs in the world and research the best ways to be healthy, but the patient has to be an active partner for us to have a healthy nation and healthy communities."
She added, "That's why patient-centered outcomes research and The PATIENTS Program are all about – working with patient to co-develop research based on questions that patients have about their medical conditions."
To close the event, C. Daniel Mullins, PhD, professor and chair of PHSR and executive director of The PATIENTS Program, invited attendees to pledge their support for the program's ongoing work, explaining that financial support from the program's partners is crucial to help The PATIENTS Program continue to deliver on its promise to translate the results of its research into solutions that improve the health of West Baltimore, the state of Maryland, and beyond.
"Thank you for believing in The PATIENTS Program and in what we do. I am incredibly grateful for your presence here today and your continued presence in our community. Our goal is that The PATIENTS Program will serve as a national model for authentic patient engagement and partnership that transforms how research is designed, conducted, and translated, so that all people can benefit. However, our continued work depends on funding to help us expand and replicate this successful model across the country."
Support for "The PATIENTS Bridge: Connecting the Community and Research to Improve Health" event was provided by AbbVie; Bayer; Ellen H. Yankellow, BSP '73, PharmD '96; Truist; the PhRMA Foundation; and Harold E. (Hal) Chappelear, BSPharm, LLD (Hon.). The program aims to raise $750,000 to continue its critical community engagement endeavors by June 2021. To help support The PATIENTS Program's work, please consider making a donation here.
Related News Stories