Perfetto and Onukwugha Make A Big Splash at PHSR "Shark Tank" Competition
Four teams compete for $75,000 award to fund new initiatives to advance the mission, research, and reputation of the School's Department of Pharmaceutical Health Services Research.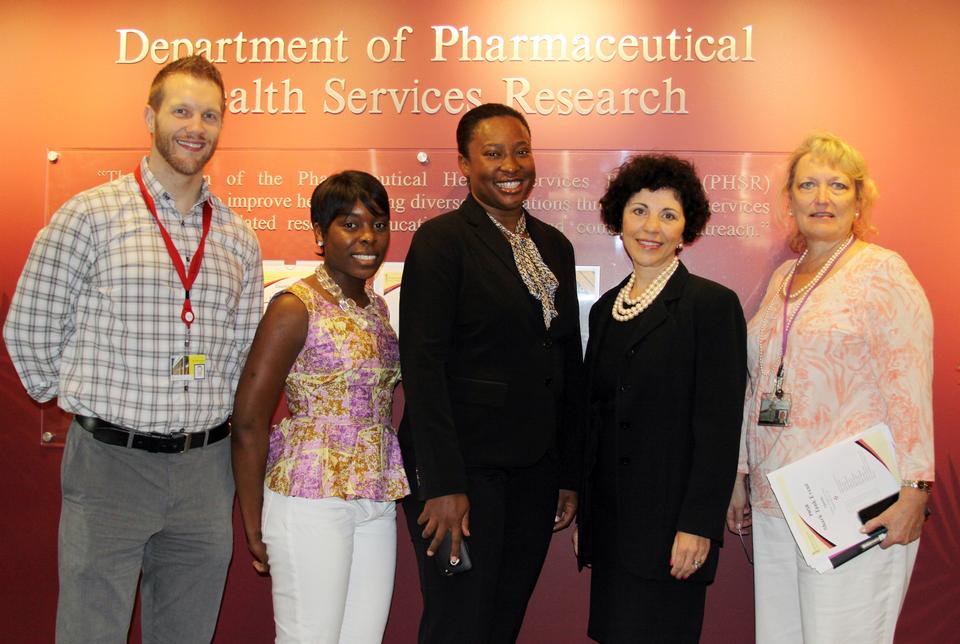 By Malissa Carroll
August 29, 2014
The teeth were out on Aug. 19 as four interdisciplinary teams led by faculty from the Department of Pharmaceutical Health Services Research (PHSR) at the University of Maryland School of Pharmacy competed in the department's first-ever "Shark Tank" competition. Though the competition was fierce, team PRC2 led by Eleanor Perfetto, MS, PhD, professor in PHSR, and Ebere Onukwugha, MS, PhD, assistant professor in PHSR, landed the big catch — a $75,000 award that they will use to help "power up" the School's Pharmaceutical Research Computing (PRC) center.
"We feel very fortunate to have been named the winners of PHSR's inaugural 'Shark Tank' competition," says Perfetto. "Across many areas of research, there has been increased interest in the concept of 'big data.' This timely award will allow us to capitalize on this emerging area, making PRC a one-stop secondary data analysis shop for all health services researchers across the University of Maryland, Baltimore (UMB) and beyond."
The competition was modeled after ABC's popular Shark Tank reality television show in which aspiring entrepreneurs make business presentations to a panel of "sharks" (potential investors). Each team delivered a 10-minute presentation that addressed its proposed project, team members and their areas of expertise, as well as how the $75,000 award would be used to fund the project. Following each presentation was a five-minute question-and-answer session during which the competition's "sharks" (judges) had an opportunity to have their questions and concerns addressed by team members.
"The competition was a tremendous success," says C. Daniel Mullins, PhD, professor and chair of PHSR, who collaborated with Linda Simoni-Wastila, BSPharm, MSPH, PhD, professor and vice chair of research for PHSR, to bring the competition to fruition. "Every faculty member within the department participated on a research team, and the proposed projects truly represented an amazing set of opportunities. I thank all of the teams and judges for their commitment to this new initiative."
The winning proposal presented by PRC2 – which also included team members Roxanne Zaghab, DM, CKM, director of operations and business development for the School's Center for Innovative Pharmacy Solutions; Matthew Pickering, PharmD, postdoctoral fellow in PHSR; and Chinenye Anyanwu, PharmD, MPH, postdoctoral fellow in PHSR – outlined a new "power pathway" to take PRC to the next level, expanding its services and outreach efforts to make the center more accessible to researchers and increase the number and size of its projects.
"PRC currently offers a wide range of computer programming, data management, and analytic support services for health services researchers," says Onukwugha, who currently serves as executive director of the center. "However, despite staff members' proven expertise and capabilities working with large commercially and publicly funded administrative claims databases, registries, and electronic medical records, the center remains an untapped resource. We want to unleash this hidden gem."
Perfetto and Onukwugha plan to use the award to develop and implement a more agile service model in PRC that better responds to its customers' evolving needs. They will host seminars in departments, centers, and programs across UMB to help raise awareness about PRC and its services, as well as improve the center's website and other marketing materials. In addition, they plan to work within PRC to seek competitive seed grants and releasing a request for proposals (RFP), offering free services and bonuses to clients refer new researchers to the center. "We're going to energize a proven program," says Perfetto.
Judges for the competition included Bruce Jarrell, MD, chief academic and research officer and senior vice president for the University of Maryland, Baltimore; Natalie D. Eddington, PhD, FCP, FAAPS, dean and professor of the School of Pharmacy and executive director of University regional partnerships; Andrew Coop, PhD, professor and chair of the Department of Pharmaceutical Sciences at the School; and Magaly Rodriguez de Bittner, PharmD, BCPS, CDE, FAPhA, professor and chair of the Department of Pharmacy Practice and Science at the School.
"I thank Drs. Mullins and Simoni-Wastila for hosting this innovative competition to help support the cutting-edge research being conducted across PHSR," said Eddington, who announced the winning research team at the conclusion of the competition. "PRC2 presented a unique approach to refresh and reenergize a center that has been with the School for many years. PRC has gained a positive reputation among health services researchers at UMB and beyond because its services meet an important need. The center has a strong foundation upon which Drs. Perfetto and Onukwugha can build with their proposal, and I am excited to see how they will be able to expand and enhance the center over time."
Other proposals presented during the competition included the launch of "Chats on Drug Policy," which would host forums similar to TED talks that actively engage relevant stakeholders in discussions about new and existing drug policies; an expansion of the School's Center for Drug Safety, which would leverage the University's MPowering the State initiative to allow the Center to work with University of Maryland Medical System to create data linkage for the longitudinal assessment of inpatient to outpatient care settings; and the expansion of PHSR's research program through the acquisition of a first-of-its-kind database developed by the Centers of Medicare and Medicaid Services.
Related News Stories