SOP's Edwards Wins UMB Employee of the Month Award
Hillary Edwards, MPH, associate director of program management and evaluation for the School of Pharmacy's PATIENTS Program, recognized for her work to put patients first in research and health care.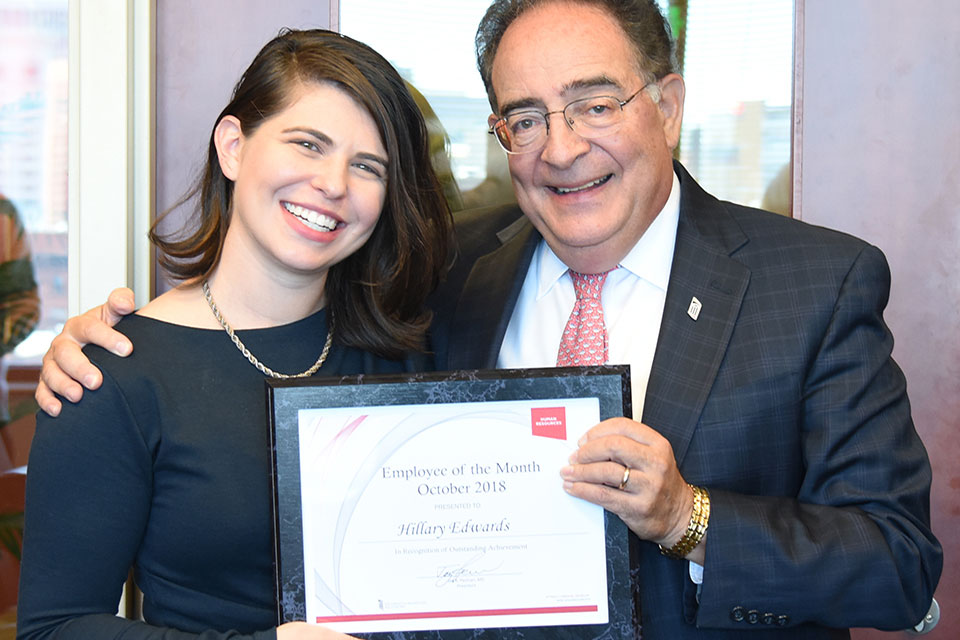 By Lou Cortina
October 25, 2018
Hillary Edwards, MPH '14, says bringing people together to advance patient-centered outcomes research is among the favorite parts of her job with the PATIENTS Program at the School of Pharmacy.
On Oct. 23 in a conference room at the Saratoga Building, Edwards brought together a large group of her colleagues from the program — except she actually had no part in planning this gathering.
Edwards, the associate director of program management and evaluation, was engaged in a weekly strategy meeting with senior members of the PATIENTS Program when University of Maryland, Baltimore (UMB) President Jay A. Perman, MD, interrupted with some good news: Edwards was UMB's Employee of the Month of October, and the 10 people who accompanied him were there to celebrate her achievement.
"Plain and simple, we're here to honor you because you do such a good job," said Perman, who delivered a plaque, a letter of commendation, and news that an extra $250 would be in Edwards' next paycheck. "You have done a great deal for the PATIENTS Program and you put together the PATIENTS Day event this summer that was very successful. But more globally, people say you always go out of your way to do a great job. And that's appreciated by your colleagues and the University."
Back-to-Back Events
The PATIENTS Day event was the second one hosted by the program, whose acronym is short for Patient-Centered Involvement in Evaluating the Effectiveness of Treatments. The PATIENTS Program was launched in 2013 with a $5 million grant from the Agency on Healthcare Research and Equality and is headed by C. Daniel Mullins, PhD, professor and chair of the school's Department of Pharmaceutical Health Services Research. The July event was touted as an interactive, educational health and wellness fair where community members, health care providers, researchers, and community organizers could learn from one another about what is needed to create and sustain healthy individuals, families, and communities.
"Hillary worked tirelessly to ensure that PATIENTS Day had activities that would engage attendees in a meaningful way," Michelle Medeiros, MS, MA, CCRP, the program's director of research, said in her nomination. "In addition to the multi-vendor fair, the event featured three informative panels that focused on research from the community's perspective, gun violence as a social determinant of health, and Baltimore authors on holistic health: physically, spiritually, financially, and beyond.
"With leadership and enthusiasm, Hillary has served as a role model for the PATIENTS Program's peers and colleagues, inspiring them to initiate sincere and genuine interactions with the community. The feedback we received from the community about PATIENTS Day demonstrated the positive impact it had."
Mullins was equally effusive in his praise of Edwards, who has worked with the program for three years and been at UMB since 2010.
"Her outstanding ability to balance accountability and civility resulted in an amazing PATIENTS Day event," Mullins said. "I'm proud to have her as a leader within the PATIENTS Program. Hillary embodies the spirit of UMB's core values. She is 100 percent accountable and reliable, and she knows how to get the job done. At the same time, she embraces civility and inclusiveness and allows every voice to be heard before she implements a plan."
Making her plan implementation more difficult this year, Edwards also had to coordinate a site visit the day before PATIENTS Day that involved hosting the program's steering committee and external advisory board members. The visit had been scheduled in January or March in previous years, she said, but had been affected by winter weather issues.
"By doing the events back-to-back, we not only had our advisors in town to really talk about our program infrastructure, but they also were able to celebrate the community partnerships that we've built with our West Baltimore neighbors," Edwards said.
Making an Impact at UMB
She has worked at UMB for eight years, first with Campus Life Services, where she helped launch the Wellness Hub, then at the School of Medicine helping to coordinate a research certificate program, then at the School of Pharmacy with the PATIENTS Program, starting in 2015. In addition to her role there, she has been president of the UMB Staff Senate for two years.
"The Staff Senate provides a really amazing opportunity to be able to understand the priorities that our staff have across campus," Edwards said. "I've also worked closely with Human Resource Services to think about ways we can provide professional development for our staff.  In my time at UMB, I've been able to grow professionally thanks to having incredible supervisors and being under senior leadership who really care about the growth of our employees and staff."
With the PATIENTS Program, she says she loves the interdisciplinary nature of its team of 15-plus colleagues and the fact that she can reach into the realms of research and community partnership at the same time.
"I also get to have a hand in the community partnerships and building those continued networks," Edwards said. "I love to think of the PATIENTS Program as a resource center, not a research center, so I enjoy being able to serve as a matchmaker for our faculty's brilliant ideas, and then to hear our community's priorities when it comes to health and health services research. Being able to bridge the two together is really innovative, and it gives me something new and exciting to work on every day."
The Employee of the Month gathering was the second celebration this month for Edwards, who got married Oct. 13, and she thanked her colleagues and supervisors for their support during her busy year.
"It's a great joy to work with this amazing team that spans not only scientific expertise but also community development and community partnership," Edwards said. "And I'd like to thank my bosses — Dr. Mullins and Michelle Medeiros — for acknowledging my work and helping me through challenging times. It's not easy to pull off those two back-to-back, high-profile PATIENTS events, so their guidance through that process was really meaningful to me."
Related News Stories